Once the healing was finished the woman asked them to sit for a spell. Billy looked at her and replied with a wink, "Well now how can I refuse a request to sit for a 'spell' from a spell weaver?" I hate to sound needy but could you perhaps take a look at my side? It still hurts a bit after our fight with the horse-things. The healer woman in teh village near ours always had a smelly slave that made it feel better. Sometimes she gave me a jar to take with me. Not sure if she was being extra nice or just wanted me and my clumsy self out of her house as long as possible."
The old woman chuckled at Billy's comments as she reached into the cupboard again and came out with a small metal tin. She came over to him and looked at his side; clucking her tongue she handed him the tin, "A big strong man like you complaining about this scratch?" Handing him the tin, "Here put some of this one it and it will be healed in no time," she says as she turns to the others. When he opens the tin inside he will find what he could swear is the same smelly salve he had seen in the past.
Siliwen signed in relief and turns to BIlly and Thor. "He seems to be sleeping normally now. That rigidity is gone."

She looked up to the old woman having heard her words and those had raised many questions in her.

"We all Thank you for what you have done for our companion. However you seem to have the advantage over us. You know something about our arrival to this place. We do not know where we are or how we got her though we know small tidbit about why we are here. You said you sensed our coming." Siliwen stops suddenly remembering her manners.

Oh, I am sorry. My name is Siliwen, my companions are Alea, here," she gestures to Alea first and then others as she introduces them. "Thor, is the Dwarf, Billy is then big one and our wounded companions is Riddle. By what name do you go by." Siliwen asks politely. more things are accomplished with a please than a loud voice or a sword her mother always quoted and so it was Siliwen had learned that watching her father when she traveled with him of diplomatic missions.

"Your invitation to rest is most appreciated but we really need to learn more about where this is, who is the Master , What are the Na'sir and if anything why are we here in this place?" SiIliwen looks the old woman in the eyes. "What can you tell us, if you please?" Siliwen adds that magic word.
"My… you do have a lot of questions," The old woman says with a smile, she nods knowingly, "as I was sure that you would."
"For starters.. you can call me Anya."
Anya rises and walks over to the bed and checks on Riddle, reaching out a hand she rests it gently for a moment on his forehead. She turns back to the group then smiles, "I will try to answer what I can," she says softly, "but I doubt it will be enough."
Making himself as comfortable as he can and with many questions of his own especially about what she meant when she said "I sensed your arrival and hoped you would visit." Right now however Siliwen had asked the healer several good questions to which Thor will sit and wait to here the answers to these before he raises anymore questions.

"I thank you for your comformation," Alea nodded to the Wise One. "Corellon leant me his Divine Grace in our battle with the Na'sir. Unfortunately I am new to his service and did not have to ability to channel the type of healing power needed to counteract poisons. So I could do nothing for Riddle beside close up his wound."

Alea stays close if needed and sits when a place is offered. She takes in the smells of the small cabin, sitting in here sent a rush of green through her as she tried to make out the different scents of the herbs and spices assembled around her. It was euphoric, a flooding sense of health and well being.

The Wise One was a master herbalist.
"Yes.. some times the gods don't always give you what you want," Anya said to Alea, "but most of the time they give you what you need." She grins as she sets down and sighs.
"Well as to your other questions," she begins, "Let me tell you a story that might help you to understand the situation."
"I don't know from what world you hail but I can tell you that you are no longer upon that world. This here is Garayon, an ancient world that over the centuries has become quite civilized as worlds go… and this is the Island Nation of Tremoria; a very large island indeed. It is separate from the rest of Garayon with its own government apart from the Empire that rules the largest continent. But Tremoria is like a lot of secluded parts of the world… more susceptible to being overrun with evil."
Anya chuckles and waves a hand dismissively, "Oh I don't mean the whole place here is evil…there are a lot of good folks here but there is an evil upon the land that threatens Tremoria and if it is not stopped maybe one day the whole world."
"About 50 years ago.. The Dark One came… he laid siege to a large portion of this land and for awhile he was content with his domain. Since it was a harsh land where nothing good would grow and far from the established cities.. there wasn't much of a complaint when he took it and stopped his conquest there. Not much was known about The Dark One in those days, he came from across the sea with a vast force of creatures no one had ever seen before. Monsters like the Nas'ir, the Shelnak, the Kree.. and others. Horrors to the people, they killed thousands." Anya had a look in her eyes that spoke of her own visions of those horrible times.
Shaking her head to clear those visions she went on, "When he stopped at the border of the Uplands..leaving the lower lands to the people.. most were happy to just live and stay away from the evil. But within the last couple of years, the Dark One's minions have began to make their way to the lowlands.. killing and pillaging once more. The high government of Tremoria can do little to help those on the fringes.. places like Northpoint. It is only harassing raids now but soon it will be worse.. and towns like Northpoint here will cease to exist."
She gets up and ambles over to a desk and opening a drawer she draws out a rolled parchment. Bringing it back to one of the larger tables, she pushed some of the things aside and unrolls the parchment (approx. 12"x15") revealing a crudely draw map. (Download map here if you like:
Tremoria Map
)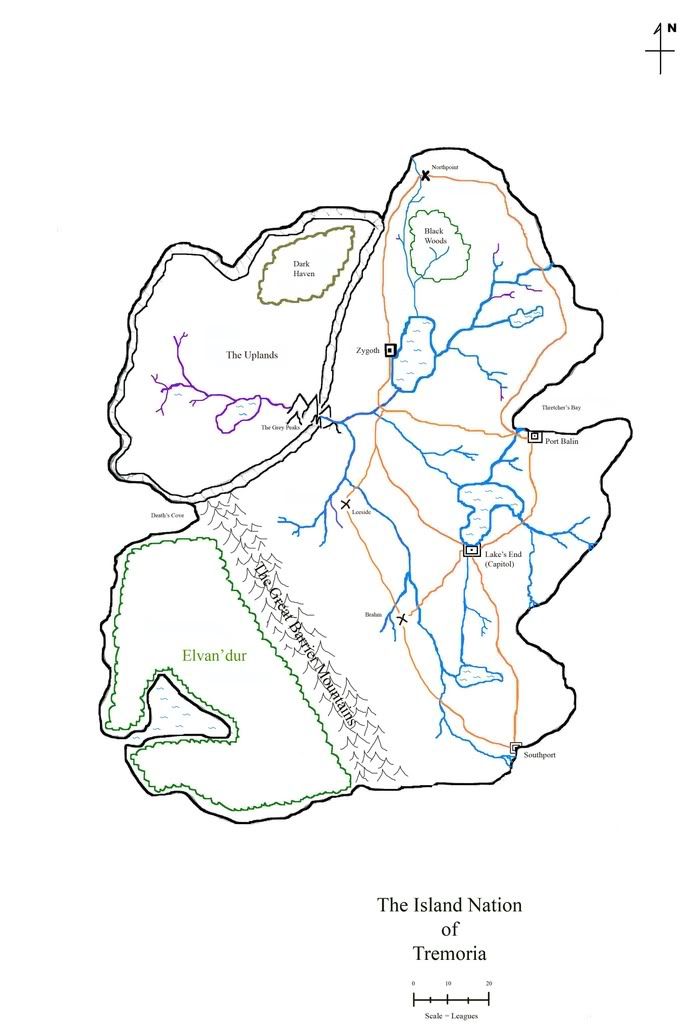 "Here is Northpoint," she says pointing it out at the top of the map, "at the far north end of the Island."
Anyone with a decent intelligence (leave that up to you to decide if your character fits this classification) should be able to realize that if the Sea you saw when you arrive was indeed North and not South as you would have thought, then the sun this morning rose in the West. This being contrary to your past experience, plus the two moons you all saw last night, will definitely confirm Anya's remark about this not being on your own world.
"This map is crude and only shows towns and cities," She shrugs, "you will find numerous villages scattered around the island that are not listed on this map."
"Here are the Uplands," she points to the western part of the Island which looks raise on the map, "this is where Evil lies."
"The Gray Peaks," pointing at what looks like mountains in the middle of the rise between the Uplands and Lowlands, "is where your kind dwelt," Looking at Thor sadly. "Unfortunately when the Dark One took the Uplands he claimed the Gray Peaks as well," they can hear sadness in her voice, "the dwarves all retreated to the Peaks to defend their homes…. They haven't been heard from in almost 50 years and it is feared they were all destroyed."
Pointing to the Southwest edge of the Island they see what looks like a large forest, "This is Elvan'dur.. home of the elves," Anya says looking at Alea and Siliwen, "They have withdrawn to their forest and sealed it's borders to all outsiders.. as far as I can tell they are safe there and not even the Dark One's minions will venture into those woods." She smiled.
"The human population cover the rest of the Lowlands.. and are scattered all about … though most will stay in or close to the cities now that the evil is loose upon the land. Northpoint has been lucky so far.. and this group of Nas'ir you speak of are the first to venture this far North. No doubt I was not the only one to feel your arrival."
Anya sat down leaving the map unrolled on the table as she looked at the group. "I cant say for sure," she began, "but it is my belief that you were brought here by the gods.. or at least one of them… to combat the Dark One and stop his advance into the lowlands."
"I do know that the evil forces are massing near the Gray Peaks," She says sounding pretty confident of her words, "and soon they will march to the lowlands and destroying anything in their path. The armies of Tremoria are not large and they will be used to defend the major cities leaving the towns and villages of people overrun"
Anya looks at each of them in turn before speaking again, "I believe that you have been brought here to stop them before they start to invade the lands." She waits for further questions and comments from them; knowing that what she has told them sounds like an impossible task for such a small group.