How can you see into my eyes like open doors, without a soul my spirit sleeping somewhere cold
Round one of the renewed battle to gain the sword had in a way gone better then the last time around as this time the members of the party had the means to hurt the mutated creatures before them, killing two. However in another sense it had gone perhaps just as bad as Haila had joined Maggot in death making the score two in favor of the bugs and two in favor of the party. However this round, the surviving party members would see, would be different.
The first to act this round was Alasdair, having for the most part ignored Cor's orders for reasons unknown yet soon to be revealed, he saw the three untouched Roach/Scorps attempting to flank the 'wall' and could not allow this to happen as he needed Althena alive. Moving quickly he placed himself before #5 and attacked the Roach/Scorpion creature head on and delivered a pair of solid hits momentarily pausing it in it's charge.
Pushed forward by the two behind it #5 came on attacking the Paladin/Psionist in it's way, however due to perhaps the damage it had taken or the pushing from behind
none
of it's attacks hit, a first since the party had engaged these creatures in combat. With #5 stopped by Alasdair and unable to squeeze between it and #4 the two remaining untouched creatures #8, #9 were forced to once more try to flank to Alasdair's right side taking them out of the combat again this round.
With Alasdair acting as a blocker, Althena and Cynil continued to work together and were able to once again gang up on #10. With the creatures attention for the moment on Cynil, Althena was able to gain a pair of solid hits with her borrowed iron longsword, cutting deeply through it's chitinness like hide. The creature turning to retaliate was then quickly struck another two times by Cynil easily, and without fanfare, killing it.
Back at the wall it was Ulthok's turn to act. Realizing that he was no fighter and in all honesty should not have been part of Cor's wall, he quickly activated his Ring of Invisibility and vanished from sight. Moving away he paused by Kenji's side and re-laid to him his intentions.
"Tomiki, do not be frightened, I am going to make you as big as that bear, you will be a giant warrior." With that he willed the pinch of iron to carry its power onto the samurai and uttered
"Enlarge"!
In the time of a breath the Samurai fighter grew to over twelve feet tall, his weapons growing with him. Kenji could now deal the fury of the bear with the bite of his iron blades. However as Ulthok watched Kenji grow he was suddenly on his knee's the poison from creature #2 starting to be felt, the cramping pain quite intense.
Sirene yet in the form of a large polar bear, covered in the sticky mud like liquid composing the mutated Roach/Scorp's blood she had just killed, was in no way done. Moving forward from the stairs she met #2 head on. The creature's attacks having a bigger target easily hit the Mage/Druid in a claw, leg, leg combo, however her return combo of attacks of claw/claw/bite easily hit the mutated creature in return, the creature gaining the worst of the exchange. The creature though having been hurt by Ulthoks earlier arrow strikes was nowhere near death, however the rage over Haila's death and the non-magical nature of Sirene's natural polar bear claws allowed her to score once again a critical hit with one claw and a deep hit with her bite ripping the creature deeply and throwing it backwards away from the wall and right into the path of Kenji as his giant form moved forward.
To Kenji #2 was but a brief annoyance as he moved on #1. With an almost casual swing of the smaller of his two swords he ended it's life as it tried to sluggishly return to the fight. Dead it quietly collapsed in place, no longer a threat to the party. Then the giant sized Samurai was upon number #1 and the fight here was again short as ripping into the Roach/scorpions body the two iron/steel swords sank deep and like #2 it too died quickly and quietly.
For Cor, his plan to attempt to overwhelm each creature singly, due to the ever-changing nature of battle had changed. With Ulthok going invisible, Kenji moving towards #2, Alasdair moved to engage #5 and Conall engaged with #4 he found himself attacking alone as he engaged creature #7.
'Can't very well afford to get any shorter, especially with Kenji damn near a giant'. He thought to himself, surging forward from the edge of the stairway his borrowed iron axe sought purchase in the flesh of his enemy. If he was lucky, he would kill it before it got a chance to poison him or worse yet cut him in two. Once again the axe sunk deep, carving a large hole in it's belly as the creature reared up, and the dwarf found himself covered in the mutated creatures blood as it died gaining only a single hit upon the dwarf.
Standing in the wound just created, the body of the Roach/Scorpion surrounding him, Cor found his luck had indeed granted him it's favor. However climbing his way out of the center of the giant creatures body would be tasking due to his a for mentioned height.
As with Cor, Conall found himself one on one vs. Roach/Scorpion #4, who had so far taken no damage but had dealt the Human Paladin a good bit of pain. Coming up from one knee in a combanation of speed and rage, Conall was able to score two clean hits with his borrowed sword and pushed the mutated creature backwards. However those two hits were not enough to kill it and it returned his hits with three of it's own. In a claw, claw, leg combo it caused Conall more pain however this time the Paladin was left standing and not on one knee.
The last of the party to act this round was the Ranger/Cleric Rayne. Recovering from the fall back down the stairs she quickly retraced her steps and gained the second floor. However in her hurry to rejoin the fight she did not notice a soft glow of light increasing in size by Cor's equipment. Seeing all of the surviving creatures to the right of the party she finished her move standing to the left of Cynil and a bit forward of the Elf Druid. Having expanded her actions this round with a full move and with sling in hand, a bullet loaded, she was ready for round three.
Round two over, four more creatures dead and no loses by the party, the score now six to two in the parties favor..................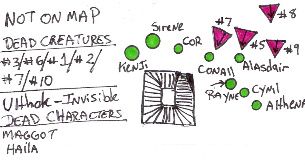 *SOMEWHERE ASGARD
Maggot awoke from the blinding pain of being ripped in two and eatento finding himself facing a large throne of white stone placed against thenorthern wall of a large dinning area. Upon this throne sat a very beautifulwoman. The woman was almost elfish in appearance, with long straight blondhair. A sword of frost lay upon her lap; a falcon sat on her shoulder, and themost beautiful of necklaces around her neck. This gave truth to her identity… Freya Goddess of Love and Fertility, leader of the Valkyrie,
"So Eyesov HovSuS, your not supposed to be here yet. What am I to do with you?"
Maggot stood tall replied in a respectful tone, yet with a hint of arrogance, "You are Freya, The Lady," Maggot looks around the room and notices four of the Valkyrie close at hand, "and order giver to the Valkyrie. If you can't answer your own question, how do you expect a humble servant such as I to do so?"
With a laugh as beautiful as a child's the Chooser of the Slain stood and approached the Half-Elf Ranger/Bard, "Brave words in the presence of YOUR Goddess"
"Would you expect anything less from one who is now YOUR servant," Maggot replied leaning heavily on his staff.
Freya eyeing Maggot's deception took the staff from him, "I am tired of your deceptive ways, your supposed weakness of age. I have decided to send you back as you once was. Before you came to carry HER sword. You will no longer need the sword to prolong your life. For as we speak another lays claim to what was for so long your burden. Your life shall move as it did before. No longer shall you escape the bonds of time." Freya pauses for a moment looking for a reaction from the Ranger/Bard and receives none. "However! Your insanity does amuse me so it shall remain a part of you as long as your love for HER too remains."
Maggot thought he heard a note of jealousy as the Goddess spoke of his love. Freya took up a chalice of pale wine from a nearby steward's tray. She sipped from the chalice. Once more she laughed; this time it was light as that of a young maiden upon seeing her true love for the first time. She stopped and playfully bit her bottom lip as she softly ran her fingers through his now browning hair. She then caressed his cheek,
"One last thing, before I return you to a younger body. There is a matter of some urgency I must speak of," She leaned in close, her body touching his. Her lips ever so close to him as she spoke in a heavenly whisper that only he could hear. After a few moments and alight kiss upon his ear she stood once more before him. Her hand now rested upon his chest.
Boldly taking the chalice from Freya after hearing her whisperings, he held it high in a toast. Maggot spoke to all in the room; Gods, Goddess, many a Valkyre, and a host of servants. "I shall seek revenge for the forthcoming deaths of my companions.
LONG LIVE ODIN THE ALL-FATHER!
" He then drank from the chalice.
She took from him her chalice and with a last laugh Freya waved back her hair and Maggot was gone..........
*(Posted in cooperation with Kyle)
(DM OOC: OK good posting by those of you that did. Ok for those of you that did not post please contact me before attempting to post thanks. Ok next post will be next Sunday February the 5th but will be a late post as next Sunday is the Super Bowl. Ok have fun be safe and continue the good posting.)