Topic: Tumbleweeds, again
Subject: *7*.....................
---
ZZZZZZZZZZZZZZZZZZZZZZZZZZzzzzzzzzzzzzzzzz...............

Posted on 2015-07-17 at 18:31:58.


Topic: Trilogy War Q/A
Subject: Teehee.............
---
Left it wide open for y'all.

Posted on 2015-07-14 at 20:42:25.


Topic: CWWLLO QnA
Subject: S'Okay.........
---

Posted on 2015-07-13 at 19:19:11.
Edited on 2015-07-13 at 19:22:20 by Odyson

Topic: Destiny Flight - QnA
Subject: The Bear Can Bear It..........
---
Take all the time you need, I can wait, your family can't.

Ody

Posted on 2015-07-13 at 19:16:56.


Topic: The Trilogy War
Subject: Oh Pappa..........
---
"What manner of child are you to be armed to the teeth and carrying such magic?"

Seth Looked to the rest of the party for an explanation, his hand inadvertently close to his sword.

Roan that spoke quickly, "He is my son, half human, half dwarf, the result of my love for a pretty dwarven lady. However it seems that in breeding our two races were not as compatible as her and I had hoped, she died in his birthing. His age in truth is that of 17 let not his features fool you for he is an asset to us all and the love of mine as a proud father."

With another look at Ulthok, Seph accepted the potion and combined with the other healing freely given found himself once more fully healed. He stood quietly as the others of the party pondered their present situation.

Ulthok stepped back from the paladin and turning he gave Roan a devilish smile, "Thank you Pappa."

The accepting of him as a half breed youth could make him less suspicious. It was a part he had player before when caught where he shouldn't have been. But why did he have to say Dwarv, Cor will not let him live this down.

Shortly Sirene pointing toward the castle, "We will talk of Drimmen Dreeve later, of that I promise you, we will. For now, look to the skies. Guardians from the castle approach. What do you know of what comes to face us. Are they friend or foe? Speak now, man!"

Looking to the sky Seph was quick to respond.

"I believe them to be friends my lady, the wizard companions of Allanan to be exact they ride upon dragons of good."

"The wizard companions of Allanan?" thought the Mage.
The party had just rescued the daughter of this famed Wizard and retrieved the sword of evil for her to destroy. The battle of Allanan and his companions on Good Dragons has happened in the time before Halflings even existed. He knew Roan's act was now even more helpful.

Soon a large bronze dragon landed while two others circled above them. Upon its back rode a female human, clad in riding leathers, radiating a clear aura of magic around her. She made no move to dismount, instead addressing the eight people before her.

"I am the wizard warrior Baptist, third in rank to our leader Allanan. Though I recognize the coat of arms of Tyr on you sir paladin, I know not any of you. State who you are and why such a large number of you remain living in this field of death."

Putting on his best child's face Ulthok started to speak excitedly, "Wow,Allanan,really? ,..Wizard warriors,. All that magic,.Golly that could explain things. We must have got caught between magic spells,..when we came to we had been teleport to those buildings and the battle was over. We seem to have lost some memories too, but we did find Mister Seth,he was really hurt and we helped him,,did we win???? Is the battle over?.... Maybe we can help, ".

Looking over to Roan, "Pappa,we can help now..right?..... Mister Seth we can others too,Mister Cor..we can help now too, right???" The halfing step over to Roan's side and smiled up at him sweetly.


Posted on 2015-07-12 at 15:57:40.
Edited on 2015-07-12 at 17:54:16 by Odyson


Topic: Trilogy War Q/A
Subject: Welcome Back....
---
Good to see you back Toothless.....


Posted on 2015-07-11 at 20:00:31.

Topic: Tumbleweeds, again
Subject: Watching The Grass Grow..............
---
So quiet.

Posted on 2015-07-11 at 10:39:45.


Topic: Trilogy War Q/A
Subject: Yawn.............
---
It's been a nice nap.
So Ulthok and Peri are still here.

Posted on 2015-07-05 at 21:20:03.


Topic: Tumbleweeds, again
Subject: Out Of Town For The Holiday???????????
---
Hellooooooooooooooooooooooooo.............
(Low echo in the empty halls......)
Everyone must be visiting..........
Well I guess that means I'll just have to drink alone!


Posted on 2015-07-05 at 10:09:54.

Topic: Happy Birthday Canada!
Subject: Happy Canada Day, Eh................
---
To my friends to the north may I thank you for your friendship and alliance. A "Happy Canada Day" to you.

Let the "Good Old Froth-n-Slosh" flow.




Posted on 2015-07-01 at 18:28:53.

Topic: CWWLLO QnA
Subject: Ok...........
---
Plan "B"!

Posted on 2015-06-29 at 20:35:07.


Topic: Destiny's Flight - A Serenity RPG
Subject: Wanna Bet..........
---
Jon looked over at Angela. Her eyes were flickering around, noting all her surrounding and the passings of people. No detail seemed to be missed by the payload specialist. Then she said simply, "Casino."

Jon gave Angela a questioning look.

Angela smiled, "The casinos. ,Alliance keeps a tight leash on gambling activity in the verse. They would be monitored by the alliance gaming commission so there would have to be ports there. Video feeds, security stations. The best place would be the casino. Shall we?"

"Yeah, but there would be a lot of eyes watching those ports, wouldn't that just be tougher?"

Stephanie gave a little chuckle. When Jon looked at her she glanced at Angela's dress. Jon cleared his throat, "Oh..yeah,Ok then, the casino it is." Jon fumbled with the brochure, "Let's see the canino is," As he looked up Angela was already on the move. "Yeah,that way."

The small group entered the gambling palace. Lady luck had never been a friend to the Captain, at least not when he was wishing for it. He was starting to think this might be a bad idea. About then he saw a small knowing smile come across Angela's face and he really got worried.


Posted on 2015-06-28 at 17:19:46.
Edited on 2015-07-06 at 19:09:36 by Odyson


Topic: CWWLLO QnA
Subject: Not Dead..........
---
Well if you can't kill the dead, make them not dead and then kill them.

Posted on 2015-06-28 at 13:41:11.


Topic: Continuing Where We Last Left Off Again
Subject: Defender Of The People.........
---
The evil that has inhabited this tomb had been entrenched for so long that the simple attempt to turn the skeletons was futile. Mother earth held the dark to prevent it from spending across the land but here they near where the dark was contained. Mother's strength would be strained to hold back the dark, leaving the Shaman to rely on all his skills, strength and the clever use of what would be done on the surface.

Seeing the wights attack Max and Finarsil he saw the creatures touch drew the life essence from its victims. The close space of the tunnel now made melee attack on the skeletons difficult but he would have to chance it. Touching the ring on his ear he let the leaf armor release as he willed his change to the Manbear form. Touching the tatto on his forearm he call forth the great double bladed axe "Apatchin". As Arien stepped passed to assist Kadrin in defending Finarsil the Hybred Priest of the Great Bear welded the great axe in Max's defence. Carefully avoiding the pits Ody brought the blade into play on the ice covered creature.




(O.O.C. The Great Axe, "Apatchin" (One That Comes Back) +3 double Damage Against Tanar'ri . A special weapon for a Shaman when he is in Hybrid form. A magical weapon that appeared in his hand after touching a tattoo on his forearm and calling to it. The great axe of the Guardian Lieut (the guardian of the people) created it to help destroy the creatures created by the Dark, a Tanar'ri Killer. It is + 3 against all enemies, but when facing Demons it is the real threat. The blade glows red in 100' presence when Demons are near to cast back the darkness. Wielder gains a 75% magic resistance to Tanar'ri cast spells.)


Posted on 2015-06-28 at 13:34:09.
Edited on 2015-06-29 at 21:03:46 by Odyson


Topic: Trilogy War Q/A
Subject: Page 1...........
---
The whole story is on page one of The Trilogy War, but here is the cut and paste of the war information. This would be the story of "Troy" thing.

Darkness, however complete, cannot stand against light. It came to pass that a new light shone upon Trilogy in the form of a new Elvin leader. His name was Eothian Ellessior and he was called the �Peace-Maker�. He brought an end to the warfare between the Elves and Dwarves and formed an alliance with the Humans. The children of the good gods finally stood together as brethren. His reign spanned 200 years but was brought to an end when he was slain during a battle by three Frost Giants. A new race, the Valor, came to power. A circle of twelve great wizards ruled the land with kindness and benevolence. The most influential of these wizards were Karza, Kaladrial and Allanan.

Karza became bored with life and began to delve deep into the farthest reaches of magic. As he tested the limits of magic, he grew more ambitious and spent much time exploring the dark arts. During his journeys in the magical realm he met a shade of Loki who bestowed upon him the longevity of the gods. However there was a string attached to this gift from Loki. Karza agreed to create new evil races on Trilogy and act as Loki�s harbinger of destruction. He broke away from the other Valor and moved to Cirith Ungole. There be built a massive fortress, Morderia. Upon completion of his fortress he sent out a call for all the children of evil to join him in a crusade against good. They came in droves to serve the dark master.

The other Valor remained in their tower and paid little attention to the events in Morderia. Only Allanan raised concerns and warned that war could come again to Trilogy. Firm in the belief that even Karza would not dare attack the Valor council, the others continued promoting their own agenda�s. They were soon scattered across the land. It was such when the vanguard of the Army of Karza swept across the Strait of Aladron and laid waste to all that was in their path. So began the First War of Darkness. For 23 years war raged across the land until the followers of Karza were defeated in an epic 55 day battle on the Desolation Plains. Karza foresaw this defeat and set in motion a string of events that were designed to grant him a future, ultimate victory. From the primal force of chaos he crafted 12 amulets. These were hidden in the deepest reaches of his fortress, places known to him alone. Karza was captured after the battle and led away in magical chains. No one noticed the thin smile that crept across his face as he was lead away. For 20 years he was held imprisoned. In order to avoid detection of his ruse or un-natural longevity, he cast spells upon himself that gave the illusion of aging. Eventually the other Valor took pity upon him and released him from his bondage. They were cautious and upon his finger they placed a ring that rendered him unable to cast magic. He was bestowed with a new name, Annatar meaning �Giver of Gifts�. For the next 16 years, Annatar traveled the world undoing much of his evil magic. However, during this time he secretly began to gather forces in Cirith Ungole.

On the 20th anniversary of his release, Annatar retrieved the amulets he had fashioned from their hiding places in Morderia. He presented them to the other Valor as a token of his gratitude and goodwill. All save Allanan were taken in by the beauty of the amulets and the public good-deeds that Annatar had performed and placed the amulets around their necks. In that instant the true nature of the amulets was revealed as the Valor succumbed to each amulet in a different way, yet all were turned evil in their thoughts and desires. With a wicked laugh, Annatar placed the last amulet around his own neck. This uber-amulet though not controlling the now evil Valar completely, still bent the will of the other wearers to his own. The ten Valor who were corrupted became known as the �Ten Who Were Taken� or simply �Shadow-Wraiths�. As he controlled them and they called him leader, Karza became known as the Shadow King.
During this time Allanan traveled to the Dwarven Forge, Khazad-Dum and there destroyed his amulet in its fiery pit.

Karza saw no threat in the actions of Allanan and allowed him to flee. Kaladrial was appointed as Captain of the Shadow-Wraith and took the new name, �Sadist�. The Shadow King and his minions returned to Cirith Ungol and occupied the tower of Minas Morgal. Over the next four decades, the followers of Karza gathered strength and delved ever deeper into the powers of dark magic. During this time they discovered the secret to binding chaos to steel. Karza used this knowledge to craft the �Steel Maiden�, a soul-sword of immense power. Pure chaos coursed through its mighty blade. This was a sentient and inherently evil weapon with the ability to twist the minds of Humans to its own desires. With the completion of the Steel Maiden, the Army of Karza again stood ready to venture forth into the good lands of Trilogy.

The Elves (led by Jil Galad) allied with the Dwarves (under the command of Thorin Ironshield) and the Humans (who followed the banner of Crispian Turan)stood together. This mighty army collided with the Army of Karza and the Second War of Darkness began. For five years, the forces of evil slowly and methodically crushed the forces of good arrayed against them. First to fall was Thorin during a holding action near present day Erebor. His body was never found and his exact fate is unknown to this day. So far had the forces of good been pushed back that the waves of the Great Sea wet their boots. In the Dwarven fortress of Drimmen Dreeve they attempted to make a final stand. It was there that Jil Galad fell in hand-to-hand combat with Sadist. The Shadow-Wraith Captain did not escape unharmed; he lost a hand in the battle and was forced to flee to Cirith Ungol. For days, the battle ebbed and flowed with neither side able to gain a clear advantage. That was until Crispian Turan, whose body was pierced by no less than 20 arrows, succeeded in slaying the mightiest dragon pledged to Karza. The dragon�s body landed amidst the Army of Darkness and it death throes killed thousands. That same day there appeared on the horizon a band of 200 wizards on the backs of many good aligned dragons led by Allanan. The battle continued for fifteen more days until Karza and Allanan finally met face to face. The two locked in combat. Followers on both sides stopped to watch the epic struggle. In the end, Allanan cleaved a hand from Karza and dispelled his corporeal form. With the loss of Karza and the dragon, the Army of Darkness wavered and the forces of good began a rout. The wizards cast a magical slumber upon the Shadow-Wraiths and banished Sadist to limbo. Karza�s Army quickly disappeared as its soldiers scattered throughout the land. Allanan took the Steel Maiden and secreted it away before disappearing himself.

Once again peace spread its calm hand across Trilogy. The Elves migrated to the glade filled woods of the North and there founded E'Loth Lorian. In honor of the death of their hero, Thorin Ironshield, the Dwarves settled near the place he fell. They named the area Erebor. Humans spread across the land and founded many new settlements. Principal among them were Calahorn, Roheryn, Shanntara and Culhaven.

For over 1200 years trilogy has prospered in the bosom of peace. New races appeared; Wolfenn, Gnomes, Halflings and many others. The land was still and calm. Make no mistake; evil still lurks in some corners of the land. Many an unwary traveler has failed to return from a journey to Cirith Ungol and occasional raids still plague the border towns. There are those who spread rumor that Karza has returned his fortress in Cirith Ungol, that Shadow-Wraiths have awoke and search for the Steel Maiden and that the forces of evil grow strong and restless once again. As in the past, most hold these to be just rumors used to scare children at night. Only one king in all the land finds a shred of truth in these rumors and is taking steps to safeguard his lands. Only time will tell if he is crazy or if evil is indeed rearing is head once more. What fate lies before Trilogy only the gods know.

Thus ends the tale as I have learned it. Believe me if you will or dismiss me as but another spreader of rumors; that is your choice. Know this however, there comes a day when you will be called upon to make a choice and these words will ring again in your mind. I bid you farewell, health and good fortune. Our paths shall never cross again but you will remember this day until you draw your dying breath.

- Aralkias, High Priest of Odin

Posted on 2015-06-28 at 11:44:26.


Topic: CWWLLO QnA
Subject: Spell Slinger................
---
I'd say that Jarenion should cast a wall of stone between us and the three on coming wights. We can use the side passage once we have finished the two on our side or prepare to fight the three after.
---------------
Well duh...... maybe I should have read the post first. Great idea D.

Posted on 2015-06-27 at 08:57:54.
Edited on 2015-06-27 at 09:03:35 by Odyson

Topic: Destiny Flight - QnA
Subject: LOL...............
---
This can really open a few ideas.

What if... Grace goes back to Steele's craft and places a bug there???

What if we NPC Tess? I have some thoghts of what she might do with Steele on board.

Grace is caught so she show him some of the ship and Tess can monitor them and protect Lillyianna.

And I really think it will get fun with Angela and yes we will to the casino.

Oh.. I wonder who is on the Firefly???? Wasn't there something about a missing Firefly????



Posted on 2015-06-26 at 21:09:24.

Topic: Destiny Flight - QnA
Subject: Good Stuff..............
---
You are really good at messing with the story. It can really expand in all kinds of ways now.

You are such a bad daddy, Grace and Uncle Steele, OMG!!!

Posted on 2015-06-24 at 20:46:42.


Topic: CWWLLO QnA
Subject: The Olan Bunch......
---
Is this an anual event for the Boss? Well I guess you do what you're good at!



Posted on 2015-06-24 at 20:02:38.

Topic: CWWLLO QnA
Subject: Better............
---
Thank you. I wasn't sure if Ody was close enough for melee and couldn't tell how close the others were.

I should have asked sooner.

Now time to write and rewrite!

Posted on 2015-06-23 at 19:49:35.


Topic: CWWLLO QnA
Subject: Help..........
---
Can you mark where you believe we are standing and where the ice guys are? I'm just having trouble pictureing who is where.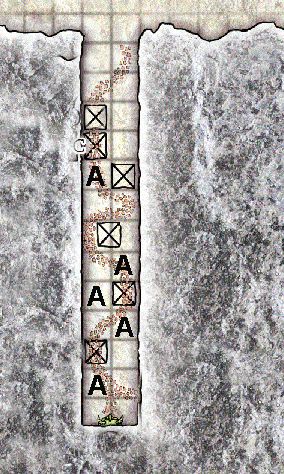 Posted on 2015-06-22 at 20:09:35.

Topic: The Trilogy War
Subject: Holy Fighter...............
---
"Thank you I'm grateful for the aid you provided. My name is Seph Moramee,,,This is Drimmen Dreeve, where you not part of the army fighting here? ,,,..I guess the gods didn't smile upon all of my brothers. If I may be so bold to ask, would you allow me to join your group, as I search for more of my order?"

Ulthok looked at the fighter and thought him another "Holy Fighter". There was a time when being around Cor had made him nervous and when other Paladins joined he just had to mess with them. But time changed his attitude enough to know to value each team member for what they brought. This man could help the team in this new situation. So smiling he stepped forward and held out a potion of healing. "If you need Sir Knight you can have this potion of healing, I'm Ulthok ."


Posted on 2015-06-21 at 21:11:33.


Topic: Weird War II
Subject: No Need to Knock..........
---
The staggering undead fell quickly to the team. This was more a creepy menace than danger, as least when compared to some of the other things they had encountered. Leaving the bodies in the sand the team once again formed up in marching order and followed the zombie's tracks. Doc fell in behind the Captain with Star and Miller behind him.

After a while building shapes could be seen rising from the desert sands. The crumbled remains of may have been an ancient city contrasted against the rolling forms of the sand dunes. Within this area a single form remained. Looming up a domed structure stood against time. This must be the temple they were sent to find. As they drew near signs of a recent skirmish remained. Nazi trucks, dead bodies and the smells the gasoline and gunpowder were telltale that something had happened recently.

The entrance to the Temple appeared to be through a doorway from a raised platform. Pillars held up the platform and arcing stairs drew up on either side.

Doc took in the scene, "Well Captain, do we all go up the same side or split half and half. Either way we still got go up there. Unless someone else sees another way in,.. Star , Miller and me can take the left..Sarge, Hot Shot and you can take the right,Sir,"


Posted on 2015-06-20 at 22:24:21.


Topic: Trilogy War Q/A
Subject: To Sir.........
---
Sir Sadaar, you are playing it correctly. We do not know what happened at the Core or in Trilogy after we were displaced in time. We can only figure we need to get back so we don't send ourselves back in time. Our mission wasn't finished, we still need to save the Dragon Queen. We would have to find a "Seer" that could sense what happened. That may not be likely to happen.

Posted on 2015-06-20 at 21:35:12.


Topic: Weird War II Q n A
Subject: Sorry............
---
Work got out of hand real fast this week and now I'm even farther behind in my posts. I'll try to catch up this weekend.

Again, sorry.

Posted on 2015-06-18 at 20:56:28.