Topic: What would you say about a Loaded Dice return?
Subject: Gad................
---
I thought I was being sarcastic when I said seven months.

So what's it been now???? Nine months???

You'd think something would birth by now!

Oh how I miss our comics.



Posted on 2014-09-02 at 16:43:08.

Topic: Voyages of the Rocinante - Firefly RPG QnA
Subject: Well.....
---
It could be dark in Asher's cabin!

Let'see....

Havelock dies...
John dies....
Tess is hurt....
Trish is hurt....
Asher is hurt....
Matherson is died...
Hood is bloodied....
Willow is ???????
Sheldon fainted......

Yep..kinda dark....

Posted on 2014-09-02 at 16:32:41.


Topic: Voyages of the Rocinante - Firefly RPG QnA
Subject: Don't Forget.............
---
If you're writing that much then don't forget the scene where Lt.V. takes Asher to his cabin for a strip search!



Posted on 2014-09-02 at 16:05:50.

Topic: Trilogy War Q/A
Subject: Wow...........
---
Trilogy Master
TO RESCUE FATE Trilogy War Part 1
Posted on 8/30/2004 at 10:31:27 PM (CST)


Ten years? I've only been with you for about 3 and a half. I looked back and saw that Kyle was an original but playing a different character.

Nimu and Keeper have been here longer too, so that's not bad to have so many folks rolling with the story.

Well, "Game On!"

Posted on 2014-09-01 at 19:58:13.
Edited on 2014-09-01 at 20:07:09 by Odyson


Topic: Tann's 2014 NFL U Pick'em Game
Subject: First Week Coin Flip..........
---
Week 1 Schedule

THU, SEP 4
Seattle
SUN, SEP 7
New Orleans
St. Louis
Cleveland
Philadelphia
Oakland
Cincinnati
Buffalo
Washington
Tennessee
New England
Carolina
San Francisco
Denver
MON, SEP 8
Detroit
Arizona


-------------------------
BTW here is where I found the weekly schedule I used earlier in case you needed a place so you can post them each week.

http://espn.go.com/nfl/schedule/_/seasontype/2/week/1

Posted on 2014-09-01 at 14:43:38.
Edited on 2014-09-01 at 15:25:55 by Odyson


Topic: The Gobber King
Subject: No Dinner Bell....
---
The big ranger called to Dudley to not head back to the dinning room. He must not like having an after dinner dinner.

Wembley pointed to different portal and quickly he and Gamard stepped through. The cleric was lucky to be standing near and followed.

He emerged in a hall with only one other portal but two doors. "Doors, we have find interesting things behind doors."

Gamard asked who might check the doors and before Dudley could act Wembley was in action and telling a tail of pigs and goblins. Dudley stepped up behind the cid in case something jumped out at him.

Posted on 2014-09-01 at 01:55:06.


Topic: Destiny's Flight - A Serenity RPG
Subject: What Could Possibly Go Wrong.......
---
Jon had mulled over the recent events but his conversation with Steph kept rolling back.

"Do you remember why I came abroad with you – besides how much you made my heart flutter? I wanted to see the verse and the people in it. I have seen people and I have seen a lot of violence with them as well. Violence that took Ken and Jason away from us. Violence that scarred a man like JC and created Angela without thought of the ethics and ramifications. Angela killed six people not long ago and no one seemed phased by that. You just accepted a job from a Crime Lord in order to get in his good books – am I right? I look at that and the life we had before you discovered Destiny was intact and I wonder why you choose this life?"

"Steph, you know better than that…running a ship is what I do.. it's all I know how to do…….We can still make a difference in good people's lives….but we have to keep going…it ain't never been easy for me, but I know we have to keep trying…..You came back into my life and filled an empty space I hadn't realize existed. "

He knew it was mostly about him and Steph, but he truly believed they could make a difference in good people's lives.... and Lillianna was good people. The girl may have had every advantage growing up but she needed help now and he knew they could do it, he just didn't how…yet.

Jon was shaken from his thoughts as Grace's voice came over the comm, "If all members of the crew could come to the gallery, I got the info we need. And I mean crew only, guests can stay where they are and stay away from the gallery."

Ah..Grace must have found something good. Jon checked the controls and sensors as he prepared to leave the bridge. Before he could leave he heard the lift open and the voices of his coming to the bridge.

Everyone arrived on the Bridge and spread out so that everyone could see each other. Grace went over to the controls and activated the camera monitor and synced it to the Galley. She did that just in time to see Stephanie slip a "mickie" of something into Asante and watch her fall to the floor.

"Whoa." Tess said with a whistle, "Remind me not to cross the Doc."

Under his breath Jon muttered, "I think she enjoyed that a little too much."

Grace pulled everyone's attention back and displayed the diagram of the liner. "Alright so the cruise ship's info was easy to find but that is going to be the only easy part. While there are multiple entrances, some being the more impractical than others, we are going to have to go to this one," Grace pointed to the Docking on the map, "Since we have to deliver Lilianna and the Baron will be waiting for us there. At that point, it will be up to us to come up with excuses why we want to get on the ship so we can help Juliet over there." Grace says passing out the brochure and papers on the cruise liner. "Staying on the ship will be of little use for us. Ever since a group of space pirates attacked the Star of Sihnon to steal some sort of violin, security has been beefed up on all cruise ships."

Tess winced a bit as she remembered that incident way too clearly.

Grace continued, "Ships have to dock via airlocks that are screened for all weapons, explosives and other dangerous items. Security has a presence at all air locks. Ships are locked on to cruise liners by grav clamps and will not be released without permission. Security systems on cruise liners are now locked systems and do not access the cortex so I can't hack it through the cortex. It would be better for us to get on the ship with some sort excuse that the Baron isn't going to find suspicious, like Stephanie wanting to bring a sick patient to the Infirmary or something similar." Grace shrugged her shoulders, "If anyone has got a good excuse why they should go on the ship or if any names look familiar among the passengers, now is the time to be mentioning it."

"As to Asante Okoro – according to records she did fight with the independence side. but her division is listed as 101st." Grace explained that she had come across the 101st reference before – it usually mean the dark side of the war, assassination and black ops – the stuff no one wanted to admit but both side did. "She went very quiet after the war and then started working as a Damage Control Specialist, Freelance , but it was likely she was working for someone like Blue Sun.

The crew looked over the information and JC mentioned that Asente tried to seem sincere about her warning. That she felt Steele and the Baron were working together and wouldn't let anyone interfere. As Jc looked over the crew list he noticed an Annie Foy that looked like someone he knew on the crew. Jon knew it wasn't much but who knew, maybe she could be of some help.

Step back Jon crossed he arms, "Well then the plan is simple. We get Lillianna on the line….stop the wedding without looking like we stopped the wedding and then get off the liner alive." Holding as sincere a look on his face as he could Jon watched the blank stares from his crew.

After several seconds of silence Tess grabbed Jon's empty mug and flung it at him, "Ghuh-Ghuh, (big brother) you'd better have a better plan than that!"

Jon blocked the projectile, "What? …..So now you want details? …..Ok let think about this.

We won't be able to take weapons so this will take some nerve.

Tess and Catie you get Lillianna to send a message that she wants to thank us for getting her there safely and add you two and me to the guest list, that should get us out of the landing bay without suspicion.

The brothers are already clear as Badger's muscle to handle Daniel so they'll have limited access but still can get on the liner.

Seth is still a bit of a wild card and Steph may have to keep him neutralized so he doesn't alert security.

I sort of like Grace's idea and we can try to have Steph get use of their sick bay to check out an issue with JC's arm. Once you're on board she can do a little show and tell then release you from care. Try to have them contact Annie that can add credit to your story and maybe she can help some way. After that if you can hang with the brothers, try to get them to snatch Daniel first and stow him back here. Lock him up to make it look good. With him safe see if you can find where the Colt is.

Jon remembered what Grace had told him and Tess about "Uncle Templeton" and knew she wouldn't want him to know she was there….., if possible. The other still didn't know Grace's connection and until she was ready to tell them it would be either their Ace or Joker. "Grace..you can stay with the ship… try to figure a way around the grav locks….maybe it you can find an open data port in the bay or wander around all stealthy like,….maybe that Annie person could you around the boat."

Jon spoke, just sort of thinking out loud, "If somehow Steele could be made to look bad in front of the guests…he does seem to have an issue with women…then that could let Lillianna stop the wedding without the Baron losing face. The Baron and Steele gotta do something stupid…and…well maybe we can help."

"As for Asente…I can't really trust her. She out for herself and we are means to an end. Her story about disgruntled Browncoats would only make sense to Alliance folk cause they believe anything bad about the Rim. The rim folk love Lillianna as much as they dislike Steele and would have joined the hunt to find her. Finding me here didn't give her time to change the story with her people. So now we need to her to need us to keep'r from turning against us."

Tess looked to Jon,"How about helping her steal Steele yacht? It should have a lot of his collections for showing off, worth a pile credits…..We let her folks on board and then they make off with it after Grace figures out the grav clamps."

Jon looked at her for a second, "I like the idea of the yacht, but we ain't letting them on board…too much chance she may try to go with her first plan…….. I'd bet she's covered them by having them hauling some last minute supplies. That way they got a reason to in the area and if she'd snatched Lillianna there would have been two ships to find making the search harder….no we'll tell her about the yacht and that Grace will get her the codes to release it……….JC, if it turns out the Colt is on the yacht let the brothers go after it, you try to stay off out of it so you don't get linked to the boat going missing and really don't want have to go pull them away from Asente's folks.

The sort of absorbed what Jon had laid out. Tess narrowed her eyes at Jon, "So just what are you going to be doing while all this is going on?"

Jon let out a deep sigh, "I'll be being gracious and charming so no one notices what ya'll are doing."

"See I told you it was simple."

Tess choked, "And if it doesn't work?"

Jon smiled, "Improvise!"

After an Hour in the Cockpit

The crew gathered back in the galley and the guests were brought back to be informed. Stephanie caught Jon in the gangway and informed him of what Seth and Lillianna said. Jon nodded, the plan was already changing but maybe for the better, Seth could be an asset.

Jon went over how they needed to get on board, he looked at Catie and then to Lillianna.

He addressed the brothers and told them by getting Daniel locked up on to Destiny it would look like they were following their orders. Then they were free to find the Colt and that JC might be around to help.

Looking to Seth and Lillianna again. "You two need to bury that hatchet…. Seth I know you will protect Lillianna and the Baron, but to help Lillianna might cause the Baron some embarrassment. Steele will treat the Princess as just another item in his collections. You know family is more important than money, maybe you can help the Baron see the light."

This brought him too Asente. "We seem to be at odds a bit here, but we thought so something that might help us all." Jon went on to describe the idea of the yacht. "Now we ain't been none too trusting of you." he glanced at Stephanie as she sat there holding her serene smile, but Jon saw the satisfied look in her eyes. He continued, "If you can get your crew on the liner, we'll get you the code to the snatch the yacht. That should give your people the leverage they want against Steele," glancing back at Lillianna, "without putting innocents at risk."

"So as I told the crew, it's simple, get on the liner, stop the wedding without looking like we are stopping the wedding and get off……any questions?"


Posted on 2014-08-31 at 19:10:49.
Edited on 2014-08-31 at 19:20:33 by Odyson


Topic: Geneology Discoveries....
Subject: Nice..........
---
Well my cousin has found a lot of new information.

Although I knew my grandfather's family were coal miners in Pennsylvania but I just found out he had five brothers and sisters. Found out that my Great great grandfather had imigrated around the same time. So I can now five gernerations back. We will need to find a solid link in Hungary to keep the trace going.

Posted on 2014-08-29 at 01:04:35.


Topic: Destiny Flight - QnA
Subject: Sketchy Plan............
---
So far the plan.
A) Get on the liner.
B) Stop the Wedding without looking like we stopped the wedding.
C) Get off the liner......alive!


Now where are the steaks???



Posted on 2014-08-28 at 18:35:25.

Topic: Destiny Flight - QnA
Subject: WWMD?...................
---
Ok, I haven't had too much back from folks but I will draw on what you all set me. Jon will lay out a plan to the crew and then to the guests. He may make a minor adjustment for Seth after Steph speaks to him just be the meeting with the guests.

So I'll organize some notes so I don't miss your ideas and then write up a post. As we know all plans fall apart as soon as they are put into action.



Posted on 2014-08-28 at 17:09:33.

Topic: Geneology Discoveries....
Subject: Geneology Discoveries....
---
This is a family freindly place and there are a number of folks here that are from the same families. So I would guess that many of you understand family ties.

As most of you know I am not a spring chicken and nearing retirement age, but I am still making discoveries. I never meet my paternal grandfather, he died in mining accident in Pennsylvania when my father was 3. My father had only a little information and never kept any records. So my father's family knowledge stopped with his name.

Today my cousin, who does geneology research on my mother's side of the family, found the death certificate from my grandfather's mining accident. It listed his parents names!

After 62 years I know of my great grandparents Andrew and Anna and that they were from Austria / Hungery, maybe Zemplen county.(For years I thought we were Italian because of the spelling, which appears to be wrong.)

Now, if you wish, you can share your families discoveries.
I'll share if find my great great grandparents. But now the search may have to go to Europe.

Posted on 2014-08-27 at 02:35:36.


Topic: Voyages of the Rocinante - Firefly RPG QnA
Subject: In Memory..........
---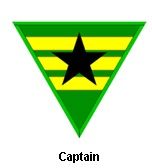 Havelock
Posted on 2014-08-25 at 17:55:51.

Topic: Voyages of the Rocinante - Firefly RPG QnA
Subject: Maybe Too........
---
I'm not sure how the Cortex records may list it but both Wyatt and Asher were Sheriff for a short time. Even though Marshalls know many Sheriff's are not all that good Col. Sanders will know something of both of them. So they might get away with a little as sort of "Lawful" guys.

Posted on 2014-08-25 at 01:36:41.


Topic: Review of 5e
Subject: Level 2..........
---
Just a heads up. We will be playing again either next weekend or Sept. 7th. Our GM got the actual PH and now I have it to help my son Dave can build a new character, he'll be 2nd level so fit with the rest of palrty.

So after the next adventure I'll give my feelings oh how it continues to play.

Posted on 2014-08-25 at 00:59:00.


Topic: Voyages of the Rocinante - Firefly RPG QnA
Subject: Maybe.........
---
Ill go back and check, but Asher got the new cabinets because Sam snatched some of his guns. He built the hidie place for the same reason, to hide the "special" weapons in case he had to open the cabinets for lawful inspection.

Posted on 2014-08-24 at 20:00:06.


Topic: Trilogy War Q/A
Subject: Alright Already...It's Hard To Rush Genious....or even my stuff!
---
Ok, post is up so here we go................

Posted on 2014-08-24 at 19:52:42.


Topic: The Trilogy War
Subject: Room By Room.........
---
Ulthok lead the party to the doors, checking quickly for traps but found the doors safe and not locked. As he opened them Barreel rushed past.

There were no enemies but just a hall of evil worship. The mage continued to lead the party on to next room. Here they found dinning hall. A quick check of the lauder found edible food and the party added to their stores, not knowing when next they might find supplies. The mage found a small store of fresh apples, a treat for his sad familiar. Polishing up one the fruit to bright shining red he presented it to Peri.

At first the little dragonet giggled with glee, but then a sadness passed over her. Clutching the apple Peri fluttered over to the druid Sirene. Landing at her feet the fey creature bowed her head and placed the apple before the her. Lifting the hem of the sorceress's robe Peri kissed it gently then looked up into Sirene's deep water blue eyes. In her best formal elvish, "Sirène Talà Melete …Awen en amin, amin hiraetha!" (My lady,I'm sorry.) Peri then flew back to Ulthok's shoulder to nuzzle softly into his neck, a small tear tracing down her cheek.

Ulthok then gathered a few more items and made sure the water pouches were filled. There was no telling when the might find supplies again. Pressing on he lead the group to the next room.

Here they found a lavish bedroom of fine furnishings. The mage was ready to leave when Barreel pointed out the four chests against the wall. Ulthok wasn't sure what gain could be had from the content of the chests, but Barreel's words." Ulthok, open these so we can move on quickly." just peaked his natural curiosity. The thief in him focused his attention as his looked for traps and then picked each lock. With the locks removed he opened each chest for inspection.


Posted on 2014-08-24 at 19:48:36.


Topic: Voyages of the Rocinante - Firefly RPG QnA
Subject: Guns............
---
Tann had mentioned to me about collecting gun and I didn't think about too much. But it would be better if he stashed them in the hilly stuffy wuffy and not in Asher room. Beside I don't remember giving Wolf the codes or secret hidie places.

Asher would like to resupply his little toy bin, as much as he had it ready didn't slow down the bad guys as much as it should have.

Asher should have stuff he can pull out when needed to defend the crew, even if the Captian doesn't know he has it, that's his job. I'd say Lt. V would look the other way for him or even help him with some toys in exchange for a "Good Workout"! I would to go so far as to say that Col. Sanders will have our ship on his list of less likely suspects when it comes to real criminal activity and maybe even an ally for curtain events. Being Marshall in the rim ain't easy and trust is hard earned.

As for Wolfy Tann might like an upgrade weapons but as for in character I'd think he'd get more like Grace and arm our systems with stuff plundered from the wreckage or from "Generous" saved passenger. As Asher protects the crew and Wolf would protect Roc. After all we need parts to get flying again and he is the one to find them now that John is gone.

Posted on 2014-08-24 at 15:34:39.


Topic: Trilogy War Q/A
Subject: Go Axi...............
---
Well alrighty then.........you've got your feet wet and the first post in. So now it should go easier.

Posted on 2014-08-23 at 01:12:35.


Topic: The Gobber King- QnA
Subject: That Long Ago......
---
But I'm a Cid!!!!!

Posted on 2014-08-22 at 00:04:29.


Topic: The Gobber King- QnA
Subject: Food...................
---
I'd think the Cids would want to beeline to the dining room. Get a good meal and then try a different door. Try to work our way back to the diningroom.

Posted on 2014-08-21 at 23:43:45.


Topic: Destiny Flight - QnA
Subject: Yepper.........
---
Ah..yes..NPC to NPC by GM. Good idea!

Posted on 2014-08-21 at 23:39:11.


Topic: The Gobber King
Subject: The War Room............
---
Dudley agreed about leaving the lizard men and moving along quickly. "If we follow our last path the next room is the fight room. Luckily we know that and won't be surprised by an attack. Then it's a nice bath and then a warm meal....Oh that part sound good." Dudley made for the stairs to the portal of the war room.

Posted on 2014-08-21 at 16:37:56.


Topic: Destiny Flight - QnA
Subject: Crew Meeting...........
---
MMV are you having Grace tell about Asente, Blue Sun and her dad? I'd say you posting up next to fill in additional info to the crew and then we all quick post thoughts to outline a plan and then take it to the others.

Tann, you can have JC give his feeling now what Asente told him.

Asente is a wildcard, she is out for herself or Blue Sun. That puts us in the cross fire of three Titans of power. If we try to use her to discredit Templeton and the Baron. Templeton's issues with the Companion's Guide could help. If Asente has already been messing around with the Baron then her flirting with Steele could create some diversions.

I don't like counting on Asente but if the prize is big enough for her then it could work, maybe.

Posted on 2014-08-21 at 16:29:36.


Topic: Trilogy War Q/A
Subject: The Chests............
---
Barreel has indicated that Ulthok should open the chests and usually the thief in him would be hopping to it. But do we need to search the chests? Ulthok likes loot, but do any of you think we might find something that will help us? Should we risk setting off a trap or an alarm?

Posted on 2014-08-21 at 16:06:56.