Topic: Destiny Flight - QnA
Subject: I'll Catch Up.....
---
Sorry for getting behind. I'll catch up. Van tossed out some thoughts. We need to go on board and do it unarmed, not good!

Posted on 2015-01-16 at 18:44:05.


Topic: Voyages of the Rocinante - Firefly RPG QnA
Subject: Sorry...........
---
Falling behind a bit. Had two weeks of Scout activities and lost track. We had our annual Father / Son last weekend and our District is having Klondike this weekend. I will be out running a First Aid event tomorrow from 9am to around 5pm.

Seems like everyone jumped back in but me.



Posted on 2015-01-16 at 18:36:10.


Topic: Upcoming improvements to the Inn
Subject: Off Line..........
---
I do most of writing off line using word then copy paste it to the text body box. I'm never quite sure how it will look until it's up and then I may have to edit more. If the text box was bigger so it was more like a word doc and closer to the thread page size we could see how it will look posted.

Now dumb question from a non programer, is spell check a hard thing to add?

One of the main reasons I do most of my stuff off line is for spell ckeck but I still mess up a lot because I never learned to type properly. I'm a key watcher so I miss what really got typed until I reread. Then I'll rush and read what was supposed to be there. And don't get me started on how bifocals tunnel vision and mess with your rereading.



Posted on 2015-01-16 at 18:12:52.

Topic: Trilogy War Q/A
Subject: We Ain't Dead Yet So We Can Wait.........
---
Go take care of Mom!!!!!

We can talk while you're gone!

Posted on 2015-01-15 at 19:50:25.


Topic: CWWLLO QnA
Subject: You'd Think.............
---
With all these heavy weight gamers there would be more information.

I guess I'll just have BEAR down and go for it!

Posted on 2015-01-15 at 19:46:15.


Topic: CWWLLO QnA
Subject: Yeah but..........
---
So still something has put all those figures there to scare off anyone come in. And if they were drug there then there are tracks on the floor. But does something else turn stuff to stone? And is there a "Light Sucker" in there?

Posted on 2015-01-15 at 19:27:48.


Topic: CWWLLO QnA
Subject: Still Just A Guess..........
---
Well as I read the song, it doesn't say which tomb enterance was guarded by the creatures. It doesn't say that they were the doom of the wrong enterances.

I suppose we could look at the dirt floor to see where the stone figure were dragged from. But that still makes it a guess.

If the wrong enterances led to death traps those bodies would not be retrieved.

If creatures guarded to correct enterance then now that path is clear...if they are gone.

But that's just my first thoughts.

Posted on 2015-01-15 at 18:58:47.


Topic: CWWLLO QnA
Subject: Calling Dianna Ross..............
---
Maybe it is a lovechild of the Basilisk and a Behir.

Oh, shocking!!!

Posted on 2015-01-15 at 18:36:25.


Topic: CWWLLO QnA
Subject: Hmmmmmmmm.........
---
Stone people, bad breath smell, lack of light........had to go look it up but sure sounds like a Basilisk.

Sooooo who has "Blind Fighting?"
Where's Dare Devil when you need him?
---------------
Ah, I see Max has Blind Fighting AND a mirror!!!

So if can first find it, then engage it to distract it, then send in Max blindfolded with his mirror to get within 20 feet of it, then the Mage casts a bright light, then Max reflects the Basilisk's gaze, then it turns to stone and "Voila" we get on the next killing thing.



Posted on 2015-01-14 at 20:30:29.
Edited on 2015-01-14 at 20:39:11 by Odyson

Topic: Trilogy War Q/A
Subject: BTW..........
---
I'm still in!!!

Posted on 2015-01-10 at 22:24:39.


Topic: Voyages of Rocinante - Serenity/Firefly RPG
Subject: Sir............
---
The kid didn't flinch as Willow laid it out to Wyatt and him.

"Are we going to some costume party I don't know about?" ,,"If I recall, we are here to ask for help in finding safe passage through Serenity Valley in order to bury our friend. We may have clearance to bury him there, but it's on this Morningstar's indulgence that we'll get any maps through the buried ordinance there, and you too look like you are about to spit on the man's meal ticket. That's presuming we can even get that far through town before you pick a fight or two. ",.."What's more important here? Thumbing your nose (or waving other digits) at the Alliance or doing Havelock right and respecting his last wish?"

Wyatt had taken Ash in when things got too dangerous to stay on the farm. The man had shown him respect and Asher would run into Hell for that man. Although Miss Willow knew all about talking proper like to people to help them get what they needed , but the kid wouldn't change a thing unless Wyatt told him to.


Posted on 2015-01-07 at 20:51:17.


Topic: Continuing Where We Last Left Off Again
Subject: A Job To Do......
---
The Man-beast was able to get himself and some friends to safety beyond the bridge. In the sunlight the leeches on Max began to die but the mighty fighter had been seriously harmed by the little suckers. Ody could see the Gladiator struggled with simple task to open his potion of extra healing. Reaching massive paw the Shaman willed bit spirit and by the time the paw got the bottle it was a human hand. He took the potion from his old friend, "Save this Froth-n-Slosh for when I am not around." Laying his other hand on Max's arm the nature's cleric cast a cure serious wounds spell on this old friend.

Letting the spell do its work the naked man turned away; reaching up he touched the leaf earring. There was a gentle swirling of air as the enchanted armor leaves appeared and layered themselves to his body. Once he was covered again in the enchanted protection he gathered his gear he stepped back to check Max's progress and looked to see any others still needed healing. "Once you are all ready we must hurry into danger and a friend to save."


Posted on 2015-01-07 at 19:40:35.


Topic: The Gobber King
Subject: Yikes...................
---
Dudley saw the small iron men appear when Wembley had climbed the broken cabinet. The cleric guess the shiny statue he carried in his pack may have been what had been displayed there. So in an effort to appeas the creations he pulled the statue out and threw it at their feet. "Here you can have it back, we were returning it."

Dudley then jumped to hide behind the fighters.

Posted on 2015-01-05 at 22:05:04.


Topic: CWWLLO QnA
Subject: Max ????????
---
I was planning to have Ody do some healing on Max, but I was waiting on a post from Tann to see how the Bearback ride worked out from his POV.

So as soon as Tann posts I'll figure what type of heal to use.

Posted on 2015-01-05 at 21:31:58.


Topic: Trilogy War Q/A
Subject: Help.............
---
Maybe the Jen can save Peri by putting out her fire with his cape or something?

or the Cat?

Please........

Posted on 2015-01-04 at 19:46:16.


Topic: The Trilogy War
Subject: Seperated.........
---
Holding tight to the flaming Howler Ulthok attempted to redirect the attack of his shadows. Then in a quick moment the mage found himself in a strange room clinging to the back of Howler, who was no longer engulfed in flame. Apparently Howler had teleported out to stop the flames and had taken Ulthok with him.

Ulthok maintained his grip on the back of the enemy to keep Howler at a disadvantage to attack. He scanned the new surroundings. They had teleported into a circular room with a passage about a quarter of the way around to his right. He estimated the chamber was about 50 by 30 foot. Hanging in the center was a huge caged, pulsating reddish gem enclosed in a crystal globe. The gem appears held in place in a spider web type wired frame. The whole thing was suspended above a pool of dark water with bursts of electrical flashes. Around edges of the pool stood four Orc-Trolls guarding the gem.


Ulthok didn't like the odds and knew he'd have to act quickly as Howler cries out for the Orc-Trolls to get him off his back. Hoping Howler was pausing for the guards to help him and feeling he still a little time left on the potion Ulthok pointed to the center of the room. Wanting to catch all four guards at once, the small mage released a spell that should damage each and maybe hurting the Howler some too.

Shouting out the distance Ulthok cast a Fireball that would engulf the room.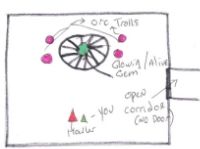 Posted on 2015-01-04 at 19:17:30.
Edited on 2015-01-13 at 19:36:00 by Odyson

Topic: Trilogy War Q/A
Subject: Wow.........
---
How time flys. With all the Holiday travels and visits it all slipped by. I'll try to have a post up sometime today. Even with all the time off I really didn't get as much time to plan as Thought I would.

Hope everyone else had a good holiday.

My post will update what has happened to Ulthok. He's in another room but I don't know how far away he is from the party. So you'll gotta beat off them baddies yourself. Ulthok is still dealing with Howler and a few others.

Posted on 2015-01-04 at 11:11:21.


Topic: Destiny Flight - QnA
Subject: Ideas...Again......
---
Ok, anyone want to put up ideas for change of plans?

Asente knew our last general plan so she can cause issues, actually any way we go she will be able to mess with it.

Lilianna could send a wave to tell both Steele and her step dad that Asente wanted to take to mining rights. That could add suspitions toward each other. One of the two is most likely in on it with Asente. It could be played to have been a way for Steele to get Lilly and keep the rights.

Also a way for Optimus to get the rights no matter what happened.

Posted on 2015-01-03 at 10:28:56.


Topic: CWWLLO QnA
Subject: Just Don't Break Rule #1..............
---
Oh Good..., lol. I was hoping it wasn't to be going into the cave in groups.

Ody did convey some information of what he saw as he ooked at the cave.

When the shaman looked up at the cave, just on the edge of his vision range, he had to turn his head from the sheer energy coming from there. The cave shone like a dark sun of evil, blindingly intense. Ody shaded his eyes as he nodded across the bridge to the cave. "Too much evil to be held inside where we go. Never seen so much evil and it is only our beginning. What can make so much?"

There is too much evil combined to identify sources.


Posted on 2015-01-02 at 18:33:49.


Topic: CWWLLO QnA
Subject: What is Rule #2?????????????????
---
Let see...we have just been attacked by a leech filled monster and someone want to break Rule #2?

"Never split the party!!!!!!!!!!!!!!!!!!!!"

Posted on 2015-01-02 at 17:58:50.


Topic: CWWLLO QnA
Subject: Compare...........
---
If we compare the map to the beginning picture.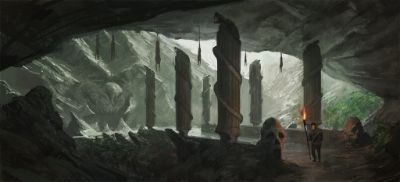 So we escaped the falling roof then we are just outside the enterance now. We are in the sun light on the far side. The bridge and stuff would be covered in the rubble of the cavein.

I think we should heal everyone and start into the cave.


Posted on 2015-01-02 at 09:51:29.
Edited on 2015-01-02 at 10:10:57 by Odyson

Topic: Happy New RDinn Year...
Subject: Happy New RDinn Year...
---
To all of our regulars and to all of our welcome lurkers, may you have the best year yet!

"Good Old Froth-n-Slosh" for all and may you have a safe and happy new year. Bring it on (2015) let's make that 2016!!!

Now Bump to 2017.....

Time has flown and here we are again at the years end.

So let's do it again!!!!!!!!!





Posted on 2014-12-31 at 22:06:59.
Edited on 2017-01-01 at 18:18:44 by Odyson

Topic: Tann's 2014 NFL U Pick'em Game
Subject: Next Year............
---
We are so good!!
The leader was only 10 ahead of random dice rolls.

Posted on 2014-12-29 at 10:26:22.


Topic: Tann's 2014 NFL U Pick'em Game
Subject: Worst Week..........
---
Wow...looks like only 9-7.



I could have had Roger pick for me!

Posted on 2014-12-28 at 22:26:59.


Topic: Voyages of Rocinante - Serenity/Firefly RPG
Subject: Sides............
---
Asher had gotten himself ready to join Wyatt to gather information to take Havelock to his final rest. This place was an Alliance outpost so Ash figured it would be awash with Purple bellies. The kid's two older brothers had gone to the war in support of the Independents.

Emerging from his cabin Asher saw Wyatt storming off the bridge. He had already armed himself with his new service revolver and was proudly wearing his brown service coat, hat, and practically every other amenity that he could pull from his personal stores that marked him a Browncoat soldier. Just as he reaches the steel grating of the hall's flooring, he pauses and turns to look out the cockpit windows once more. "Taikong suoyou de xingqiu saijin wo de pigu!" he exclaims. Spinning on his heel, Wyatt calls down the hall loud enough so that his voice carries throughout the ship, "Ma! You got that old Browncoat regimental flag I can wear as a gorram cape?"

Ash wonder what Wyatt had seen so he hot footed it to the bridge. The kid pulled up short as he saw the billboard across the landing bay.

"COMING SOON: The Serenity Valley Theme Park and Resort. Ride the largest hover-coaster in the Verse - The Flight of the Angels. You too can be a brave Alliance pilot flying through the dangers of wartime Serenity Valley!"

A darkness crossed Asher's face as the memory of Alliance ships appearing over their farm on Ezra came back to him. There was the explosions of rockets that destroyed their home and killed grandfather and his mother. A growl rolled out,"They weren't never no flight of angels."

He headed back to his cabin and opened the small foot locker he kept under his bed. There neatly folded the only thing he had left from older brother Matt.

The kid knew he'd never fought in the war but that don't mean he didn't remember. He made his way to the cargo bay to join Wyatt and Willow. Wyatt stood with his back to Asher as approached. The kid had his rig secured holding his peacekeepers to his chest and his Pythons strapped to his thighs. The bandoleers crisscrossed his heart to carry enough rounds to keep his companions safe. The combat knife was secure in his boot and the brass knuckles nestled in the pocket of his black duster, which hung open for easy access to the guns. When Wyatt turned to him Asher nodded, "I'm ready Capt'n". From the collar of the kid's duster a familiar ruddy red scarf shown plainly.


Posted on 2014-12-28 at 16:14:18.