Topic: Destiny Flight - QnA
Subject: I Like It.........
---
The more I think about it the more I like the idea of only Grace knowing. It would not be fair to Van either to have others able to make her character do things. Too temping.

Just like not putting words and actions in our post for other player characters.



Posted on 2014-06-04 at 02:05:45.


Topic: Destiny Flight - QnA
Subject: Post Fixed....
---
I edited the post to remove the use of the command and just having Tess trying to sound like she's giving an order.

Posted on 2014-06-04 at 01:55:26.
Edited on 2014-06-04 at 01:56:03 by Odyson


Topic: Destiny Flight - QnA
Subject: I can Understand That....
---
I guess I was feeling it would be more of warning to be careful.

"Schools Out" is not an uncommon phase.

But we (Jon and Tess) can work with that.



Posted on 2014-06-04 at 01:44:45.
Edited on 2014-06-04 at 01:56:48 by Odyson

Topic: Trilogy War Q/A
Subject: Nasty GM.................
---
Sure pick on the little ones. First you take Valene way and now Peri. I guess things are going to get UGLY now!!!

Phew, I misread the post and thought the 6 Gith surround Ulthok.

Posted on 2014-06-04 at 01:37:59.


Topic: Destiny Flight - QnA
Subject: So...
---
I guess I need to rewrite the post? Angela does seem to respond to Tess when she gives her an order, so I guess I could have her just call out something like "Angela.. wait!!"

But I still think Grace would have shared.

Posted on 2014-06-04 at 00:44:36.
Edited on 2014-06-04 at 00:46:46 by Odyson


Topic: Destiny Flight - QnA
Subject: ??????.....
---
Ok.. from your setup post back when Angela came on board and Grace read the info she decided she had to contact Jon. So I took from that that Grace told Jon. And Grace, Tess and John are partners..so they share....and to help Angela they told Steph...who brought in Catie to help her, but hasn't had time to work with her to help Angela.

So Grace knows..Jon knew and Tess knew the command words.

I had Tess use the learning command to save Seth. That can be changed later. The "Schools out"... was not an option as Van discribed so I didn't have Tess use for those same reasons. And I had Tess slip it in in her sarcastic style so it would not be obvious to anyone except Grace.

Van I'll try to work in pm a bit more with you for the Tess and Jon stuff with Angela. I won't post surprises any more.

Posted on 2014-06-04 at 00:30:36.
Edited on 2014-06-04 at 00:39:36 by Odyson


Topic: Homebrewing - This is my art.
Subject: home drinking.......
---
Looks good. Try to brew some Good Old Froth n Slosh.
The stale pale ale that's so light the foam is on the bottom.
You get that right and you can supply the chat room.


Posted on 2014-06-04 at 00:02:03.

Topic: The Trilogy War
Subject: Jumping Jack Flash..............
---
Ulthok………..

The mage had seldom called on the darker magic he had learned. It's use was often not accepted by the Paladins he had accompanied on his journeys. But they had now all been killed or taken and this was to save himself and those that were left. The spell drew the life force from the Gith to replenish that that they had taken from him and it gave his oldest friend Cor a chance to escape the rear attack.

These creatures were strong and even though his thief skills had allowed him to back attack the thing and the spell was sapping it strength it was still able to dislodge him and toss him in front of the newly arrived reinforcements. The natural nimbleness of his kind and the skills he had honed just barely allowed him to avoid its slashing swords as the yellow faced warrior attacked him twice.

Regaining his footing as he now stood several feet in front of the Gith; he could also see that the remaining big Yellow creature and the hooded female were directly behind this attacker. Acting quickly he once again called the arcane skills he had developed over the years. Hoping to catch all three of these enemies in one spell he released a thunderous forked Lightening Bolt that started a foot in front of his attacker to slice through and around it and on to the two other foe behind it.


Posted on 2014-06-01 at 15:51:10.


Topic: The Trilogy War
Subject: Now Just Hold On There.......
---
Peri……

Although the passage was full of fighting Peri was able to avoid the melee by fluttering above and about. She she knew her companion intents and felt him able to fend for himself…at least for now. She admired Ulthok's loyalty to the party and and knew she too needed to help the others when she could. These yellow face things had shown themselves to be singly fierce fighters but in groups were overwhelming to her group. As four had appeared the attack on her friends was indeed getting deadly.

The new human (Roan)that had joined them had been doing so well when two creatures appeared and attack him. "Oh my…three on one just isn't nice," she chirped. "They can just wait until he's ready for them." Then calling upon the ancient magic she'd been gifted with, she cast out a spell over the two Gith (#9 & #10)that had appeared. "You can just hold still for a while." The little Faerie Dragon had cast a spell of Hold Person then flew out of the hall and into room darting behind the charts standing near the side wall.


Posted on 2014-06-01 at 15:18:49.


Topic: I didn't die!
Subject: hope All Were Friends.......
---
Welcome back! Like a mold on the walls I keep clinging to the Inn.

Navy will keep you busy, but maybe during down time you can refresh yourself here at the Inn. Ody will have you tankard waiting for you and as an active service person the "Good Old Froth-n-Slosh" is always the house.

Posted on 2014-06-01 at 14:42:01.


Topic: Destiny's Flight - A Serenity RPG
Subject: The Morning Show..........
---
Destiny Galley Day Two of Journey. 9:46 am ST

Tess

The morning breakfast had turned entertaining, Tess watched as Catie worked with the Princess to prepare some really good looking food. JC was talking to Seth and flirting with the wedding planner, guess he thought that Jon left the door open for him. It was long before the three of them left .

Angela inhaled the pancakes while appearing to be zoned out. The pilot now had spent enough time with Angela to recognize a few of her subtle traits. Palms down on the table was a clue she watching everything and ready to move. Well Tess had told her to observe as much as possible.

"Good morning sunshine!" Tess called out as she passed, "Glad you could join the land of the living. Grace." Grace had come in late as usual and one of brothers moved over to sit beside her. "This could get good." Tess thought as she watched the fellow try to flirt with a half asleep engineer. Grace sat there mulling over breakfast and barely hearing the droning as the pretty boy tried to talk to her. When the brothers started to argue Tess wonder if this could get any better. Well no they couldn't.

Lillianna had walked toward the table carrying another plate of pancakes. Tess saw her stop and start to tremble. She dropped the plate of pancakes she was holding and started to cry loudly. A desperate crying of someone scared and frightened. The sound grabbed everyone's attention. The poor girl was blubbering like a heartbroken teenager.

Quickly there sounds of running in the gangway and Seth burst into the room, gun drawn. "Oh crap," Tess muttered and started to move. GUN!!!" Rick screamed and he attempted to throw himself in front of Grace. AJ stood up and was trying to calm Lilianna down, "Hey whoa. Rick and I are brothers. we fight all the time. No need to get upset."

As she suspected Angela had flown into defensive mode and was bounding toward Seth. Tess hoped she could stop her before she hurt him and revealed that talent. Tess hopped up and called out "Angela...wait" Tess watched to see if Angela's attention was on her. "Looks like Seth is just here to help and he lower his gun because there is no danger right now."

(assuming the order sounding words get Angela to pause her attack before she actually hits Seth.)

Seth kept his vision on Liliana.

"I WANT DANIEL!!!!" Lilianna cries out through the tears.

"Daniel?" AJ says his eyes going wide..

"Daniel?" Rick repeats with the same expression.

Seth lowers the gun, "Lilianna. You told me he left you and ..."

"I lied! I lied about the kidnapping. I lied about Daniel. I lied to protect him. I lied to protect myself. I keep lying and hoping it will get better but it won't get better..." she sobbed uncontrollably, falling to the ground of the galley. "I've lost him."

Tess watched this theater continue and started to wonder where Jon had gone.

(Edited the post to remove the command words that we don't know, lol!)



Posted on 2014-05-31 at 03:29:30.
Edited on 2014-06-04 at 01:53:22 by Odyson


Topic: Destiny Flight - QnA
Subject: Tess,,,,,,,,,,
---
Should have Tess's post up tonight. With the long holiday weekend activities and the short work week sort of lost a day. :-/

Posted on 2014-05-30 at 19:35:32.


Topic: Trilogy War Q/A
Subject: Peri............
---
Peri has a Hold Person spell, she could use it on one of Roan's Gith and he could Ram butt the other. She could use it on Cor's healthy Gith and allow him to cast a heal on Lothor.

I could have had her help Ulthok but you be my team.
So how can we best help Lothor, Rayne and the cat.

She could possibly cast hold on both of Roans Giths while he attacks the weak one.



Posted on 2014-05-30 at 00:19:11.


Topic: Trilogy War Q/A
Subject: Well...............
---
Another risky thing would be to have Alyia attack the Gith and Rayne cast Heal on Lothor and risk waiting another round to heal herself. That would free Cor to address his two badies and Roan to attack his three.

Xin helping the cat should happen so that it doesn't die and send Sirene into system shock.

Posted on 2014-05-29 at 23:51:31.


Topic: Trilogy War Q/A
Subject: Roan...
---
Yeah Roan is facing three Gith. #9 and #10 have not taken damage yet so you may want to hurt them before they hurt you. Although #7 can hurt you it's weaker.

Posted on 2014-05-29 at 19:51:08.


Topic: Trilogy War Q/A
Subject: Thoughts..............
---
Well we need to help Lothor, Rayne and the cat quick.

Alyia might have Xin get her potion of extra healing and take it to the cat. That would be his action and not hers so she would still be able to attack #14. Then Rayne could cast Heal on herself.

Peri might be able to slow #11 so Cor could cast Cure Critical Wounds on Lothor and bring him back to at least help fight some. It's risky because that can leave Cor open again if #11 is not slowed.

Roan has his hands full with #9, #10 and a hurt #7.

Sirene still has #5 to deal with I think.

I wanted Ulthok to help Weaver but he is now faced with an unhurt Gith in #12. Oh how I miss be able to turn invisible!!!

Also the White Knight is only on pause, so he'll be at'um soon.

With hall blocked we have to advance into the room soon.



Posted on 2014-05-29 at 17:25:14.


Topic: Trilogy War Q/A
Subject: Still Fighting...Just.....
---
Well that could have gone MUCH worse.

We have learned at least on thing, that the White Knight is not immune to magic.

Someone needs to help the cat. If it dies it will adversely effect Sirene. Rayne or Alyia might be closest while not in direct combat. Too bad Xin doesn't have a little healing. If Alyia has a potion he might be able to get it and give it to the cat. Just quick idea for an action for Xin.

When Tann gets the map up we can see where everyone is located.

Posted on 2014-05-28 at 17:07:17.


Topic: Destiny's Flight - A Serenity RPG
Subject: Another Day In Paradise..........
---
The steam curled lazily up from the hot black liquid in the dull metallic mug Jon held comfortably in his hand as he leaned back in the copilot's chair. His ankles were crossed and boot heel rested on the counsel. The smoky roasted aroma was comforting. Sipping deeply the fluid rolled smoothly over his tongue with a mellow but slightly bitter taste. Jon started to believe that were going to be fine.

A sight clamor seemed to coming from somewhere in the ship. Jon closed his eyes. In few moments it was followed by a light rumble of what might be running. He could swear he hear excited voices. The captain almost got up, but he remembered seeing Tess, Angela and JC in the galley. "They've got it covered."


Posted on 2014-05-28 at 02:26:20.


Topic: Trilogy War Q/A
Subject: Vampiric Touch
---
Ulthok's Spell Choice:

Vampiric Touch
Level: 3 Schools: Necromancy
Range: 0 Components: V, S
Duration: One touch Casting Time: 3
Area of Effect: The caster Saving Throw: None

When the caster touches an opponent in melee with a successful attack roll, the opponent loses 1d6 hit points for every two caster levels, to a maximum drain of 6d6 points for a 12th-level caster. The spell is expended when a successful touch is made or one turn passes. The hit points are added to the caster's total, with any hit points over the caster's normal total treated as temporary additional hit points. Any damage to the caster is subtracted from the temporary hit points first. After one hour, any extra hit points above the caster's normal total are lost. The creature originally losing hit points through this spell can regain them by magical or normal healing. Undead creatures are unaffected by this spell.

Peri's Spell Choice:

Blindness
Level: 2 Schools: Illusion/Phantasm
Range: Components: ds. + 10 yds./level Component: V
Duration: Special Casting Time: 2
Area of Effect: 1 creature Saving Throw: Neg.

The blindness spell causes the victim to become blind, able to see only a grayness before its eyes. Various cure spells will not remove this effect, and only a dispel magic or the spellcaster can do away with the blindness if the creature fails its initial saving throw vs. spell. A blinded creature suffers a -4 penalty to its attack rolls, and its opponents gain a +4 bonus to their attack rolls.

Posted on 2014-05-28 at 00:42:25.
Edited on 2014-05-28 at 00:44:33 by Odyson


Topic: Trilogy War Q/A
Subject: Group Question.
---
I was wondering if the group feels it is good to add the description of the spell cast to the story? We have added things at the end as (Out Of Character: ) to add detail.

Would adding the spell information help readers understand our intent?

Posted on 2014-05-27 at 01:45:20.
Edited on 2014-05-27 at 16:06:23 by Odyson


Topic: Trilogy War Q/A
Subject: Could Be Soooo Cool..........
---
This is stacking up to be one the those Greast Story Moments that keeps all the readers coming back. Seeing the party push threw by pulling together. Team work insted of like other games where it is a bunch of individuals.

Posted on 2014-05-27 at 01:36:42.


Topic: Trilogy War Q/A
Subject: Go Ahead.........
---
Yea, just rain on our parade.

Instinct to act carries through each of characters.

Even laying on the floor Cor can see the Knight approach Lothor. As a Cleric his instinct is help others.

This is a very dynamic party action. Peri saves Ulthok and Lothor. Ulthok saves Cor. Cor saves Lothor. Alyia saves Rayne. Now is that movie moment or what?

Hey, even a blind squirrel finds a nut sometimes.
It could happen.

Posted on 2014-05-26 at 20:36:16.


Topic: Trilogy War Q/A
Subject: Cor...........
---
A quick thought would be with Ulthok jumping on the back of Gith #6 that gives Cor time to get out of the way and attack the White Knight standing over Lothor.

If all goes well, Peri blinded #4 and Sirene attacked #5 and Roan got #7. So Cor can attack the Knight before he attacks the downed Lothor.

Posted on 2014-05-26 at 15:25:26.


Topic: Memorial Day
Subject: Thank You..............
---
Fourteen years ago when we were there for the first time there were slightly over 1,200 site to decorate, now we have that many Boy Scouts, Girl Scouts and family member coming out to honor those that served.

This year there were just over 1000 volenteers at national cemetery. In less than 40 minutes they decorated over 25,000 sites.

These included what is now an old, fat werebear.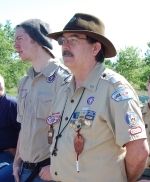 ---------------------------

BTW, that is fellow InnMate "PartyScout" next to me.

Posted on 2014-05-26 at 01:17:21.
Edited on 2015-05-22 at 20:08:38 by Odyson


Topic: Voyages of Rocinante - Serenity/Firefly RPG
Subject: We must kill them. .....We must incinerate them.........
---
But before he could get more than a few steps, the tell tale sound of missile launching came from the merc's ship and the shuttle blew up in front of him. The force of the blast knocked him back and he could feel the heat from the explosion. Then a second missile struck it again as if blowing it up once wasn't enough.

Time seemed to stop for Asher. Sound no longer traveled and he did not breathe. The one woman in the world that deserved all the kindness possible had been in that shuttle. Was Ma no more?

Was it a moment or was it hours that the Kid stood there watching the smoke rise from the spot where the shuttle had been. A flood of memories flashed through his mind as rage consumed him. There in the smoke was the site of his farm house. Inside preparing their evening meal was his mother and grandfather; then the cataclysm of explosion, fire and smoke as Alliance shells erupted on his family home. "Nooooooooooo…" erupted from his lungs.

Before Asher was just a boy and he could do nothing, but that was then,….. this is now. He could see the Merc retreating and all his rage and vengeance was focused on the group of fleeing scum.

With his blood pounding in his head he turned the attack on them. Racing after them his boots crunched down the drying grasses that made up much of the stuff in this hilly area . With the practiced ease from the years of the range wars and serving Captain Wyatt he drew his Pythons. Bearing down on them as they came into range he started to rain lead and fury on them as they ran.

Bam…bam..bam.. bam…body hits might slow them, but head shots would kill them, the Kid tried to make each count. When some mercs stopped and turned toward him the kid tossed a smoke grenade….fluuumm…. to create cover. Diving and rolling to avoid the scums shots as best he could Ash continued moving and lobbed a freg grenade into their formation……"boooooom".

The kid kept pressing the attack and fired until the Pythons were empty. Then he pulled Peacekeepers, but peace wasn't a part of this. A moving target is harder to hit and Asher's youthful vitality, his catlike agility and granite will gave grace and skill to his moves. Years of pent up fury for his mother's death triggered by the exploding shuttle and the loss of Trish was now released on this group of fleeing mercenaries. Asher would kill every last one of them or die trying.

(Ok, it's do or die..or even do and die time. I'm cashing in ALL the plot points. No sense saving for a rainy day when you're in the middle of a monsoon. The Kid wants to KILL THEM ALL!!!!!!!!!!!!!!!!!!!!!)


Posted on 2014-05-25 at 23:32:55.
Edited on 2014-05-26 at 01:39:29 by Odyson