Topic: Are you Ready for some Football 2013
Subject: Good Grief..............
---
I used the standing this week insted of going with my gut.
I'm 4-5 so far and Dallas is winning, go figure!
------------------------------------------------
Ok, way to come back! Now 6-5!

Posted on 2013-10-06 at 23:22:21.
Edited on 2013-10-06 at 23:40:13 by Odyson


Topic: Trilogy War Q/A
Subject: Sorry.............
---
It was going well with Aryn over the sword, but then it so of just fizziled. There should be something to link back to my post on retrieving the arrows and checking room 2 but blough!

Posted on 2013-10-06 at 22:49:27.


Topic: Trilogy War Q/A
Subject: Blank..........
---
Glad I was able to write earlier, I've been blank all weekend.



Posted on 2013-10-06 at 21:26:45.


Topic: Trilogy War Q/A
Subject: Just Paying It Forward...
---
Well you were so nice as Valene I wanted to be sure you were taken good of by your friendly neighborhood werebear.

When I took over Ulthok, he has so many goodies that I didn't know what they all did.

I wanted you to hit the ground running.

Besides Rayne was the first to help Ulthok when he got his Frostbite. He may need her again.

Posted on 2013-10-06 at 00:28:08.


Topic: The second RDInn generation has come to play
Subject: Hello......... Time to add the Ody welcome.
---
Welcome!!!!!

A really good place to start here is "Pit F(r)iend's epic guide to getting started for newbies." That will help you figure out how to navigate the halls of the Inn.
To meet folks in real time pop into the DragonChat where I act as the current resident bar tender. We offer our very own "Good Old Froth-n-Slosh", the stale pale ale with the foam on the bottom.
Just grab a mug off the mantel and draw a cold frosty one.

My assistant Igor is usually lurking around if I'm not there.

He never says anything, must have something to with having his tongue cut out by his last boss, that nasty bar tender over at the Orc Bar & Grill.
I'll have him put out a plate of "Lady Fingers" in your honor.

Reminds me we need to have another "Ladies Night" and restock.

Anyway the Posting Games are great place to get to know folks and of course the DragonChat is our favorite lounge.

So lurk or play, welcome to the Inn


Posted on 2013-10-06 at 00:19:02.


Topic: Are you Ready for some Football 2013
Subject: Gotta Find A Wizard........
---
Weeden needs a Helmet of "Open Receiver Seeing" and Bracers of "Projectile Hurling".

Posted on 2013-10-05 at 15:57:58.


Topic: Voyages of the Rocinante - Firefly RPG QnA
Subject: Just Like Home.....
---
You turn your back and the kid takes the car, lol.

And he'll bring it back with empty tank.

Posted on 2013-10-04 at 20:16:22.


Topic: Are you Ready for some Football 2013
Subject: What The Brownies Need.....
---
The Browns need a good healing Cleric.... and a Barbarian Fullback!

Posted on 2013-10-04 at 20:02:32.


Topic: Are you Ready for some Football 2013
Subject: They Don't Need to be Pretty......
---

8>)


+
+
Posted on 2013-10-04 at 13:56:01.

Topic: Voyages of Rocinante - Serenity/Firefly RPG
Subject: Let The Games Begin...............
---
Asher left the courier in her room and headed to his stateroom to get the crew some more firepower. As he pulled the cases of grenades out to take down to the cargo bay the thought came to him that too many folks needed that mule.

Going to his ship's comm his called to Wyatt,"Capt'n….. I'm gonna leave some things in the shuttle you and Wolf could use. You's can catch a ride back to the processor with Tess and I'll use the mule." The kid nearly cleaned out his supplies as he hauled the goodies to the shuttle.

[(1 x Boxes of Concussion Grenades (6 grenades) 1 x Box of Frag Grenades (3 grenades) 2 x Boxes of Flashbang Grenades (12 grenades) 1 x Box of Gas Grenades (6 grenades) 2 x Boxes of Smoke Grenades (12 grenades )1 x Box of ChemPlast Charges (3 charges) 1 x Mining Charge (1 charge)]

The kid pulled three of the flashbangs and the mining charge to use with bombs. Then eyeing the boxes he grabbed a frag, a gas and smoke for himself. Walking out he kicked the pile of men's clothing out into gangway, no need for Tess to have tend with them.

It didn't take him long to get back to the cargo bay. Wolf was watching the four fellas that had coming into the engine room as they drew off some of the fertilizer and mixed it with other things. Holding out the flash-bangs, "Here, you can rig these as detonators." One of them nervously took the grenades.

About that time Wyatt's voice came over the comm, "Asher, come on up t' the passenger quarters and allow the young Miss here t' help you be about your business." Asher looked at Wolf, "Gotta go."

As he headed to the stairs he stopped by a set lockers. Opening a lock he rummage a bit and finally pulled out a set of coveralls that must have belonged to Kora. Holden them up, "Yep these should fit'r." The gunslinger flung them over his shoulder as he bound up the stairs to the Infirmary. The two body guards and Cameron passed him as he headed in.

Waiting in the area where they had talked was the attractive young women. Walking over to her he said, "I don't rightly remember anyone actually introducing us, I'm Asher Talhome, most folks call me Ash." Ash couldn't help but admire that even in the torn and now overly revealing gown she was an elegant beauty. Holding out the coveralls, "I thought these might make it easier on you, we might be getting a bit dirty in the next hour or so….you can slip um over your dress if ya like."
(Expect Jessy will introduce herslf and make some kind of comment.)

When the girl was ready Ash waved her to follow him and they headed back down toward the cargo bay. Ma had recruited the two body guards to carry what looked like a big pot and it smelled like soup. The called to her, "If their gonna haul that out to the caves for the other folks just have um put'r on the mule we'll hual it out so it don't get spilt." The two guards hesitated but Ma waved them to placed it in the back of the mule.

As Ash and Jessy reach the cargo bay the bombs were finished and Wolf had loaded them into the mule.

"Wolf," Wyatt called out as he took the stairs down into the bay three at a time, using the rails to help propel him along. "Let's get a move on. Where's Ash?" Locating the young gunfighter, Wyatt removed the case he'd retrieved from behind the couch from underneath his arm and tossed it to Asher. "There's yer prop."

Snatching the case from the air Ash hopped into the mule. He had grabbed the digital imager earlier and was ready to head out. "Miss Jessy climb on in, Mr. Sifu you can hop in too and steady Ma's soup."

Ash was warming up the hovermule as ma reached him and passed over the soup and biscuits – two extra for the growing boy. She hugged him tightly and then let him go, putting down a package for the captain as well, heading off to supervise the boys with their new toys. Over his shoulder, the two bodyguards of Matherson were bringing down a sealed stockpot of soup and a cardboard box full of bowls and utensils. When all was loaded Ash engaged the machine and they headed out to the caves.

Covering the mile or so didn't take much time and he got a few dirty looks from some of the passengers as they crused around them and on to the cave. They found a suitable hideout where Ash and Sifu unloaded the food and other suplies that had been placed in the mule. Hopping back in the Asher turned the mule back toward the Roc. As they moved out the kid throttled up the hover craft and they shot along the ground.

Ash explained to Jessy the plan Wyatt had to make it look like they were hiding the case. He also explanded why they had made bombs and they were to use the imaging device to make picture to lead the Mercs away from them and hopefully take out a few.


Posted on 2013-10-04 at 04:48:57.
Edited on 2013-10-12 at 00:35:37 by Odyson


Topic: Trilogy War Q/A
Subject: Welcome Back......
---
you did great with Valene so I'm sure you'll do fine with Rayne. She's a pretty powerfu; ranger so read up on her weapons and abilities so you can play her full power. Use both apells and weapons to make her awsome.

Your dex bonuses give you advantage of +3 to attacks with the bow and if you use your sword and shield you get a +3 to defence with the shield.

If need help understanding your spell go here to read about the spells.

http://www.alchar.org/~aedil/Campaign/PriestSpells/

Your Stuff:

Ring of Protection: A ring of protection improves the wearer's Armor Class value and saving throws
versus all forms of attack. A ring +1 betters AC by 1 (say, from 10 to 9) and gives a bonus of +1 on
saving throw die rolls. The magical properties of a ring of protection are cumulative with all other
magical items of protection except as follows:
1. The ring does not improve Armor Class if magical armor is worn, although it does add to saving
throw die rolls.
2. Multiple rings of protection operating on the same person, or in the same area, do not combine
protection. Only one such ring—the strongest—functions, so a pair of protection rings +2 provides only
+2 protection.
To determine the value of a protection ring, use the following table:
D100
Roll Level of Protection
01-70 +1
71-82 +2
83 +2, 5-foot radius protection
84-90 +3
91 +3, 5-foot radius protection
92-97 +4 on AC, +2 to saving throws
98-00 +6 on AC, +1 to saving throws
The radius bonus of 5 feet extends to all creatures within its circle, but applies only to their saving
throws (i.e., only the ring wearer gains Armor Class additions).

Bracers of Archery: These magical wrist bands are indistinguishable from normal, non-magical
protective wear. When worn by a character type or creature able to employ a bow, they enable the
wearer to excel at archery.
The bracers empower such a wearer to use any bow (not including crossbows) as if he were proficient
in its usage, if such is not already the case. If the wearer of the bracers has proficiency with any type of
bow, he gains a +2 bonus to attack rolls and a +1 bonus to damage inflicted whenever that type of bow
is used. These bonuses are cumulative with any others, including those already bestowed by a magical
bow or magical arrows, except for a bonus due to weapon specialization.

Boots of Elvenkind: These soft boots enable the wearer to move without sound of footfall in virtually
any surroundings. Thus the wearer can walk across a patch of dry leaves or over a creaky wooden floor
and make only a whisper of noise—95% chance of silence in the worst of conditions, 100% in the best.

Brooch of Shielding: This appears to be a piece of silver or gold jewelry (10% chance that there are
jewels set in it). It is used to fasten a cloak or cape. In addition to this mundane task, it can absorb magic
missiles of the sort generated by spell, wand, or other magical device. A brooch can absorb up to 101
points of magic missile damage before it melts and becomes useless. Its use can be determined only by
means of a detect magic spell and then experimentation.

Hope this helps.



Posted on 2013-10-04 at 00:43:06.


Topic: Are you Ready for some Football 2013
Subject: Good Grief.............
---
Posted on 2013-10-03 at 17:09:13.

Topic: Voyages of the Rocinante - Firefly RPG QnA
Subject: Cut, cut,cut...Get The Writers In Here... This ain't working.......
---
Ok, I'll either totally edit and rewrite my last post or cut it out and say see new post. Because it was before Bromm's post it might not make sense.

Here's what it should cover:
1) Asher goes on the comm and suggests Wyatt and Wolf ride with Tess so he can head out with the mule. He'll gets the extra grenades and loads them in the shuttle. He'll kick the clothes out into the gangway, that way Cameron won't have to go into the shuttle.
2)Ash will take some flash-bangs down where the boys are making the bombs so they be rigged a detonators.
3)Ash will answer Wyatt call and fetch Jessy.
4) On the way back run into Ma and say they'll haul the soup, gear and Sifu to the caves. That way Sifu can be sure Lord Hood finds the right cave.
5) Jessy and Ash load the mule head the mile to the cave leave the stuff and then swing out to where they hide the bombs and do their photo work.
6) Ash will then call Wyatt on the comm and tell him that case is hid, but took a couple of tries to find the best spot, he'll send some images so they don't forget where it is. Here's a stretch assuming the imaging device can transmit and that Wyatt's comm can receive. (That should put the picture out there for the Merc to find and go hunting.)
7) Ash and Jessy head back to Roc for further instructions.

Aryn, that should give you stuff to write around.

Does this sound good?

I'll watch for PM's and email along with checking Q&A.

It should take me most of the football game tonight to write all this.

Posted on 2013-10-03 at 16:54:44.


Topic: Voyages of the Rocinante - Firefly RPG QnA
Subject: Tonight During The Game........
---
I'll get it posted tonight. I just saw Brom's post last night. I'll most likely do a new post that recaps the last but starts with Ash answering Wyatt's comm.

There are couple logical things that need to happen. Asher and Jessie need the mule to get to the bomb locations. Wyatt and Wolf need a ride to the Processor.

Do Ma need the mule to haul the soup to the cave?

A lot of trips for one mule.

If Tess was flying the shuttle to the processor to lift the turbine Wyatt and Wolf could ride with her while Ash and Jessie take the mule. They could haul Ma and her stuff to the caves and then head off to plant the bombs and then back to the processor and Roc.

I don't remember seeing it, are Willow and Ma staying on Roc? Wasn't Sifu going to the caves? They could ride to the caves or at least Sifu to take the soup and stuff.

I guess I need to go back and reread the posts, I'd guess someone coordinated the trek to the cave and loaded folks with supplies to carry. I could guess that Lord Hood with help and direction from Ma and Sifu would have done that.

I know I can get too detailed, but things need to flow and make sense. Plus I tend to forget sometimes what was already posted.

Thoughts, Bromm? Tann? Aryn? Roger?

Posted on 2013-10-03 at 13:16:21.


Topic: Trilogy War Q/A
Subject: Name It......
---
Did you know that the Averger had a name?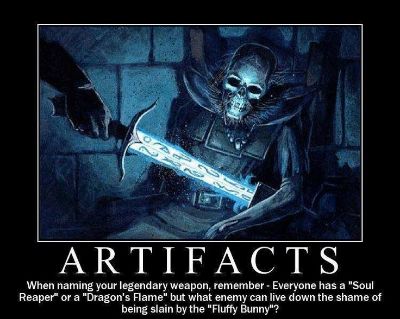 Posted on 2013-10-02 at 17:04:25.

Topic: Are you Ready for some Football 2013
Subject: Aryn ROCKS................
---
Thanky!



Posted on 2013-10-02 at 16:09:03.

Topic: Are you Ready for some Football 2013
Subject: Loyalty??????
---
Hmmmmm...... very telling.

Must live by the saying:

"Winning isn't everything, but losing isn't anything!"

If I lose by one because I pick the Browns, then so be it!
"Woof, woof, woof, woof, go DAWGs"

I'm also an Indians fan, "Roll Tribe!"

Posted on 2013-10-02 at 14:33:58.


Topic: Trilogy War Q/A
Subject: See,,,,,,,
---
See what happens by teaching an old dog (bear) new tricks.

I can photobucket!

Posted on 2013-10-01 at 23:38:49.

Topic: Are you Ready for some Football 2013
Subject: Well .... It's Not Like They Are Baltimore.....
---
Lesser of two evils, lol.

If Dallas had won Sunday I'd have picked them. (But they do have better looking cheerleaders,
)

Posted on 2013-10-01 at 23:36:24.


Topic: Voyages of the Rocinante - Firefly RPG QnA
Subject: Helping Hand...................
---
I can edit my post to add Jessy helping to plant the bombs. Ash needs someone to hold the flashband as he riggs the trip line.

Posted on 2013-10-01 at 23:32:07.

Topic: Trilogy War Q/A
Subject: But This is What Ulthok Sees................
---
Lady J




Nice sword!

Posted on 2013-10-01 at 21:11:26.


Topic: Are you Ready for some Football 2013
Subject: More Bears...........
---
Once again.....

Cleveland
St Louis
Kansas City
Philadelphia
Chicago
Miami
Seattle
Detroit
New England
Arizona
Denver
San Diego
San Francisco
NY Jets


Posted on 2013-10-01 at 21:04:36.


Topic: Trilogy War Q/A
Subject: So Cool............
---
I'd found that other picture so I'd say your picture is MUCH better.

BTW, here's what I found of Lady J accepting the Avenger.




Hope you like.

Posted on 2013-10-01 at 14:25:23.


Topic: Are you Ready for some Football 2013
Subject: Oh Look...............
---
Another week of improvement.
I'll take 10 too please.

Boss, did I miss count, I thought you pulled 11.



Posted on 2013-10-01 at 12:31:41.
Edited on 2013-10-01 at 12:35:35 by Odyson

Topic: Trilogy War Q/A
Subject: If.....................
---
I delected the picture and forgot I had it linked...oops!

Posted on 2013-10-01 at 02:59:22.
Edited on 2015-08-14 at 20:24:49 by Odyson