You are here: Home --> Forum Home --> Recent posts by t_catt11


Topic: Star Trek: Operation:Persephone - Q&A
Subject: fudge

---
does that mean that we're writing this one off?

I have sucked, by and large, at posting to this game, but I still hate to see it go.

Posted on 2008-09-18 at 13:21:37.

Topic: Continuing Where We Last Left Off
Subject: part three
---
The time in Freegate had flown past. Alloryn had recovered well enough, but her memories of the event had been disjointed and disturbing. Try as he might, Arien was unable to convince his twin to stay; she felt strongly that her own path, at least for the time being, was one of independence, and her little brother knew well enough that he would not dissuade her. The heir to House Thedell had presented his ruined shield to Dwan, proclaiming that he would pay any price to have it restored. The dwarf, in his typical gruff manner, had taken it and muttered something about "seeing what he could do".

Summer had stretched into autumn, and Arien found allowed himself to be occupied by affairs of minor business, varous diversions available to a young noble such as himself, and of course, the pursuit of the fairer sex. Freegate seemed nothing more that a waypoint, and the knight found himself loathe to wander far. So, for the time being, he enjoyed city life, and the company that he found.

The day arrived that found Arien summoned once again to Dwan's meeting hall, and of course, his comrades were there, as well. After the group had exchanged greetings, the dwarf welcomed them, and introduced one Matthias Rath as a mage of vast power who would be accompanying them on the mission. Arien nodded to the man in a friendly manner - Dwan vouched for him, which was good enough in the knight's eyes.

The mission itself sounded simple enough; investgate the disappearances, find the villain behind them, and slay him (or them). The fact that there were alost certainly unnatural forces at work here seemed almost a given, what with the history that the knight and his comrades had lived through in the service of Dwan. Arien found that he was neither surprised nor overly worried at this point in time.

Soon, the discussion turned, for some reason, to ancient history. Truth be told, Arien was unsure exactly how it had a bearing on their current mission, and he found the topic to be quite dry. Still, he listened politely, knowing that Dwan would certainly not allow useless tales to be bandied about for no reason. The knight's eyes narrowed at the lout, Maximus, as the big man began to nod off during the discussion. The man had no manners whatsover, and deserved a brisk cuff to the back of his head for such insolence!

Fuming silently, Arien listened for the mages and the learned to finish their discussion.

Posted on 2008-09-17 at 18:23:18.
Edited on 2008-09-17 at 18:24:50 by t_catt11


Topic: yet another movie thread...
Subject: a better one
---
Once upon a time, a good friend of mine had me sit down and watch Spirited Away. I had never been exposed to this sort of film, and it blew my mind... and also, opened it.

Later, I had my children watch that same film, and they loved it. So, we added another Studio Ghibli (Japanese studo owned by Disney... does nothing but anime-style films) title to our Netflix queue - The Cat Returns.

When they read the blurb of what the movie was about, my kids (daughter, age twelve, and son, age ten) were prepared to heap ridicule on the movie... man, have they become a tough audience! The basic premise is that a girl rescues a cat from being hit by a truck. Unbeknownst to her, the cat is the Prince of cats, who thanks her for her kind deed. The Kingdom of cats is in turn grateful to her, and they shower her with gifts and an offer of marriage to the prince (an offer that she is not prepared to accept).

She is transported to the kingdom, where the demented King of cats does everything in his power to force the marriage, while the girl tries to escape. The movie contains a couple of nice fable-type character lessons regarding karma and good deeds coming back around to those who do them.

Please, make it a point to see this movie. My kids both loved it, and are demanding to find a copy to own. The characters are very well done, and have developed personalities (not to mention, excellent voice work). The Japanese influence can be felt throughout the movie; there are several truly bizarre moments that will make you laugh out loud with their pure absurdity. The plot is well done, and strikes a nice balance of feeling neither rushed nor slow.

The Cat Returns is an excellent film, and one that I highly recommend.


Posted on 2008-09-17 at 14:36:24.
Edited on 2008-09-17 at 14:36:41 by t_catt11


Topic: yet another movie thread...
Subject: been awhile
---
It's been ages since I posted to this thread. Time to break the streak with reviews of a couple of family movies on DVD.

The Bee Movie

When the commericals for this one first came out, I was somewhat interested. The scene with Jerry Seinfeld's bee on the windshield with Chris Rock's mosquito was funny.

It was the high point of the movie. That, or maybe the lawyer quip that Rock makes at the end of the film.

I was worried when the opening moments of the film were spent telling us how scientists knew that bees should be unable to fly, but that bees didn't care what people thought. I found this to be odd, since the movie was about a honeybee, and everyone knows that it's bumblebees who go against the understood laws of physics. That irritates me, but I figured I was being nitpicky, that I should hush and enjoy the movie.

Ugh. The first part of the movie is okay, I guess, with Seinfeld's bee wanting more out of his life than an assigned job he'll keep until his death. He sneaks his way into the pollen jocks, who get to fly out of the hive. And then, everything goes stupid.

He meets and falls into some sort of love with a human woman who can understand him. He then sues the human race for exploiting bees and stealing their honey.

Hah! Turns out that all humans can understand not only him, but all bees... just, for some reason never explained, bees have never talked to humans before.

Um, whatever. The story meanders without any real structure. The characters are just... flat, dumb, and lifeless. And my beef about the "bees can't fly" thing is crushed by a much worse infraction at the end of the movie: Senfeld's bee wins his case, and bees stop producing honey (and thus, pollentaing flowers), period. Which results in the death of pretty much every plant, everywhere.

So how do they fix it? Why, with a huge shipment of roses destined for the Macy's Day parade, of course! Because, you know, rose pollen clearly has the power to rejuveniate any sort of dead plant like magic! Last time I checked, the pollen has to come from, you know, the same KIND of plant, and is only involved in fertilization/reproduction. Not, you know, restoring life to existing plants.

I understand suspension of disbelief. I understand fabricating fantasy for the sake of a movie. After all, the movie IS about a talking bee. But one must wonder what else this magic rose pollen could be used for. Cure for cancer? Resurrect dead grandma? It boggles the mind.

This movie is a catastrophic waste of time. If you see a copy in your local video store, drop it on the ground and "accidentally" grind it into pieces beneath your heel.



Posted on 2008-09-17 at 14:19:15.
Edited on 2008-09-17 at 14:20:16 by t_catt11


Topic: Sojourn in Middle Earth
Subject: woot!
---
I've missed this thread.


Posted on 2008-09-17 at 14:05:31.


Topic: A fun little game...
Subject: hehe
---
glad you enjoyed it, Grugg.

To cheat, open a new browser window. The game remembers you for the life of that window.





Posted on 2008-09-13 at 00:57:58.


Topic: A fun little game...
Subject: A fun little game...
---
I had this code lying around from a project I had started once upon a time. I thought that the Innmates might enjoy it.

Lizard races

This is just a simple little wagering game. You start with 50 coins every time you hit the site for the first time. If you run out, you're out (but you can cheat, close and re-open the window... I'm not really saving anything).

In the past, I have mused about adding some simple little games to the Inn... this one, maybe a small lottery, other things? Anyway, as stated, I had this code, and figured it would be better shared than sitting around collecting dust.

Let me know what you think.

Posted on 2008-09-13 at 00:32:12.
Edited on 2008-09-13 at 00:32:41 by t_catt11


Topic: Noah's first birthday!
Subject: Noah's first birthday!
---
A year has flown past, and yesterday, we held Noah's first birthday party.


Check out the cake!




Fancy banner.




Noah didn't care too much for the cake...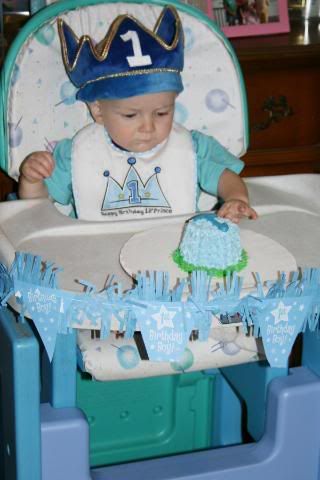 But he was all about presents!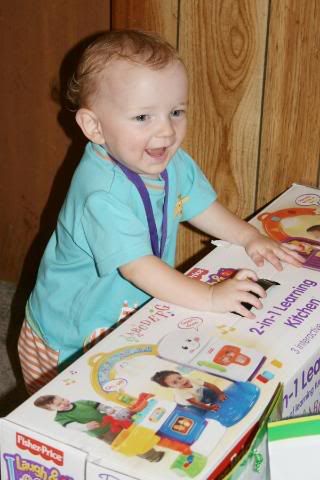 More presents...




And the kid already knows what cash is.

Posted on 2008-09-08 at 18:04:40.

Topic: Keeping PC's alive
Subject: whoa
---
**pointedly ignores that choice of words**

Yep, level 1s are easy to kill. If you are low level, death is always nearby.

I, too, try to avoid killing players if I can... but, as my title suggests, I am not at all above offing them if the situation (i.e. stupidity or extraordinary bad luck) warrants.


Posted on 2008-09-05 at 20:50:55.


Topic: Cirro: Prologue
Subject: no glasses? ick.
---
I hate trying to do anything without mine.

Could I make the text field even bigger? Sure, but at the cost of some performance. One post over the eight year life of this site does not really sway me to make such a change.

Posted on 2008-09-05 at 18:51:53.

Topic: Cirro: Prologue
Subject: just FYI
---
The text field in our database is limited to 65,535 characters.

Usually enough.

Posted on 2008-09-05 at 18:17:18.
Edited on 2008-09-05 at 18:22:16 by t_catt11

Topic: What is Your Light Saber colour?
Subject: heh
---


My lightsaber is blue, what color is yours? Take the quiz.
You are intelligent and choose to fight your battles with tactics and a lightsaber in hand.

Other famous jedi with blue lightsabers:

Anakin Skywalker
Obi-wan Kenobi


I gotta say, it looks to me like the most important question as to what you are awarded is what your favorite lightsaber color is.

Posted on 2008-09-04 at 13:43:57.
Edited on 2008-09-04 at 13:44:58 by t_catt11

Topic: RDI T-shirts
Subject: bump
---
No sales for a while. Has the novelty worn off? People wanting different designs? Something else?


Posted on 2008-09-03 at 20:02:41.


Topic: Greetings, Salutations, Hellos, and all the rest
Subject: yup
---
Werds r gud.


Seriously, though, welcome to the Inn!

Posted on 2008-09-03 at 18:38:53.

Topic: Star Trek: Operation:Persephone - Q&A
Subject: checking in
---
I hope to post to this game, as well as to my others, shortly.



Posted on 2008-09-02 at 14:13:48.


Topic: Hail the birth of Alacrity!
Subject: Hail the birth of Alacrity!
---
Join me, good people, in cheering the date of August the thirtieth, for that is the day that marks the birth of our own Alacrity. I do not exaggerate when I tell you that were it not for his dedication, the Inn as you know it would almost certainly not exist today.

Hip hip, hooray!

Posted on 2008-08-29 at 13:59:57.


Topic: Seem to have lost my way
Subject: nice answer!
---
Wyrmsting is absolutely correct. The Red Dragon Inn itself does not exist in Audalis canon; the Inn itself is more a place for gamers of all stripes and interests. Audalis is the D&D/fantasy setting we have developed over the years, and while there are usually several games running within that setting at any given time, the Inn is by no means limited to it.

By the way... welcome!



Posted on 2008-08-25 at 13:43:54.


Topic: A Cold Day in Hell Q&A
Subject: posting
---
I'm about to post now.

FYI, Utan the Orange will be assumin ghte role of Private Pearsen. Welcome to our nightmare, Utan!

Posted on 2008-08-22 at 13:21:41.
Edited on 2008-08-22 at 13:21:58 by t_catt11


Topic: Blatantly Obvious Lies
Subject: cannot resist...
---
Because one fateful day, Eol and Grugg's father shared a "special" kind of hug...


why do silly games like this lure me in?

Posted on 2008-08-14 at 21:41:23.
Edited on 2008-08-14 at 21:41:41 by t_catt11


Topic: A Cold Day in Hell Q&A
Subject: woof, woof!
---
Okay, gang. The recent posts give me enough to go on.

It will take several hours for Blake to make headway on her hacking. Coincidentally, it will probably be several hours before any of the inured rangers are close to able to move, much less fight.

I was intending on doing this as a woof moment... just bumping the clock ahead. However, if anyone was planning to do anything in the meantime, I'd hate to interfere.


Let me know!

Posted on 2008-08-13 at 17:54:07.


Topic: Continuing Where We Last Left Off Q&A
Subject: woot!
---
I

CWWLLO!

Posted on 2008-08-13 at 13:22:24.


Topic: The Guiding Light Recruitment Thread (formerly known as A New D&D game - players needed)
Subject: ah, well
---
No worries! Thanks for the interest, anyway.

We're about to wrap this game, so I'll start another one soon. Check with me then.

Posted on 2008-08-12 at 13:47:12.

Topic: A Cold Day in Hell Q&A
Subject: Monty Monty
---
We're holding for a post from you, sir.

Posted on 2008-08-11 at 13:43:33.


Topic: fun in the sun, or, no webmaster!
Subject: upside down birds?
---
Then you better get exclusive video, man!



Posted on 2008-08-01 at 16:19:06.


Topic: fun in the sun, or, no webmaster!
Subject: fun in the sun, or, no webmaster!
---
Folks, I'm gonna be offline for the next week. We're getting up at five AM Saturday morning to drive down to St. George Island, Florida, for a week of relaxation in the sun.

Cell phone coverage is spotty, and I wouldn't seek an internet connection, even if it was available (which I have no idea if it is or not).

This is a nice, quiet vacation for us; a little, isolated, out of the way place where almost everything closes by 5:30 PM. Swimming, sandcastles, sunburn, and a little deep sea fishing are the itenary.



Posted on 2008-08-01 at 15:40:50.





View/Edit Your Profile | Staff List | Contact Us


Use of the RDINN forums or chatrooms constitutes agreement with our

Terms of Service

.

You must enable cookies and javascript to use all features of this site.