Topic: Voyages of the Rocinante - Firefly RPG QnA
Subject: Friends and enemies
---
Back on Earth-that-was, there was a saying that if you went through life without gathering some enemies, you weren't doing it right. Here is a list of some friends and enemies you have made along the way.

Allies

Griffin - Captain of the Royale (a Dragonfly class ship.) Former independent that has so much bad luck that you'd think he's cursed

Dodger - A Boss out of Beaumonde. Known for his ability to ship things (smuggle) and not a dabbler in other criminal actions. Gets you jobs on occasion for a fee.

Sheriff Andrew Bowman - Sheriff of Frisco on the Planet Regina. Relative of Wyatt and a good man with a gun.

Kora Ling - Former crew (mechanic) that fell in love with Sam Hawkes, co-owner of the Lullabelle Mine on the Angel-Hair Comet

Tinkerbelle - A ghost on the cortex, this cyber hacker can get into and out of any system known in the verse. She sees and hears all but only helps out a choice few. No one has ever seen Tinkerbelle and some say she doesn't exist but then again, you have to believe in fairies, right?

Sheriff Weaver - Newhouse Beylix, the deputy became the sheriff.

Stacey Tam - Newhouse Beylix. Foreman of Newhouse Spaceport and casual lover of Fenris. A rebel by nature, loves to stick one to the "man" whenever she can.

Sheriff Buford T. Justice - Sheriff of Eisley Moss, A lawman more worried about what is right than what is the law.

Colonel Sanders, Lt. Hicks, Lt Vasques and Prv. Hudson - Federal Marshalls who are sitting pretty right now because of you, but as well if they had not shown up you might be dead by now.

Javelin - Head of the Companion Guild Security Force. You did him a favour, he returned the favour but he would count you on the list of friends so you can too.

Enemies

Sterling Phoenix (Sam) - A powerful man with a long reach that wants to kill Sam and then revive him and kill him again and then revive him and ......

Adelei Niska (Asher) - A businessman who has a score to settle with Asher Talhone

Miko - A commander of the Mercenary army you assisted in taking out. She is the only one to make it out alive and not captured. You only know she is of Japanese descent and is mute.

James Blake - The son of the Banker on Frisco, Regina. Felt that Willow betrayed him and all of the crew assisted in the death of his parents.

Bridget (?) - Ahh, Bridget, where to start ....

Commandant Herbert Ludlow of the 21st Grenadiers - Wyatt killed all three of his sons. Now they were actively trying to kill him at the time but blood is blood.





Posted on 2017-06-21 at 13:42:50.
Edited on 2017-07-06 at 09:19:58 by Alacrity


Topic: Voyages of the Rocinante - Firefly RPG QnA
Subject: Vanadia is a bit busy
---
Vanadia is busy with work. If she can not post but this weekend, i will move the story forward.

Posted on 2017-06-21 at 13:26:28.


Topic: Voyages of the Rocinante - Firefly RPG QnA
Subject: yes
---
Reavers are the caution here for sure. Now they have upped the satellite security on the planet, and different Ranches have different defences. Part of the "reason" for Patience's navy of two Gyrfalcons is strictly reavers although she likes having the only strict force on the moon.

Posted on 2017-06-19 at 12:50:38.


Topic: Voyages of the Rocinante - Firefly RPG QnA
Subject: agony of de feet
---
Rocinante is parked on the property of Eagle-Eye and I assume close to the homestead as who wants to haul frozen bees over a long distance. So I was working on the assumption that you walked. If you really wanted to take the mule, that is fine with me.

Before any asks about guns - everyone packs here. Women, Men, and anyone old enough to be shown how to shoot properly. They ain't showy about it, all are holstered or put in side racks nearby. There are four outlook towers posted around the homestead fully armed as well but keeping an eye on the sky mostly. Whether this makes your character feel nervous is up to you.

Posted on 2017-06-19 at 12:28:54.


Topic: Voyages of the Rocinante - Firefly RPG QnA
Subject: Waiting
---
Just waiting on Robert and Vanadia. Hopefully soon.

Posted on 2017-06-19 at 07:36:13.


Topic: Voyages of the Rocinante - Firefly RPG QnA
Subject: Ambidextrous
---
Albert - Ambidextrous is a Asset. You can't just claim it. It is called Two fisted and it is a Major asset. Asher has this asset but you do not.

Posted on 2017-06-18 at 11:02:20.


Topic: Dark Fantasy QnA
Subject: coming soon
---
I will finish this game off. I will post an update this week

Posted on 2017-06-18 at 10:51:36.


Topic: Voyages of the Rocinante - Firefly RPG QnA
Subject: not looking really
---
I was not planning on recruiting for this game. I can NPC Saul well because he was an NPC to begin with, so not a problem

Posted on 2017-06-16 at 13:51:53.


Topic: Voyages of Rocinante - Serenity/Firefly RPG
Subject: Silver Screen Moment
---
Saul Potter look at his old friend and the two bodyguards who accompanied them for so long now. They needed a ship. They needed one badly but so many things stood in their way, the biggest being that there was no ships. That is to say, there was no ship until now. Saul stood up and straightened out his suit and shirt before proceeding, "The good news is we have a possible ship. A firefly class. Just made atmo and is parked out on Sarafina's land. Bad news is it is Rocinante


Brutus whistled, "Well we ain't taking that on by force. Have you seen the vids? That crew took on like 1 thousand mercs at once."

Saul sighed, "Taking it by force wasn't on the agenda Brutus."

""Good." He replied, "Because we wouldn't want to try."

"We are not trying. Was not part of the plan. Ever."

"Right."

"Saul nodded his head and looked over at the older man, "Your thoughts, sir?

"The old man coughed wetly and spat into a handkerchief, "Who's the captain?"

"Wyatt Sung."

"I know that name. He was on the independent side. Good man, very driven and loyal."

Saul shrugged, "Well his last two jobs of note involved helping the alliance in a big way. Rep is he's gone to the dark side."

"Ha!" the old man laughed and coughed again, "You know as well as I do that them purple bellies lie and spin their stories to suit their needs. Wyatt's a loyal man, bleeds brown and he'll help us - see our need."

"Well, just in case, we might need a plan B, and we are a little short on funds to hire a ship right now. Brutus? Jerome? How do you feel about the fights?"

"Brutus and I are judo trained, Boss." Jerome replied, "The fights are strictly boxing style, no throws, no kicks, no takedowns. Frankly, we'd be at a disadvantage. You ask me to, I'll do it but I can't promise a win."

Saul nodded thoughtfully. "Well, I am going to the Slaughterhouse tonight. Hoping someone from the crew might be there. Then we can go from there. The crew roster mentions a Doctor on board so maybe I can get them to come see you sir."

"Saul, we've been over this. No Doc is gonna be able to do anything about what I have." The old man said loudly and then broke into a spasm of coughing up phlegm.

"So you say, but I would rather a doctor told me that instead of you."

"Bah! You know what I need! You all know what I need!"

Saul looked away from the old man's gaze. "Working on it Sir. I promise you I am working on it. If there is a way, I'll get you there."


Posted on 2017-06-16 at 10:03:38.
Edited on 2017-06-16 at 10:07:20 by Alacrity


Topic: Voyages of the Rocinante - Firefly RPG QnA
Subject: GOB
---
With Grumpy Old Bear leaving due to family issues, I will be running his character as the NPC for now.

Posted on 2017-06-16 at 08:16:21.


Topic: Voyages of the Rocinante - Firefly RPG QnA
Subject: Well
---
I only need the who is where in case of a reaver boarding party going room to room. How likely is that?

Having read and watch "the expanse", the idea that you would have a small machine shop to fix and repair parts makes a lot of sense. So I will say the is a mechanic's quarter under the engine room with a bunk, a work bench and some equipment for repairs.

So that would make

1- Sam
2- Wyatt
3- Jade
4- Asher (with the hidden gun stash)
5- Ma

Willow in the passenger rooms nearest the infirmary.

Posted on 2017-06-15 at 18:17:53.
Edited on 2017-06-15 at 18:20:04 by Alacrity


Topic: Voyages of the Rocinante - Firefly RPG QnA
Subject: quarters
---
There is no crew quarters in the engine room.

There are five crew quarters, one with a double bed. There are seven "passengers" quarters. I believe Willow uses two of the passenger quarters (one to sleep, one for clothing).

You have 7 crew now including captain. If Willow and Ma are in the aft section, then you should all have crew quarters unless I missed something.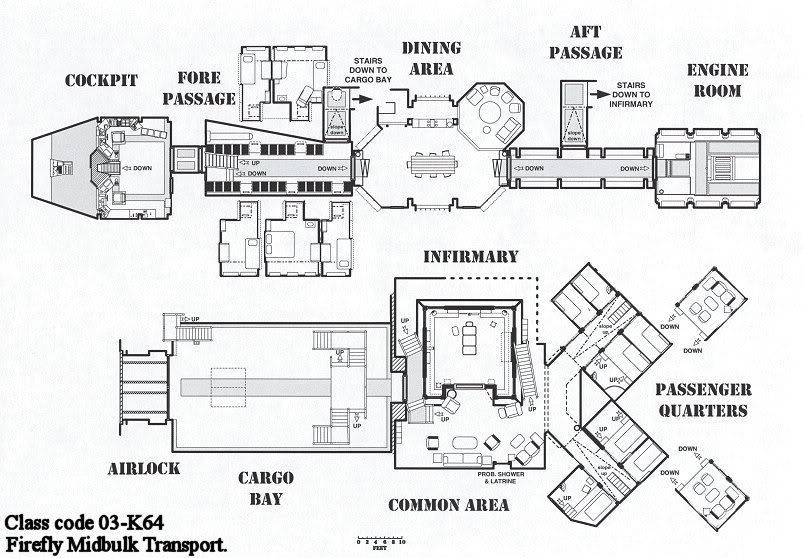 So if you number the top of page two as 1,2 and the bottom as 3, 4, 5 - This is what I was thinking:

1- Sam
2- Wyatt
3- Jade
4- Asher (with the hidden gun stash)
5- Wolf


We can say that the rebuild put another crew quarter in the space above the engine room since the new engine parts were smaller, and Wolf sleeps there. Not a big issue.

Posted on 2017-06-15 at 14:50:21.
Edited on 2017-06-15 at 14:53:41 by Alacrity


Topic: Voyages of the Rocinante - Firefly RPG QnA
Subject: ship
---
The ship was always there at the end. I even updated with the new engines.


Which reminds me, Who has what bunk now?

Posted on 2017-06-15 at 10:43:12.
Edited on 2017-06-15 at 10:44:52 by Alacrity


Topic: Voyages of the Rocinante - Firefly RPG QnA
Subject: Happy Birthday Lance
---
I have fixed up the characters, taking out the strange question mark symbols and updated Wolf who was not fully completed for some reason. Asher has a couple of errors on his that he needs to sort out 4 points of skills.

Posted on 2017-06-15 at 10:04:15.


Topic: Voyages of the Rocinante - Firefly RPG QnA
Subject: looking good
---
Thanks for the posts.

One thing I did want to say is that this particular adventure is very open ended. There are a number of ways it can end by design - some heroic, some tragic and some bittersweet but all of them decent endings. There are a lot of "side" events going on as well that may or may not influence the main plotline. So if your character is put into a situation that seems a sideline, it might just be that. Not everything will tie itself into the plot. Much like life, some things will happen because they happen - roll the bones.




Posted on 2017-06-14 at 07:31:18.


Topic: Voyages of the Rocinante - Firefly RPG QnA
Subject: first
---
Someone has to post first. Please don't all wait around for someone else to post or I might get bored and start making stuff up. UberReavers in hyper accelerated power armour...

Posted on 2017-06-13 at 14:45:46.


Topic: Voyages of the Rocinante - Firefly RPG QnA
Subject: back in black
---
It is six months after the events at Serenity Valley when we pick up the story. Sam and Jade alternate shifts as pilot and during crunch time, Jade takes the co-pilot chair to control the technical side of flying so Sam can concentrate on flying. In game terms , you have have a helping roll on flight maneuvers.



Posted on 2017-06-13 at 13:04:14.


Topic: Voyages of the Rocinante - Firefly RPG QnA
Subject: Ma
---
Yes Ma is a mute and no she can not make any noises. The surgery she had left her scarred and half her face numb.

Posted on 2017-06-13 at 07:14:54.


Topic: Voyages of the Rocinante - Firefly RPG QnA
Subject: posted
---
The Game is a flight.....

Had a strange issue where the bottom of the post kept cutting off so I had to do two.

Eagle Eye Sarafina


Posted on 2017-06-12 at 11:38:47.
Edited on 2017-06-12 at 13:49:56 by Alacrity

Topic: Voyages of Rocinante - Serenity/Firefly RPG
Subject: Part 2
---
Elsewhere, Jade is going through the shutdown protocols for Rocinante when the communication array picks up a DTS (Direct to Ship) transmission. Jade checks the source, it is local, another ranch about ten kilometres away. The message is live and directed to Willow from a Percival Chao. Even Jade knows of Percival Chao, a wealthy socialite from Persephone, known for have a desire to "seek opportunities" out on the Rim planets. With his money, power and connections, it is no wonder he knew where to find Rocinante just as it was landing. Jade alerts Willow to the message and patches it through to her personal communication receiver.


OOC: This and That
The ship is at ¼ tank of fuel (15 tons or 200 hours). The ship is parked in a field right now so there is nowhere to refuel unless you move the ship to a spaceport and pay the hefty docking fees and maintenance fees and the Patience's tax. The ship is about one month behind its usual maintenance right now (1030 credits if you wish to invest). Your cash reserves are down to 2500 credits and you were paid 1000 credits up front for hauling the bees. So, you are looking at 3500 in hand with 1030 needed for maintenance and if you fill up on this planet, 800 for fuel, 400 for port fees and supplies refills).



Weird issue with this posting so I broke it into two.


Posted on 2017-06-12 at 11:33:24.
Edited on 2017-06-12 at 11:34:32 by Alacrity


Topic: Voyages of Rocinante - Serenity/Firefly RPG
Subject: Next phase, new wave, dance craze, anyway
---
Back on Earth-that-was, there was a saying that no good deed goes unpunished. Ain't that just the gorram truth.

Things were looking and feeling might fine back a ways - Sam Dash was back, you had buried Captain Havelock and broken up a human trafficking ring along the way. Seemed like for once things were aligning your way. The "theme park" back on Serenity Views had completely fallen apart without Morningstar to back the project. The Trade Guild Consortium was now working on a more serene memorial to the war and a place for people to go to honour the dead or find their lost family members. The Companion guild had done you a big favour in return for your efforts to find their lost sister, so they were considering themselves square with you and you with them. Things could go back to normal.

Or so you thought ,

Started out very quiet like, but you could not get jobs. People would say they had nothing to ship, or they were already booked with someone else. Sounded all legit but there was the briefest pause, the edgy look - like they were scared of something. Then you heard from a friend, who heard it from a friend who heard it from another - You were considered Alliance now. Two jobs in a row with Alliance people, and the contacts you had just didn't want to mess with you anymore out of fear they would be watched, scrutinized or get in trouble. You were being shunned by some and outright hated by others. A friendly drink in an Independent bar one night turned into a brawl when someone called Wyatt a "Purple Belly Sap Sucker" to his face.

If that wasn't enough, the friends you have with legitimate cargo weren't calling you either. Turns out the Trade Guild Consortium and the Tradespersons Guild were none to please with you either for killing the theme park on Hera, which was a source of much revenues and jobs for the next few years.

Adding fuel to that fire, was a Hotshot Commander of the Alliance, Eugenia Renaldo of the ISV Domager had been sent to the border planets to "deal" with the increased pirate, smuggling and so called "reaver" activity. Seems she is quite enthusiastic in her efforts to board and confiscate cargo without the property paperwork - taking a percentage of the goods a "prize money". You don't know if it was your "alliance" reputation or just sheer luck but you have not been boarded or inspected by any of the taskforce ships - which does not to enhance your reputation with those on the rim.

And then there was the Ship itself. Oh, it was decked out nice and repaired with shiny new engines and whatsits but now getting the replacement parts were expensive and it wasn;t like Wolf could dig through the junkyards to find the parts. Too damn new! You had to buy the parts! More money needed and no jobs coming in.

So here you are, approaching Whitefall with a cargo of , bees. Cryogenically frozen beehives, ten of them in fact, from a company called BCNU (Bee Cryo Neotech United). The hives are for a "Eagle Eye" Sarafina. Eagle Eye is part of the Rancher Lodge on Whitefall and he is looking to branch out into the honey business. Nice thing about this mission is you were paid in advance, which helped the crew from dipping further into the reserves. This job was gotten through Wolf as Eagle Eye was a former convict in same prison as Fenris (racketeering, smuggling, and forgery). Furthermore as a Whitefall Rancher Lodge member; he doesn't give a gorram damn about any other guilds and their business.

So you have been travelling to Whitefall with a careful eye on the cryogenic control panels. Not to mention that a lot of ships and crews get really nervous and twitchy about hauling bees since the time the Weeping Somnambulist went down with all the crew due to a cryogenic containment failure. A ship full of angry bees is not a happy place.

Of course, Whitefall wasn't without its own quirks and cautions. First, being the "Governor" Imogen Patience who had bought the right people and the right lands to make herself the self-styled ruler of Whitefall. She liked to know all that was going down on her planet and she liked her fingers in everybody's pie - if she couldn't take the pie for herself. As crooked as they come but well-armed and well-placed, Patience had deals with Alliance and word was that she even had her own air-force now of gyrfalcons to "maintain the peace". Not all is well for Patience right now as a Captain Reynolds did embarrass her some in front of her men and that lead to folks standing up to her and the forming of the Rancher's Lodge. Seems the only friends Patience's has are the ones she pays for, but they can be a bother, none's the less. Being on Whitefall, and what with your "infamy", no doubt she knows you are there and Buddha knows what that may stir up.

Of course, Whitefall is so out on the edge that it is deep in what some call Reaver territory. Always a good reason to be cautious, keep an eye to the sky and keep your gun handy.

But Patience, Whitefall and Rancher's aside, you reach the landing point without much ado and breathe a hefty sigh of relief as the Ranch hands come to take away the bee colonies. Wolf and Eagle Eye exchange a bear hug and some reminiscing about selling homemade hooch in their cellblock. Eagle Eye is a tall man with broad shoulders and well dressed in typical rancher style. He wears an eye patch over his left eye and scarring is visible around it. When asked, he claims the eagle got that eye with a laugh.

He invites all the crew to his estate for lunch, which appears to be an open-air banquet with long tables and all the people who work his ranch. You get the feeling this is a common place event and there is certainly enough food and drink to go around. This could be a good time to ask Eagle Eye if he has any cargo to go elsewhere or if he knows someone who does. Flyin' empty right now doesn't strike nobody's fancy and the thing bout Whitefall is you don't want to hang around too long because if the Reavers don't get ya, then Patience will.


Posted on 2017-06-12 at 10:49:14.
Edited on 2017-06-12 at 11:33:00 by Alacrity


Topic: Voyages of the Rocinante - Firefly RPG QnA
Subject: moving along
---
Albert - The size sounds right to me and the description based on the attributes and skills you have for Wolf. You may get a chance to highlight that in the next adventure too.

Anyone else want to send me a description of their character, feel free.

I am looking to post the opening for the next campaign today or tomorrow at the latest. Need to gather up the pictures, fix up some things and send the information to GOB on his character's situation.

So ... Let me say that I am pleased to be starting this game again but I would be really really heart broken if we start up and it fails after a few months. So please, if you are in a RL challenge and posting is tough - email me. I will do my best and not every post needs to be a novella. As well, if I have not posted after three weeks, then email me. Sometimes I lose track of time or get washed away in RL issues as well.

That being said, I am going to work on the basis of a quorum. That is, if I have 5 posts out of 7 players, I will move the game along. If we go three weeks and I have only 4, the I will move it along as well.

There is some updating of player sheets I need to do but we can start while I am doing it. Combat should not start immediately in the game....





Posted on 2017-06-12 at 07:24:57.


Topic: Voyages of the Rocinante - Firefly RPG QnA
Subject: Description
---
Good point on the descriptions Albert. I always pictured Wolf as a big guy, broad of shoulders and muscular. But he is your character. I will see if I have a physical description anywhere.

Posted on 2017-06-09 at 07:24:39.


Topic: Voyages of the Rocinante - Firefly RPG QnA
Subject: well
---
I am working on the introduction to the new adventure so if you wish/want/need to post a reaction to the background, please go ahead. I will officially start this game on Monday(ish).

Posted on 2017-06-08 at 07:23:54.


Topic: Dark Fantasy QnA
Subject: with frosting
---
The doors are clear glass with some frosting and symbols. Yes, Lum may attempt to smash.

Posted on 2017-06-08 at 07:21:00.