You are here: Home --> Forum Home --> Recent posts by Alacrity


Topic: Voyages of the Rocinante - Firefly RPG QnA
Subject: Before it is asked

---
Assume that by sending a ship wide communication that Willow also broadcasted to all personal comm units as well.

Posted on 2013-10-22 at 13:21:09.


Topic: Destiny Flight - QnA
Subject: okay.
---
Tess in 11, Angela in 12, and JC in 9. So you have a few more rooms for passengers if you need them.

Posted on 2013-10-22 at 03:04:11.


Topic: Destiny Flight - QnA
Subject: rooms with views
---
Is Stephanie using her bunk? Do Jon and Steph keep up appearances of being single or do they share quarters? I may have asked this before but bare with me.

Posted on 2013-10-21 at 19:56:03.


Topic: Destiny Flight - QnA
Subject: collection
---
lets keep the guns reasonable on this ship please.

Posted on 2013-10-21 at 19:50:41.


Topic: Destiny Flight - QnA
Subject: well
---
In the previous game, you took turns. I believe that everyone avoided Ken's night to cook.

Good to see you Tann. I was beginning to get worried.



Posted on 2013-10-21 at 19:46:38.


Topic: Destiny Flight - QnA
Subject: here
---


Posted on 2013-10-21 at 19:32:11.


Topic: Destiny Flight - QnA
Subject: closest
---
The closest to the Bridge by space and ease is 11. Lift and stairs right across from room. There is no passage way from the passenger quarters to the bridge that is accessible to anyone except Grace, who has two routes through the air-ducts, just in case.

Posted on 2013-10-21 at 19:30:14.


Topic: Destiny Flight - QnA
Subject: 5, 6
---
5 and 6 are not directly accessible to the bridge. You have to go down a stairs, across main floor and the to Bridge.

Posted on 2013-10-21 at 19:20:16.
Edited on 2013-10-21 at 19:20:28 by Alacrity


Topic: Destiny Flight - QnA
Subject: by the way
---
There is no limit on who you take to the meeting - well within reason. Take Tess, Angela and JC with you. That way more people can interact.

Posted on 2013-10-21 at 19:11:14.


Topic: Destiny Flight - QnA
Subject: rooms
---
Rooms 8,9,10,11 are crew quarters. #12 can be as well. Jon has a room, Grace has a room (do not go into Grace's room), and Stephanie has a room in the infirmary. So JC, Tess and Angela all need a room. I do not remember where Tess was before.

I believe each square is 5 feet.

Posted on 2013-10-21 at 18:50:35.


Topic: Destiny Flight - QnA
Subject: we are now live. Post them if you got them.
---
I have put down the history as i have it and stopped trying to write a novel on it. Anything you want to add to the history, let me know but I think it stands well for now.

I will need to know who is taking what rooms on the ship. As well I will need to know who is going the the meeting and who is staying on the ship. Stephanie will always stay on ship unless otherwise asked. Captain will be in #3, Grace in her room under the engines.



Posted on 2013-10-21 at 14:59:40.
Edited on 2013-10-21 at 15:01:06 by Alacrity


Topic: Destiny's Flight - A Serenity RPG
Subject: And the Game is on.
---
Persephone, Eavesdown Docks, Destiny Common room, 1:00pm ST

For the last two months, the crew of Destiny had been trying to get back into the swing of things. Get a job, do the job, get paid for the job and repeat. That was the mantra. Everyone was getting a sense of each other now. Angela's memory and JC's arm were just another quirk of life on destiny along with Tess's superstition, Grace's immeasurable twitchiness and the not so secret relationship between the Captain and the Doctor.

The last job just stank, literally. They signed on to haul 40 tonnes of fertilizer to Persephone, only to find out that it was really fresh manure and it was not packed in containers. If it wasn't for the money, the captain would have told them where to shove the manure but too many days without pay, sitting in port was eating the funds.

But the cargo left its mark and despite renting the power-wash from the docks three times, the smell was still lingering in the bay. Clients were now turning away before entering the ship and between dock fees, the power wash, keeping Angela fed and paying damages for JC's misguided arm – things were getting lean again.

Grace however had good news, "I got us a job and with the way this guy works, we won't have to worry about the smell scaring him off."

Grace had a line on a local underworld boss by the name of Badger who was looking for a fast ship to ferry five passengers to a cruise ship for a big event. People had to be there on time, no delays. Badger was a criminal thug with delusions of grandeur but he had connects and ran jobs – a lot of jobs. A good run could make your reputation.

The meeting was set up for 6 pm that evening to discuss the job and payment, at the underground business office of Badger himself. Could things be finally turning your way?

Posted on 2013-10-21 at 14:56:53.
Edited on 2013-10-29 at 14:09:16 by Alacrity


Topic: Destiny's Flight - A Serenity RPG
Subject: Last part
---
Grace clicked her heels and snapped a salute. "Captain on board," she chirped, doing her best to keep from laughing out loud.

Jon threw his arms around the engineer, "Oh Gorram girl I thought you were dead." Tears welled up in his eyes as he held Grace in a massive hug. Lifting her off her feet he spun her several times. Before Grace could catch her breath Jon planted a huge kiss squarely on her mouth. Grace's eyes went wide as she gasped. Jon broke the kiss, held her shoulders and he shook as he laughed, then hugged her again.

Stephanie sighed deeply as she watched. Jon had not shown this much emotion since the incident. The loss of Grace and Destiny had crippled Jon's spirit. Guilt had haunted him. She wasn't sure if Jon remembered how she and Tess had to sedate him to keep him from rushing to certain death in an attempt to rescue Grace. That had hung over her like a sword on thread; Lord help her but she loved the man and she knew she'd do it again to save him.

Jon released Grace and started to head down the passage to the bridge. It was then he noticed to the smiling dark haired girl standing quietly off to the side. Tilting her head slightly she spoke cheerfully, "Hello Captain Jonathan Brown … Welcome to the Destiny, how may I help you?"

Grace sprinted up before Jon could open his mouth, "Angela.. how abour we let the Captain settle in before we making assignments, just relax for a while." The girl smile and nodded then walked to the crew rec room. Grace held up her hand to stop Jon from speaking. When the girl had left the area she turned to Jon, "She's why I sent you the message… I didn't know how to handle this." A puzzle look crossed Jon's face and as he started to speak she continued, "Wait…. I have something to show you and Dr. Stephanie." Grace took them a reader and showed them the message on the disc.

Stephanie insisted on examining Angela while Grace and Jon spent some time getting caught up on all things that had happened since they were parted. She spend a long time examining the new crewmember and the more she found out, the more she worried. Stephanie walked out of the infirmary and towards where Jon and Grace were standing by, "First off, I have to thank you Grace for the additional equipment you installed for the infirmary. I probably don't want to know where you got them anymore than I want to know where you found our new friend."

Grace smiled and shrugged, "What about Angela? What did you find?"

The Doctor sighed heavily and then said, "She is ...an anomaly. Her metabolism is running twice as fast as a normal person. She probably will eat a fair amount of food to keep herself going. All her internal systems; circulation, nervous, digestion, etc etc are all modified for a lack of a better word. "

"Modified how?" Jon asked.

"To be better. Better than human really. Better, stronger, faster - it is unlike anything I have seen before. I drew some blood and she healed over the needle track in seconds. Her DNA is so complex that I would guess that she was not born from a mother but probably grown in a lab. I cannot say how old she is because her system is running so fast it is almost regenerating.

Jon blew out a breath that he didn't realize he was holding. Grace seemed satisfied, "So she is a government experiment!"

"Well, yes." Stephanie said with a slight smile, "But if you accuse everyone you meet of being a government experiment, you are bound to be right eventually. But for all that she has been made physically better, her brain is an absolute nightmare. It has been operated on numerous times, and well, it is beyond my scope of expertise. By the Buddha, she has a very small access port in the back of her head so she can be connected to ... I don't know ... something. So what now Captain? I can confirm that she does not have any tracking chips or signalling devices on her. But I doubt whoever created her will just sit back and let her disappear."

"She has been helpful to me." Grace said, "If you give her instructions she can follow them well and she doesn't mind doing routine or repetitive tasks. She doesn't like to sleep though, tries to stay awake so that she can remember things. Drinks a lot of caffeine and sugar."

Jon smiled at Grace's unsubtle plea. "Relax Gracie, I am not about to put her out on her own."


Jon had worked things out with Stephanie and Grace so he wouldn't give Angela an order by mistake. Angela had a notebook she read every morning when she woke up and Stephanie had he do a video feed to watch of herself explaining what was going on. It wasn't prefect and sometimes a completely different personality took hold of her for an hour or two, but overall, it was becoming manageable.

Time seemed to drag and money was low. Tess was still out of contact although Grace was sure that she was abroad another ship and would join up when she could. Luckily, Angela seemed to have no problem flying Destiny or they would not be doing the jobs they were getting. A few months passed with them working this way but Jon was only too aware that besides himself and Angela, who's memory could lead to challenges, they had no real strong arm to keep the rift-raft at bay.

With Destiny flight worthy Jon started posting in the port for freight runs. The only things they could seem to get were the ones no else wanted. If it smelled they must have delivered it. Jon was hoping not to gain a reputation as a garbage scow. Destiny may be a bit smaller than some freighter but she faster than nearly all of them. All they needed was chance to prove it again, but a year or more out of the game put you back down with all the other new players.

Grace had return from the daily check of the posting board she found a message on the cortex that had been addressed to Captain Jonathan Brown of the Transport "Hazard". Only those that had served with him would have known that. She got Jon and showed him the message. Jon hoped that no one had been around the note when it was sent, he really didn't want his past to be too well known. Opening the message it was from one the troopers that had been him and Tess on several of actions, Jeremiah Christian Kane; better known as JC. What was said didn't sound like the same man he'd fought beside. JC was asking for a handout and that told Jon the man was desperate.

"Grace…. Can you get a location this guy?"

Grace took the note, "You sure you want to find this guy, doesn't sound too positive to me?"

"Grace you of all people know I don't leave………I don't "willingly" leave one of mine behind. Now just find a location and I am gonna bringing him back here."


Jon walked the back alleys of Beylix seedy side looking for a friend. He had received a message from a man he knew during the war and he sounded very down and out. Grace had been able to pick up a location based on the signal but only to the point of a area. Still, Jon wasn't about to leave a man behind – not now or ever.

After about an hour of searching, Jon found his friend in behind the trash containers and refuse of a bar that "dive" would have been a compliment. There was Jeremiah Christian Kane. He was sprawled out on the ground looking worse for wear. Jon reached over to grab his old comrade's arm and was shocked when he grabbed metal instead. JC's left arm was gone, and replaced with a metal arm that looked unwieldy. JC muttered something about money and pills as Jon rolled him over. "Damn it JC! What the gorram hell happened to you?"

Jon looked around for something he could use to get his friend up and moving. As he did he became aware of the presence of other in the alley. They moved out of the shadows silently as only the Tong could do – six of them. Jon knew they were there for JC, he just felt it in his bones. He moved his hand to his sidearm but knew there was no way he could drop all six before they got him.

"Gentlemen!" A feminine voice called out of the dark," This will not do. Please vacate this area immediately or I will be forced to remove you." Jon was only slightly surprised to see Angela step out into the alley between him and the Tong.

"Little lady. You best move on before you get hurt." the Tong leader replied with a dismissive laugh. He moved forward menacingly towards Angela, planning to grab her and pushing her to the ground. But she moved slightly to his right and took a couple of steps like in a dance – then drove the heel of her hand upwards into the man's nose. As he reeled back, she grabbed his head and snapped his neck as if it was nothing. As his body dropped, she pulled the guns from the dead man's holster and opened fire on the other Tong.

Jon drew his gun as well but was caught in awe by the fluid movement of Angela. She dropped two more tong and then dropped the pistols to run up and twist herself over the trash bin and land on top of another Tong. She carelessly snapped his neck with her knees as she tumbled on the ground with two more stolen handguns at ready. She empties the guns into the three remaining Tong before they could even draw their own weapons.

Angela dropped the guns on the ground and turned to Jon, "Area is secure Sir. Orders?"

Jon looked to the Tong and back at Angela and gulped. "Ummm... Give me a hand with this man. We need to get him back to the ship." He stood in the alley a bit stunned, but he knew they had to get out of there and back to Destiny as quickly as they could. Angela stepped over and effortlessly lifted the groggy form from the alley pavement. It looked a bit odd seeing the pretty young girl hauling the husky man down the street so Jon slipped under JC's other arm.

"Sir, I can handle him myself." Angela stated flatly.

"Yes, I know." replied Jon,"But I don't want to draw any more attention to us then we have too."

They wound their way back to Destiny and into the cargo bay. Sliding out from under JC's arm Jon spoke to Angela, "Take him to the Medical Bay, please Angela, I'll get Dr. Stephanie to come check him out."

Stepping to the comm. Jon call Steph, "Doc, We have a patient for you in the medical bay, be ready for some surprises." Then Jon made his way to Engineering, he knew the ship's mechanic had seemed to develop a special bond with Angela even if she needed to renew it daily.

"Grace…. You gave Angela a big assignment to protect me didn't you?"

Grace looked up trying to keep her expression blank, even innocent like, "Whaaat….?"

Jon walked over andpatted her on the head…"Good call."


JC woke up in what looked to him like an infirmary, on a ship. Pieces of memories flooded back to him as he remembered calling Jon Brown but he wasn't expecting this kind of help. He just wanted enough money to make the pain go away – permanently. As he moved to look around, the pain from the infernal fake arm came flooding back into him, though not nearly as bad as before.

"You are awake. Try to relax, you have been out for awhile." A feminine voice said calmly. JC saw a woman who he thought he recognized but couldn't remember where.

"Who are you? Where am I?" JC asked.

The dark haired woman with brownish skin smiled faintly as if he had made a joke. "Who am I? Good question. Call me Angela. Angela Ryan. You're onboard a mid-bulk transport called Destiny, captained by Jonathan Brown. Are you in pain?"

JC shifted his weight on the bed and tried to prop himself up but his arm overreached and shot out across his body and toward Angela, but she easily caught the arm in mid swing. "Quite the reach you have with this. My reflexes are getting a workout."

"Sorry. I can't control it well. And yeah I am in pain but not as bad as before."

"Well no wonder you can't, considering how this was made. Grace says you have a faulty turbo and the parts are mismatched. Doctor Stephanie says whoever did this to you wired your nervous system as if they were planning to do more. You are lucky."

"I don't feel too gorram lucky." JC said loudly but then winced in pain and fell back to the bed.

Angela pulled a cord out from within his sheets and placed a control in his hand with a button on it. "If the pain gets too intense, press this. It will give you a dose of painkiller – I don't know what but probably an opium synth. It won't let you overdose so don't bother." She said plainly, "I know pain. I know it like an old friend, one of the few I do know. People did things to my head that made me wish it could explode and take the pain away. I also know in my bones that I've been injured and taken time to heal, long days and nights of pain I thought would never end. But I held on to the pain as well, because as long as I felt it, I knew I was alive and I could outlast it. I would not let it beat me." Angela stepped back and adjusted the sheets around JC. "I'm thinking to call you Tinman."

"Come again?" JC asked.

"It's a story from Earth that Was about a man who had all his limbs and body replaced by tin parts. He joined others on a quest to find a great wizard because the one part of him that was missing was his heart."

"Oh yeah? What happened to him?"

She smiled and put her hand on his right shoulder."Turned out he always had it, he just needed to be reminded that it was there all along. One of his companions was a scarecrow who needed a brain. That's me. If I only had a brain..." Angela took her hand away and then clasped her fingers around the button and pressed it once for JC. "Try to get some sleep. Tomorrow will be a new day and maybe we can find the wizard together."


The doctor watched the monitors as they read through JC's vitals. Grace had his arm outstretched as she connected cables to parts of the arm and ran her own kind of diagnostics. Jon stood well back from the two ladies and his newly found old friend and listen to him tell the tale of how he got in the back alley.

"....and that was that. Now I got this freakish arm, I can't control it properly and the pain has been intense. Sorry to draw you into my problems." JC explained.

"Don't worry about it." Jon said firmly, "Getting into others troubles seems to be my natural state of being. I'm getting used to it actually."

"What the Gorram hell?" Grace said loudly, "They put a medical firmware on a servo designed for a hydraulic walker! No wonder you can't control this. I need to re-write the firmware from scratch and then re-calibrate it from the ground up. Even then, it will take you awhile to get use to it. Might be better off getting a new arm – I got some friends in the ...."

"No Grace." Stephanie answered, "Whoever did this was a rank amateur at neural-surgery. They laid in so much circuitry and wiring that they must had planned to 'enhance' JC here even more." her voice dripped contempt at the idea.

Grace was staring off into the distance as she sometimes did when she was hard at thought. "If I get could get the firmware for a newtech arm, and modify the code..." she muttered under her breath.

"I have to say Jon, you have a talent for finding the interesting ones. " She smiled fondly at Jon, "A lab grown lady with no memory, a man with an artificial arm made from spare parts? What's next? A Lovebot that has a heart of gold?" She then turned her attention to JC, "I can do something about the pain, make it more manageable and as the damage heals it will get better but ....there is only so much I can do. If we take the arm off, you will die. They have it so poorly hardwired into your central nervous system."


One month later, Tess walked away from Rocinante and the crew after saying her farewells. It had been an intense short stint with the ship but they were good people and she was going to miss them. But he real home was Destiny and as she rounded the corner of the shipyard, she smiled to see it there, landing gear down and cargo bay open. Grace was there in an old patio chair, waiting for her.

"Mei-Mei!" They both exclaimed loudly and ran to each other to hug like sister long separated. Jon soon came out to join in the reunion.

"Welcome Back Tess. We have missed you. " Jon said.

"Glad to be back." Tess said happily, "We ready to fiy?"

"Whenever you are." Grace answered, "But you need to meet the crew. We have some new people that will take ... some getting use to – but I think we will be a good fit together."

Posted on 2013-10-21 at 14:36:50.


Topic: Voyages of the Rocinante - Firefly RPG QnA
Subject: Violent cases
---
Asher has the case with the Violin. I commented on that when Bromern posted it for the first time and he agreed.

Posted on 2013-10-20 at 20:05:18.


Topic: Voyages of the Rocinante - Firefly RPG QnA
Subject: sigh
---
What part of Really crude rough draft bad drawing did you miss? The ship is the dot. The rectangle is the landing strip.

Posted on 2013-10-15 at 17:16:40.


Topic: Voyages of the Rocinante - Firefly RPG QnA
Subject: Really crude rough draft bad drawing
---
To give you ideas.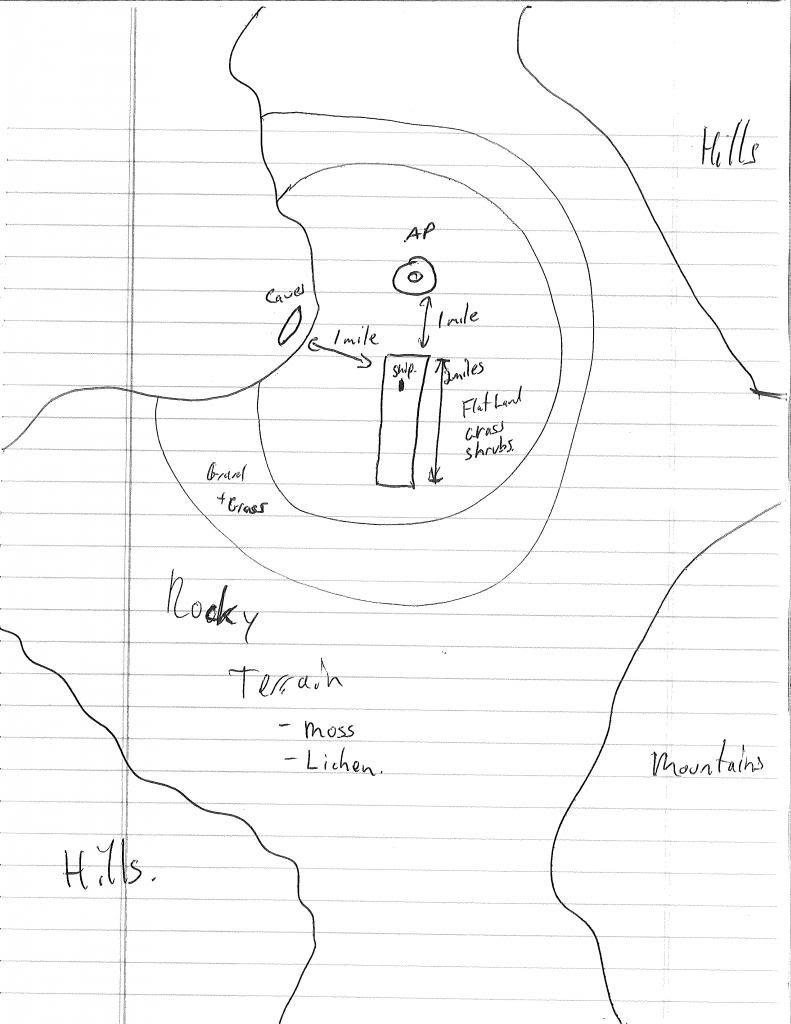 Posted on 2013-10-08 at 18:14:49.

Topic: Voyages of the Rocinante - Firefly RPG QnA
Subject: These are the caves
---
Note the numbers are not painted on the floors of the cave. Just so you know - Ody.




Posted on 2013-10-08 at 17:55:14.
Edited on 2013-10-08 at 17:55:58 by Alacrity

Topic: Voyages of the Rocinante - Firefly RPG QnA
Subject: times
---
i still need to do up a map for you. Problem is I suck at topographic maps. Another thing is I need to do a couple of silver screen moments but time is not on my side.

Posted on 2013-10-08 at 17:43:11.


Topic: Destiny Flight - QnA
Subject: I know
---
Sorry, but it is not easy to snag time to write everything I need to. That and I have to draw a map[ for Rocinante.

Posted on 2013-10-08 at 17:41:02.


Topic: Voyages of the Rocinante - Firefly RPG QnA
Subject: as to cutting
---
the metal is not particularly thick but it would be a complex roll with a difficulty based on what you are doing

Posted on 2013-10-04 at 19:21:34.


Topic: Voyages of the Rocinante - Firefly RPG QnA
Subject: Sorry Al
---
Thought I had answered. Yes you would know and be able to scourge up materials for making a claymore/particle bomb.

Originally you were a passenger in the mule as Asher need it to drive around taking pictures. Ash has suggested it makes more sense top go with Tess in the shuttle to avoid multiple trips.


Posted on 2013-10-04 at 19:19:05.


Topic: Voyages of the Rocinante - Firefly RPG QnA
Subject: lot o stuff
---
Do Ma need the mule to haul the soup to the cave?
A lot of trips for one mule.

Indeed it is. But you are all operating on little sleep or food in the past 24 hours so mistakes are gonna happen.


If Tess was flying the shuttle to the processor to lift the turbine Wyatt and Wolf could ride with her while Ash and Jessie take the mule. They could haul Ma and her stuff to the caves and then head off to plant the bombs and then back to the processor and Roc.

That is a much better plan. I would suggest it for I were Ash. As well that sets up a funny scene of the bodyguards getting the stuff down the stairs only to be told to take it back up.

I don't remember seeing it, are Willow and Ma staying on Roc? Wasn't Sifu going to the caves? They could ride to the caves or at least Sifu to take the soup and stuff.

Willow is finished the operation and then must coordinate with someone for info but everyone but her and Ma has said they are leaving the ship. Again, the crew is tired so I figure these mistakes will happen. Sifu is leaving with Lord Hood and the passengers for the mile trek over to the caves on foot. I don't think they will be carrying soup.

I guess I need to go back and reread the posts, I'd guess someone coordinated the trek to the cave and loaded folks with supplies to carry. I could guess that Lord Hood with help and direction from Ma and Sifu would have done that.

Lord Hood has only a rough idea of where he is going as does Sifu. They are hoping the caves will be very evident when they arrive. However Sifu has a comm and I will have Tess send him directions and what to look for.

I know I can get too detailed, but things need to flow and make sense. Plus I tend to forget sometimes what was already posted.

Better to be asking for details than to assume and walk off a cliff. I will try to get a map for you soon. But yes you do need to be super coordinated and organized right now because you have blood thirsty killers heading your way who will stop at nothing to get the case that Wyatt just handed Asher.

Use PM, use the Q&A, drop me an email. Whatever it takes.

Posted on 2013-10-03 at 14:00:50.
Edited on 2013-10-03 at 14:02:05 by Alacrity


Topic: Voyages of the Rocinante - Firefly RPG QnA
Subject: excellent
---
and a wonderful post too. Thank you.

Posted on 2013-10-02 at 17:24:46.


Topic: Destiny Flight - QnA
Subject: posted
---
The second of three parts of background and transition to new adventure.

Posted on 2013-10-02 at 17:23:31.


Topic: Destiny's Flight - A Serenity RPG
Subject: The package and the courier
---
At first, Grace worked alone on Destiny, rather enjoying the fact that the verse thought she was dead. The only person she trusted with the knowledge was Tess who was like a sister to Grace. She had found work on a Firefly named Rocinante and Grace had done enough research into the crew to know that her sister was in good hands. Sent her some care packages of goodies she found in the shipyard junk of Beylix as well, couldn't hurt to help them out.

Grace was actually relaxing in the cargo bay of Destiny, reading a book and drinking one her very few caffeinated sodas, when three people approach the loading ramp of Destiny, a young woman with a clipboard and two men carrying a trunk stacked with a couple of boxes on top. All three were dressed in workman's coveralls and ballcaps bearing the logo of a courier company.

The woman moved with great energy and greeted Grace with a wide smile. Grace's response was to give all three a cold and suspicious look. Very few people knew Grace was even alive, let alone on this planet, who would be sending her anything? Knowing they wouldn't leave until she had signed for the package, she got up with an annoyed huff and gave the woman a nod of acknowledgement.

"Hello." greeted Grace

"Ni hao! How are you today? Are you Grace Lin? Package here from a….." she peered at the clipboard," Matthew Tain."

Grace's demeanor immediately changed. Surprise lit up her face before she practically snatched the clipboard from the unimportant (or at least in Grace's mind) woman. She started flipping through all the papers, looking for a return address or some clue where the package had come from, (she knew that Matthew was far too careful for that but even the best could slip up). She barely even noticed the woman's voice.

"You must need this stuff bad – same day service cost Mr. Tain a pretty penny," the woman spoke cheerfully as she efficiently pointed Grace to several places on the form to sign and initial, while simultaneously directing the men to set their burden down up against the hull where it wouldn't be in the way. Grace didn't find any hint or clue among the papers, much like she expected. With a disappointed sigh, she gave back the clipboard.

When Grace handed back the signed form and clipboard, the woman carefully verified that all the indicated spots has been signed before handing the clipboard over to one of the men. "That's great, boys, have a great day….oh, and for your trouble…" and she handed them each a credit note, along with the cap from her head.

As the men left, the woman walked over to the trunk, moved the boxes aside and sat down with an air of patient waiting.

Grace was so lost in her thoughts she had not even noticed the woman's presence. How did Matthew know where she was? Why would he have sent her a package? What was this package? Usually he sent coded messages to her, never packages… Questions still bouncing in her head, Grace started to head back to her engines, picking up her book and chugging down her soda in two gulps. That when she heard the woman start to get up and follow her. With a touch of annoyance, Grace said

"Why are you still here? You already delivered your package. Now you better go run back before you lose your job|"

"Oh! I'm sorry – it probably wasn't clear on the manifest. I'm one of the packages." the woman replied. Grace stared at the woman, than at the boxes then back at the woman again.

"Pardon?" asked Grace

"I'm one of the packages." the woman repeated

"I didn't mean repeat what you… you know what? Can I see that clipboard again?" asked Grace

Here, this'll explain ya," the woman replied, rummaging into the battered messenger bag slung across her body and pulling a tiny data disk from a nearly invisible tear in the bag's lining.

Grace took the disk before racing to where her room was (her speed was mostly in a vague hope that the strange couldn't follow her or at least, put distance between the two so Grace could read the file without the woman reading over her shoulder.) Once she had located her cortex box, Grace put the disc in and began to read the contents after two or three virus scans.


Grace,

Please forgive me for doing this, but I needed to send Angela to someone I trust. The rumours that were going around about dollhouses? Playthings for government hacks and people they wanted to influence or get intel on? It's worse than anyone ever imagined. The dolls are people trained in covert ops, combat, whatever was needed and given false backgrounds imprinted into their memories so that they could infiltrate any organization. Looks like some were even trained assassins. Something was wrong with them, though – all the imprinting and wiping the memories afterwards caused the dolls to lose their memories as soon as they fall asleep – making a deep cover impossible.

It wasn't the Companions Guild making noise that shut them down – a couple of failed missions were covered up, and the Alliance decided to pull the plug. Permanently.

Angela's the only one we were able to rescue before the building collapsed, and I need you to keep her safe, and keep her hidden. We think her escape hasn't been noticed and we need to keep it that way until we are ready to blow this wide open.

We weren't able to hack the records in the dollhouse, so what I'm sharing is what we've figured out since getting her out. She has no personal memories at all – not even her name so I've been calling her Angela Ryan – my parents' names, ha!). She can read and write and do most things for herself, but if you ask her how she learned, or who taught her, you'll just get a blank look.

She knows a whole lot about weapons, and she's stronger and faster than she looks – broke a guy's arm when he startled her while she was waking up. That's when we gave her a notebook to write stuff down – and she reads it as soon as she wakes because until that point, it's all a clean slate. She's sweet, and will do whatever she's asked to, which can be it's own problem. If she's been told to do something, she'll keep trying until you tell her to stop or it gets done. When she asks, what can I do for you today, be very careful what you ask for!

We've found some commands that seem to have been permanently imprinted – so learn these and use carefully:

"Your big assignment is" – this is a compelling phrase – she HAS to do what you then tell her to do

"Class has begun" - if you need her to remember a complex set of instructions or teach her something she doesn't already know

"School's out" – this will stop her dead in her tracks and put her to sleep. She'll drop, so use with caution.

I know this is a big favour, but it's getting too hard to keep moving her when she needs that time to wake up and get herself sorted. Let her get to know you, and she could be a help to you and your ship – we are still finding out new things she knows (without knowing she knows them, if you get me). I'm also sending some equipment for her, and some goodies for the ship as a thank you.


Grace re-read the message several time and then swore for awhile like a space trucker. She couldn't deal with this herself. Not something of this magnitude.

It was time to call the Captain.

A Private Villa on one of Core Planets...

Stephanie must have had secret funds or there were still plenty of folks that owed her their life and were only too glad to help out when she called. Not long after they had been picked up adrift in space they were relaxing in a private Villa. The staff all seemed to know her or was at least instructed to treat her as the Lady of House. They always addressed her first with a respectful "Doctor Stephanie", Jon would get a polite smile and a "Sir". The time seemed pass too slowly; Jon kept replaying the events of final days of Destiny and a darkness would fill him.

Stephanie would do her best to ease his pain and their relationship grew deeper. After a couple weeks she slipped into his room. Without saying a word she dimmed the lights and slid out her silk kimono. With the skill of a surgeon she nestled up against Jon, her soft skin pressing warmly on his firm muscular torso. Reaching up she slow pulled his face to her and kissed him warm long and wetly. Their breathing started into a peaceful rhythm as hands and lips moved to explore the others body. They both could feel their bond strengthen and enjoyed the intimacy that could make the memories of the past blur at least for a while. The evening would repeat itself over the next few months, but neither would say the "words".

One evening a private courier brought a communiqué. The courier stood in the Foyer, the Major Domo had sent for Jon, "There is a messenger here and insists on delivering his communiqué in person."

Jon approached the uniformed messenger, "I'm Jon Brown, how can I help you?" The man took out a receipt pad, "Sir, may I see some form of identification please?" Puzzled, Jon reached into his pocket and found the pilots license he still carried. The courier swiped to card through his reader and when it chimed and showed a green light he passed the card back to Jon. From his attaché he took an envelope and handed it Jon, pausing brief with his hand out as Jon took the envelope. Jon stared at the return name on the paper; he could feel himself go pale. The Courier cleared his throat and Jon look up. 'Oh.. yes…sorry" , he stammered as he smiled and then absently handed the man a ten credit note. "Thank you, Sir" breathed the courier and he hurried away.

It was addressed to Captain Jonathan Brown, Commander of the Destiny.

The return was "Grace Lin, Senior Engineer, Private Freighter Destiny."

Tearing open the envelope he found a formal printer invitation.

You are cordially Invited to the Beylix Space Recycling Port for the "Second" christening of the Whitefire Class Space Freighter "Destiny".

Grace Li

P.S., Get your bottom here as quick as you can, the Lady in the mist misses you.

Clutching the invitation Jon ran out into gardens where Stephanie was tending her roses.

"Steph….. Pack quick…Grace saved Destiny…we gotta go to Beylix Recycling port."

Stephanie looked up from her flowers, she could see the life return to Jon's eyes and she realized that she had want to put that glow there. A graceful smile crossed her face and she knew she couldn't let him out of her life. Destiny was a love she would never replace. Better to have part of him than none of him.

Stephanie pulled a few more strings and in few days they were standing in the Beylix Space Recycling Port, the elegant lines of the exotic looking boats glistened the light.

Grace stood at the top of the gangway as Jon step forward, "Permission to come aboard?"


Posted on 2013-10-02 at 17:21:48.





View/Edit Your Profile | Staff List | Contact Us


Use of the RDINN forums or chatrooms constitutes agreement with our

Terms of Service

.

You must enable cookies and javascript to use all features of this site.