Topic: Blatantly Obvious Lies
Subject: No!
---
Christmas has been bought out by Donald Trump. Now, you must wear a bad hair piece and buy real estate for the holidays.



What are you stuffing into the turkey this year?

Posted on 2008-12-23 at 13:42:17.


Topic: Santa Baby...
Subject: N
---
Give me a Nurse! A nau...

Wait a minute... My daughter reads this thread now.

Ummm.

Posted on 2008-12-22 at 20:23:47.

Topic: I'm so bored...
Subject: I'm so bored
---
My daughter is posting everywhere just to get her post count up.
Posted on 2008-12-22 at 19:05:27.

Topic: Santa Baby...
Subject: K
---
I'd like some Karma. The good kind.

Posted on 2008-12-22 at 19:02:51.


Topic: The One Word Game
Subject: TO
---
Blue Jays

Posted on 2008-12-22 at 16:57:11.


Topic: Voyages of the Rocinante - Firefly RPG QnA
Subject: books and stuff
---
I was doing a search online for Serenity stuff and discovered that "Spaceships and Six-shooters" and "Serenity Adventures" are out (RPGnow has the PDF's) but the books are already listed as out of print.

I also noticed that serenityrpg.com and margaretweiss.com are gone. Has anyone heard any news?

Posted on 2008-12-22 at 15:59:55.


Topic: Continuing Where We Last Left Off Q&A
Subject: Holidays
---
I will be putting this game on hold until after the holidays. At this point, I have combat posts from 3 out of 6 players, so if you haven't posted and you have time, please do so.


Posted on 2008-12-21 at 14:50:04.


Topic: Voyages of the Rocinante - Firefly RPG QnA
Subject: Holidays
---
I will be putting this game on hold until the hoildays. I do plan on posting during the holidays to get everyone moving, but it won't be until after christmas.

Posted on 2008-12-21 at 14:48:14.


Topic: Pharaoh Q&A
Subject: Xmas
---
I will be putting the game on hold until the new year. Right now, I am still without posts from Utan and Wyrmsting, so if you ahve time this holiday period, please post. Otherwise we start in January.

Posted on 2008-12-21 at 14:46:54.


Topic: Voyages of the Rocinante - Firefly RPG QnA
Subject: Eol
---
Eol's RL has hit him with a hammer, rolled him onto the tracks, ran him over with a steam train and called the dogs to finish him off. We are not sure when he will be back, hopefully soon, but we will have to be patient until then.


Posted on 2008-12-16 at 21:41:42.


Topic: a holiday gift
Subject: whoa
---
All joking aside, I am official retired from the card moving business. Not making a tradition out of this.

Since he volunteered, I say we have Grugg do a walking tour collecting the hand print of members to give to Olan next year. He should start soon....


Posted on 2008-12-16 at 21:14:10.


Topic: a holiday gift
Subject: signs
---
This was a staff idea and we briefly toyed with opening up to more but it would have been very hard to control and very very time consuming. Consider that even with a small group of people we almost lost the card once, and barely made it before christmas. So please don't feel left out - it was a spontantious (I only planned it for a month) idea that took wing and flew.

As well, there was the financial aspect that we didn't feel right asking for money from members.

So enjoy the card Olan. It was an adventure and worth the journey.



Posted on 2008-12-16 at 19:02:04.


Topic: Voyages of the Rocinante - Firefly RPG QnA
Subject: playing out
---
If you want to have all of you move into town together, that is fine with me. I merely wanted to play Sam getting the Captain alone to share the news.

Tann - you are in repair and parts mode right now. I would imagine you'll goto Bailey to see what you can scrouge from your old boss. If you'd liked, I'll post a post a lead in for you soon when I do the Willow post.

BTW - On Brigit. Just to "refresh" the influence of the dice here. Asher and Dash are fully gonzo "seduced" by Brigit. Wolf is mildly so. Willow and the Captain are not effected by her charms in anyway.

Posted on 2008-12-16 at 10:12:33.
Edited on 2008-12-16 at 10:20:42 by Alacrity


Topic: Holiday Humour
Subject: Thinking of moving to Canada?
---
Diary:

December 9: We woke to a beautiful blanket of crystal white snow covering every inch of the landscape. What a fantastic sight! Can there be a more lovely place in the Whole World? Moving here was the best idea I've ever had. Shoveled for the first time in years and felt like a boy again. I did both our driveway and the sidewalks.

This afternoon the snow plow came along and covered up the sidewalks and closed in the driveway, so I got to shovel again. What a perfect life.

December 12: The sun has melted all our lovely snow. Such a disappointment. My neighbor tells me not to worry, we'll definitely have a white Christmas. No snow on Christmas would be awful! Bob says we'll have so much snow by the end of winter, that I'll never want to see snow again. I don't think that's possible. Bob is such a nice man. I'm glad he's our neighbor.

December 14: Snow, lovely snow! 8" last night. The temperature dropped to -20. The cold makes everything sparkle so. The wind took my breath away, but I warmed up by shoveling the driveway and sidewalks. This is the life! The snowplow came back this afternoon and buried everything again. I didn't realize I would have to do quite this much shoveling, but I'll certainly get back in shape this way. I wish I wouldn't huff and puff so.

December 15: 20 inches forecast. Sold my van and bought a 4x4 Blazer. Bought snow tires for the wife's car and 2 extra shovels. Stocked the freezer. The wife wants a wood stove in case the electricity goes out. I think that's silly. We aren't in Alaska, after all.

December 16: Ice storm this morning. Fell on my weed puller on the ice in the driveway putting down salt. Hurt like hell. The wife laughed for an hour, which I think was very cruel.

December 17: Still way below freezing. Roads are too icy to go anywhere. Electricity was off for 5 hours. I had to pile the blankets on to stay warm. Nothing to do but stare at the wife and try not to irritate her. Guess I should've bought a wood stove, but won't admit it to her. God I hate it when she's right. I can't believe I'm freezing to death in my own living room.

December 20: Electricity's back on, but had another 14" of the damn stuff last night. More shoveling. Took all day. Goddamn snowplow came by twice. Tried to find a neighbor kid to shovel, but they said they're too busy playing hockey. I think they're lying. Called the only hardware store around to see about buying a snow blower and they're out. Might have another shipment in March. I think they're lying. Bob says I have to shovel or the city will have it done and bill me. I think he's lying.

December 22: Bob was right about a white Christmas because 13 more inches of the white shine fell today, and it's so cold it probably won't melt till August. Took me 45 minutes to get all dressed up to go out to shovel and then I had to piss. By the time I got undressed, pissed and dressed again. I was too tired to shovel. Tried to hire Bob who has a plow on his truck for the rest of the winter; but he says he's too busy. I think the asshole is lying.

December 23: Only 2" of snow today. And it warmed up to 0. The wife wanted me to decorate the front of the house this morning. What is she...nuts??? Why didn't she tell me to do that a month ago? She says she did but I think she's damn well lying.

December 24: 6". Snow packed so hard by snowplow, l broke the shovel. Thought I was having a heart attack. If I ever catch the son of a bitch who drives that snowplow, I'll drag him through the snow by his balls. I know he hides around the corner and waits for me to finish shoveling and then he comes down the street at a 100 miles an hour and throws snow all over where I've just been! Tonight the wife wanted me to sing Christmas carols with her and open our presents, but I was busy watching for the goddamn snowplow.

December 25: Merry Christmas. 20 more inches of the #$%[email protected]!! slop tonight. Snowed in. The idea of shoveling makes my blood boil. God I hate the snow! Then the snowplow driver came by asking for a donation and I hit him over the head with my shovel.

December 26: Still snowed in. Why the hell did I ever move here? It was all HER idea. She's really getting on my nerves.

December 28: Warmed up to above -50. Still snowed in. THE wife is driving me crazy!!!

December 29: 10 more inches. Bob says I have to shovel the roof or it could cave in. That's the silliest thing I ever heard. How dumb does he think I am?

December 30: Roof caved in. The snow plow driver is suing me for a million dollars for the bump on his head. The wife went home to her mother . 9" predicted.

December 31: Set fire to what's left of the house. No more shoveling.

January 8: I feel so good. I just love those little white pills they keep giving me. Why am I tied to the bed?


Posted on 2008-12-15 at 21:57:41.


Topic: Blatantly Obvious Lies
Subject: asdf
---
Because the RDI staff parents said so! Now go to your room for seven dog days.


~~~~~~~~~~~~~~~~~~~~~~~~~~~~~~~~~~~~~~~~~~~~~~~~~~~~~~~~~~~

Why should we bail out the big 3? (Santa Claus, The Easter Bunny and the Tooth Fairy)

Posted on 2008-12-15 at 19:56:21.


Topic: William Pictures
Subject: what?
---
Santa had trouble believing he was only 1 as well.

Sorry, but I was the last of five kids. There are no baby pictures of me, very few as a kid either.


Posted on 2008-12-15 at 19:17:42.


Topic: William Pictures
Subject: First Santa Picture
---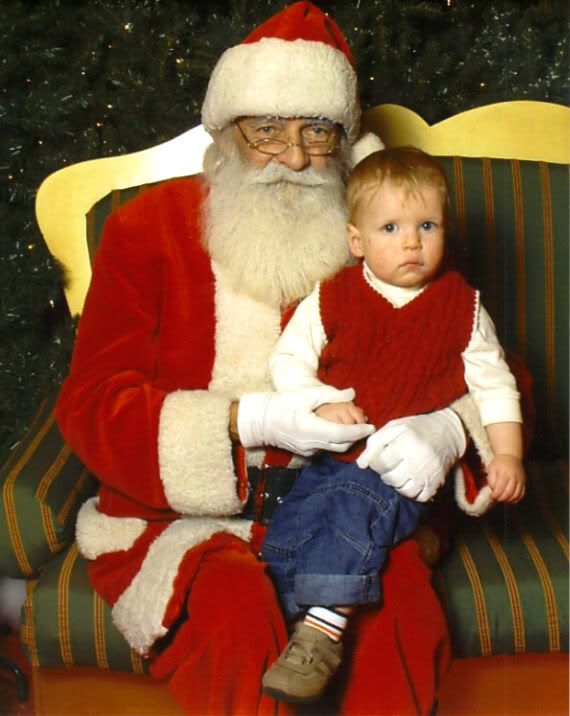 Posted on 2008-12-15 at 19:08:47.

Topic: Voyages of the Rocinante - Firefly RPG QnA
Subject: meetings
---
Willow's meeting is at 7 and the town meeting isn't until 9ish. Two hours is more than enough time for you to travel to the doctor's office, the store and back - unless you get bushwhacked.

There will be another post soon though with more detail of Willow's meeting and anything else I need to add.

Posted on 2008-12-15 at 03:22:04.


Topic: Voyages of Rocinante - Serenity/Firefly RPG
Subject: The role of Sam will be played by a tall dark and sinster man
---
Rocinante, Regina, Frisco – 7:00 am

Sam wanted to share the news of the money that Brigit had told him about, but there was all means of bad feelings to deal with first. He decided to keep the news to himself until after the crew meeting was over. Then, once Willow was on her way to her shepherd, Wolf was out the door with a fist full of platinum, list of parts in hand and humming a happy tune. The kid left shortly afterwards with the need to buy ammo and pick up the equipment he left at the doctor's place. Ma was busy cleaning up so Sam shot a look to the captain that said "we need to talk."

They met in the cockpit and Sam laid it out for the Captain. Brigit, the ship with the lost Independence cash, the mine and he even took Wyatt about the Ludlow. It was clear to the Captain that Sam was completely smitten with Brigit and believed her a whole lot more than he should. But the money sounded right tempting now – and he heard talk of money that was stolen during the war by a greedy folk or two. Sure wasn't doing anyone any good buried deep in a mine.

While they were mulling over the situation, Sam noticed the wave in his folder. He brought it up, and had to go through the usual hoops that Tink built into her messages. No one in the verse could crypt a message like her, both verbal and somatic components were required and the Captain shot him an odd look while he waved his arms in the air and declared "I believe in fairies!"

Once he got to the message it was very short. "Eyes open and to the sky Peter. Hook is looking for your Wendy and looking quiet. Searching the Willow tree if you caught my meaning, so keep her safe, keep her hidden."

The Captain shot a questioning look to Sam. Sam looked over at him. "That was from a friend who keeps an eye on the cortex for me. Someone is looking for Willow. Looking for her through the cortex but not alliance or anyone who wants to let it know they are searching."

Emmett's Bar, Beylix, Newhouse – 12:05 am

Dason wanted to be quick, not give this Bowman fella a chance to get to his guns. He pulled the hammer back while it was still in his pocket, planning to quickdraw and fire in the same motion. But the gorram guy was faster than Buddha's little pony and had a gun in his hand in a blur. Dason panicked and tried to draw and fire but he pulls the trigger while it is in his pocket and the hammer fouls on the material of pocket.

Andrew saw the butt of the gun in the man's hand as he attempted to draw on him. His reflexs took over and he double tapped two rounds at his assailant and then threw himself to the floor in case the mans lived and fired back.

But Dason didn't have the chance. Both bullets hit him through the heart. He arched backwards and fell to floor, dead before his head him the ground. The gun, still trapped in his pocket.
"AAAAAAAAAAAAAAAAAAAAAAAAAAAAAAAAAAAAAAAAAAAAAAAAAAAAAAAAAAAAAAAAAAAAAAAAH!" Screamed the barmaid in hysterics. She looked at the dead man, back to Andrew and screamed again as she peeled out of the bar screaming murder at the top of her lungs.

"Gorram it! You shot him!" Darryl said in disbelief his own guns out and trained oon Andrew, "He didn't even have a gun!"

"That was murder mister! Sheriff's gonna hang you!" Doug added. He hadn't drawn yet but his hand was on his gun

Bobbie shook his head, "Hold on boys. I heard a hammer cock. I'm sure of it" as he got up and walked over to the body. "It's in his pocket! It's a gorram peashooter, but he's got a gun."

Posted on 2008-12-15 at 01:29:51.


Topic: nothing more than another Audalis Short
Subject: 74
---
Don't 3e bonuses start at 12? At 74 you could have +1 in everything. I'd hardly call that a restriction.

Just my opinion.

Posted on 2008-12-11 at 17:25:24.


Topic: Voyages of the Rocinante - Firefly RPG QnA
Subject: Me too
---
great post Blammm. Thank you.

The stomach flu has moved through the Briant household and laid waste to its members. We are now recovering but slowly. Sorry for the neglect here.

Posted on 2008-12-11 at 15:39:18.


Topic: nothing more than another Audalis Short
Subject: ohh.. 3.5e
---
For some reason I thought you played old school version.

Thanks for the offer then but I will decline. I really don't enjoy the modern D&D games.

Posted on 2008-12-10 at 18:15:18.


Topic: nothing more than another Audalis Short
Subject: version?
---
What edition rules? I have a hankering to play your basic good old Khord fighter.

Posted on 2008-12-08 at 22:34:21.


Topic: Totally Random Thoughts
Subject: crabbuckit
---
Put the crab in a bucket.

Posted on 2008-12-08 at 18:13:05.


Topic: Pharaoh Q&A
Subject: moved you forward
---
I figured people are busy or didn't have much to say, so I have moved you forward and put you into combat.

Posted on 2008-12-08 at 17:41:51.