You are here: Home --> Forum Home --> Recent posts by Alacrity


Topic: Continuing Where We Last Left Off Q&A
Subject: Another member

---
I have been asked by a player in my other campaign if there might be room for another in the party. Blammm is a fantastic player, and if you read any of his posts in Voyages of Rocinante, you will see what I mean. He truly takes a simple concept character (gunslinger) and adds depth and colour through his writing.

So, are all of you up for an 8th member? If so,what do you feel you need as Blammm is open to anything. More magic? More healing? Archer? Tinker, Tailor???

Let me know.

Posted on 2008-07-25 at 01:22:52.


Topic: Continuing Where We Last Left Off Q&A
Subject: Yes yes yes
---
I agree with you Bro. That is why I added to mana system.

Anyway - you will all be going up a level before the next campaign. More HP, better killing skills etc etc. Now i can stop holding back ...

Posted on 2008-07-24 at 17:42:45.


Topic: Voyages of the Rocinante - Firefly RPG QnA
Subject: options
---
You will have options, but I need Willow to post at least

Posted on 2008-07-24 at 13:29:52.


Topic: Back
Subject: He's back
---
Everyne hide the food, near-food, junk food, and any of the wax fruit!!!

Posted on 2008-07-24 at 02:53:08.


Topic: Continuing Where We Last Left Off Q&A
Subject: Ummm
---
Jal's spellbook was his body. All those tattoos and markings were his spells.

Some party members might be a bit disturbed if you decide to skin the dead.

Posted on 2008-07-23 at 02:49:44.


Topic: Continuing Where We Last Left Off Q&A
Subject: simple rule
---
Robert - Simple rule of D&D - Mages don't charge into battle when they have an AC of 7, and fighting creature with multple missile attacks. Both mages did it in this campaign and look what happened.



Posted on 2008-07-22 at 14:10:54.


Topic: Continuing Where We Last Left Off Q&A
Subject: and now, the end is near, and so we face, the final curtain
---
Okay. The second part of the campaign is almost over. The third stage can start as soon as you get back to Freegate and I can write and "woof" moment to move you all forward.

Now, if you are looking to get out of the campaign, now is a good time. I know most of you are still very interested, but I also know that RL sucks us out of good games sometimes. I would love (hope) to head out to the next campaign with the same group, minus one flatten mage.

Robert - You have first shot at creating a new character to join the party. Could be another mage, or something else completely - although you do need some firepower. I may allow another person to join if necessary.

Posted on 2008-07-22 at 02:27:58.


Topic: Continuing Where We Last Left Off
Subject: I killed another mage!
---
Kilgim looked over Alloryn, "There is little that I can do for her Arien. Just like with Shona, the demon that possessed her has worn out the body and injured her soul. She is strong, she will recover but we need to get her back to Freegate. She needs a better priest than I." The dwarf sighed and grasped Arien's shoulder lightly in friendship, "We'll build a litter to carry her home"

Char fires at the fleeing Mantis Warrior astride its dragonfly. Both arrows find their mark in the belly of the mount. This causes the creature to slow, desperately trying to stay aloft with its rider.

Adrian is able to catch up with the slowed beast and attacks the Thri-kreen. The Mantis Warrior is skilled at fighting and flying, and manages to deflect the blows away before delivering a deep cut across Adrian's belly. The mage is staggered by the blow and wavers in his flight.

Char continues to fire and one of his arrows strikes deep enough to kill the dragonfly. The mount spirals out of control to the earth. The lone mantis attempts to leap off for safety but there is only so much its legs and body can handle at it dies upon the impact with the ground.

Adrian has only enough strength left to make it to the ground before loss of blood causes him to lose consciousness.

Kilgim was on his feet and moving towards Adrian before he hit the ground. The cleric wasn't about to lose another companion on this day and when he reached the battle-mage, he was ready with a healing spell to stop the bleeding and restore health to the young man. Adrian's eyes flutter with consciousness within moments.

The battle now over, the party is left with the scene of misfortune. Jal's body will have to be dealt with, the rubble of the tower will have to be searched for clues to what was going on here. All would have to be done with some haste, as Alloryn needed to be brought back to Freegate as soon as possible.

It is Dapple who notices something is missing first. "Where's the commander's body?" the rogue questions out loud. As the others look, where the body of the commander was, is now vacant. There is still the blood stain, and bits and pieces of charred flesh and grey matter – but no body. It is as is he just vanished.

Cue eerie x-files type music

OOC: There is enough healing potions and cleric spells to heal you all back to full health. I can finish off this campaign with a big "woof" moment, but wanted to let you finished off the area before I do – there are a few finds to make. There will be no more attacks, no zombie Dalmer, or killer insects or dragons – the night will pass to dawn shortly and uneventfully.

Posted on 2008-07-22 at 02:19:55.


Topic: Voyages of the Rocinante - Firefly RPG QnA
Subject: trapped by sleeping baby
---
You can drift back to consciousness on and off, fighting type that Sam is. Willow could give you a stim-pac shot to wake you, but then you'd be in a lot of pain. She may decided to sedate you as well, depending on how much of your dream you play out.

Sam's in bad shape. You took a lot of damage, more than enough to kill you if it wasn't for plot points. I wouldn't advise getting up and doing the Mambo.

I do promise that your day will only get better from here, unless Wyatt decides to stay and face an alliance squad of soldiers.Then you day might get worse....much worse.



Posted on 2008-07-21 at 17:00:57.
Edited on 2008-07-21 at 17:01:32 by Alacrity


Topic: Voyages of Rocinante - Serenity/Firefly RPG
Subject: Not enough Docs to go round
---
"Captain San! Where's Sam? Is he inside? Is there anyone else in there?"

"Willow! Sam's here, and in need of your tender care. Quick, Woman! He looks like he's about done waitin'."

"This here's Doc McGuire, and he'll get Mr. Wolf stabilized while I go check on everyone inside, isn't that right, doctor?"

"One in there for you too, Doc," Wyatt drawled as he stepped away from the door and caught sight of the man's doctorin' bag.

"Thank you kind sir," the doctor said politely as he passed Wyatt, "I like to believe that anyone wounded or sick is for my attentions." The doc gives the captain a quick once over, looking for injuries and finding none. He also looks over Ethan but merely hakes his head sadly before getting to Wolf.

"Now there, Wolf isn't it?" The doctor says pleasantly as he opens his bag and begins removing bandages and equipment. "No need for you to give me the next of kin, young man, we'll have you right as rain in no time. You might think there's a lot of blood here, but you got plenty more." He begins to examine the wound with a gentle touch. "Nice driving by the docks, by the way."

As John Blake rushes into the bank in a panic, Cora walks up towards the doctor. "Doc? How are you feeling right now?" She asks tentatively.

The doctor doesn't look up from what he is doing, as he starts to unwrap the bandages. "Feeling fine Mrs. Blake," He says in a level but annoyed tone, "You?"

"Well…other than the bank and all, okay. You sure you are okay doc? Wouldn't want you to .."

"I said I was fine, Cora." The doctor remains focused on bandaging Wolf's shoulder. "Or are you trying to say something?"

"No Doc, it's just that…."

"It is mid day Cora and my condition is frankly – private. Or did you wish to have a conversation about things that both you and I would prefer to be private? We could talk to John." The last part came out as a definite threat, and Mrs. Blake pales visibly at its mention and shuts up.

"You put your hand here," the doctor said to Wolf, putting hand on the bandaged wound, and ignoring Cora Blake. "Put as much pressure on it as you can bear. It will hold you until I can get you to my office."

"I thought I'd seen you somewhere before," Wyatt crouched next to Ludlow, "You look like your brother--got that same reckless way 'bout you where other's lives are concerned. Funny thing, Ludlow, I put your brother down same as we put you down. Guess you two really were somethin' of a pair after all."

Ethan's face shows the shock of hearing of his brother's demise. He tries to reach for his gun but it is too far away and he is too weak to reach.

Wyatt remained impassive as he made to rise, his eyes locked with the man who'd caused them so much recent grief. Then he paused, "Tell me somethin', Ludlow. Why was your brother lookin' fer a Sam when I split his brainpan?"

Ethan looks at his killer intently as the final pains of his death overwhelmed him. All he could do before dying was to whisper faintly, "Her……"

"The least you could do after all this damage is confirm with me that you ain't got no more brothers..." Wyatt muses. He then looks over at JW and Brigit. The lady is crying softly in the man's arms. "You OK ma'am?" he intoned in his same deadpan drawl. Receiving his answer, Wyatt raised an eyebrow to JW, while rolling his ruined hat in his hand. "I trust your ship is OK. Ventin' as she was, you had us a might concerned."
JW gives a slight smile, "Ship's fine. The crew spotted yours trying to shadow us in. I thought you might be the ones with our containers so I asked the Captain to make a diversion to let you get by. Glad it worked, even if we had to suffer them purple bellies mucking about for hours with the ship."

As if on cue, the tell tale thunder clap in the clear skies reveal that a ship just entered atom in a hurry. "Damn it!" JW cursed, "I knew it! They probably detected the explosion. Captain, I would rather that them boys had no reasons to be asking you questions or even attaching your ship to the scene of the crime, if you catch my drift."

Meanwhile, more and more people have started to arrive at the bank. The crowd jostles around for a look-see and the voices from the mob can be heard.

"They robbed the bank?"

"Them Ludlow boys were always bad news."

"Who is that? We got a sheriff?"

"Sort of scruffy for a sheriff."

"A sheriff? Praise be!"

"Time for good old fashion law and order now."

"Start hanging and then they'll see."

"it's good to have a Sheriff."

Inside the Bank

Willow entered the bank to view the damage. Her eyes found Sam in an instant, and notes that despite looking shot up and beaten, he was still breathing. She forced herself not to panic and quickly checked all the other men for vital signs while Asher covered her. The two who were obviously brothers were dead. The man near Sam was so shot up that death was only a mercy to him.

Sam's ballistic vest was badly damaged. It would have to be cut off and would never serve to protect again, but it did its job. But the bruising and swelling on Sam's body screamed internal injuries. He was gonna need surgery and fast or they might lose him.

Wyatt had said there was another wounded in here, so Willow quickly looked around, and found the bank teller on the floor. His breathing was shallow and his heart beat erratic. Electrical burns were the least of his problem and the voltage had disrupted his electrocardio rhythm. Both Sam and this man needed medical attention and they might not last to the ship.

The short, round banker entered and screeched a girlish cry, "Oh my bank! They opened the vault! They might have …" He gurgles and turns beet red in the face while clutching his chest. In a second he crumples to the ground.

"Doctor!" Willow calls outs urgently, "Come quick!"

Posted on 2008-07-20 at 20:08:05.


Topic: weird post count glitch?
Subject: See!!!!
---
I told you this would happen! Gas prices go up, The query is out, Unrest in the middle east and they are doing back to school sales in july. Next will be the servers and Bam! We are in the dark again.


Chaos!

Posted on 2008-07-18 at 14:10:20.


Topic: Short Notice
Subject: Well
---
I'd say that I'm gonna kill off your characters while you are gone, but I think I did that already.....
Posted on 2008-07-16 at 03:17:53.

Topic: Continuing Where We Last Left Off Q&A
Subject: more delays
---
I am going away camping this weekend with my daughter. So I will not be posting to the game until next week, probably Monday or Tuesday.

I will be looking to wrap this up in the next few posts. If you have any loose ends to tie up, now is the time.

Posted on 2008-07-11 at 01:00:14.


Topic: Voyages of the Rocinante - Firefly RPG QnA
Subject: more delays
---
I am going away camping this weekend with my daughter. So I will not be posting to the game until next week, probably Monday or Tuesday. If you'd like to post a reaction to Willow's post, feel free.


Posted on 2008-07-11 at 00:58:58.


Topic: William Pictures
Subject: Mo' Pics
---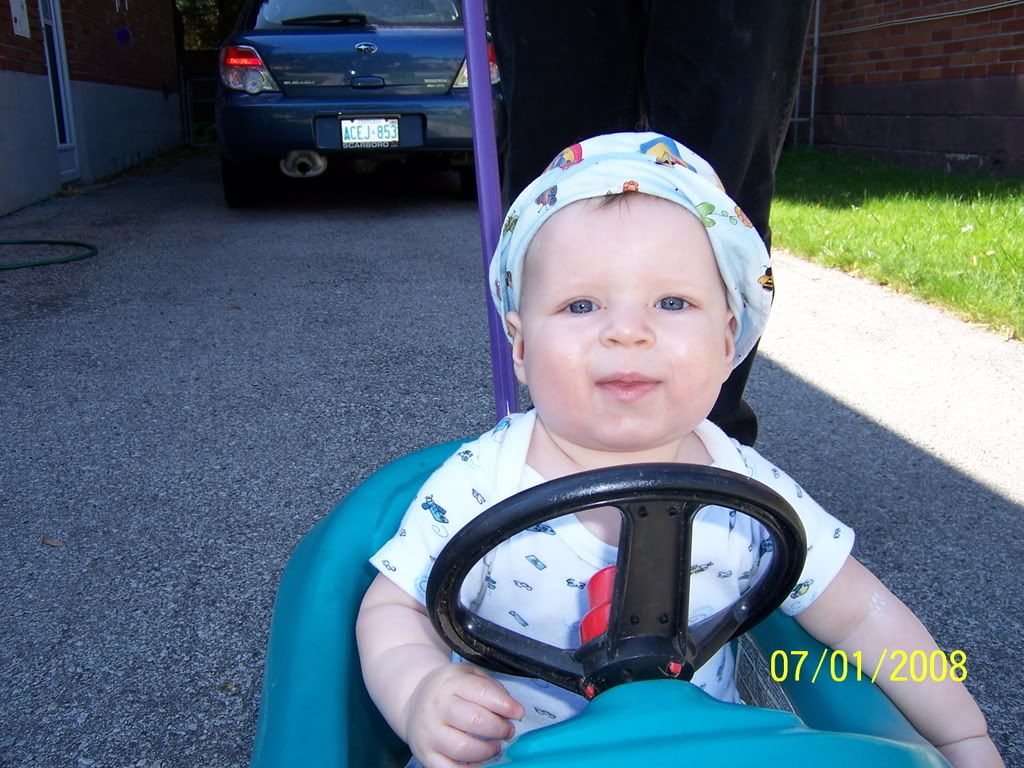 Posted on 2008-07-08 at 02:34:38.

Topic: Voyages of the Rocinante - Firefly RPG QnA
Subject: Not a problem
---
Although I can not capture the youthful glee of Asher, I can NPC him for a few weeks for you.

Posted on 2008-07-05 at 11:06:32.


Topic: Looking for Interest in New Online RPG
Subject: soon
---
I will decide soon and let people know. I have some RL issues tying up my time right now.

Posted on 2008-07-04 at 18:52:11.


Topic: Voyages of the Rocinante - Firefly RPG QnA
Subject: Inconceivable!
---
Truly you have a dizzying intellect....

Posted on 2008-07-04 at 02:39:25.


Topic: Voyages of the Rocinante - Firefly RPG QnA
Subject: better days
---
In case any of you were thinking of picking up Serenity Better Days" the comic series - don't bother unless you are a die-hard fan who has to have everything Serenity.

The story is weak, the plot is thin and there are so many loose ends that you could weave a rug with them. I was very disappointed, especially because the first part was very well done, but #2 & 3 were horrible.

There is another series coming that is suppose to be about Shepherd Book. Hopefully that one redeems itself.

Posted on 2008-07-03 at 23:35:49.


Topic: Voyages of the Rocinante - Firefly RPG QnA
Subject: oh please
---
I have said before, I don't worry about what goes on in a fantasy based game. Willow doesn't look at all like my wife (Cathy is far prettier ans sexier) and Sam isn't Eol. So don't feel dirty and I am not plotting your demise.

I am a strong porponent of a good fantasy life.

Posted on 2008-07-02 at 17:37:56.

Topic: Continuing Where We Last Left Off Q&A
Subject: looking for posts
---
I am looking for posts from Bob, Olan and Pekka. I will move ahead without the post this weekend if I must.

I haven't heard from Pekka in awhile.

Posted on 2008-07-02 at 11:26:15.
Edited on 2008-07-02 at 11:27:57 by Alacrity


Topic: Voyages of the Rocinante - Firefly RPG QnA
Subject: well
---
I do my best Blammm. I never feel that I get combat right.Just really hard to give the impression of everything happenin gat once.

BTW-one day I will roll for Asher and he will miss...badly.You are running a luck streak that is not been rivalled by many of my players.

Eol - sure you can post. You can post about shooting Elway, you can post about looking death in the face down the end of a shotgun and you can post a impression of Asher's handiwork on the man rescued.

Of course, you can continue the unconsciousness dream as far as you want, as long as you remember the site is PG.

Posted on 2008-07-02 at 03:54:28.


Topic: Voyages of the Rocinante - Firefly RPG QnA
Subject: posted!
---
yay! Battle is done

In your next posts, you will only have about five minutes before you will hear the telltale sound of a ship breaking atmo and see an Alliance Patrol Ship heading directly towards town. So keep posts within that five minutes.

Posted on 2008-07-02 at 00:17:09.


Topic: Voyages of Rocinante - Serenity/Firefly RPG
Subject: I hate writing combat.....
---
The Bank, 1:28-1:30 pm

"Stop the mule! Get out, and leave your guns inside, or she dies!"

"Kid, the entourage is yours."

"Hey Sam! Come on out and tell your bouncer we're all friends."

Moments hung like hours between the groups of men. Ethan sorely wished that his brother was there at that moment. His brother wasn't afraid of anything and had been in lots of scraps like this and lived to tell of it. Ethan wondered if he'd ever see his brother again.

Ethan whispered hoarsely out of the side of his mouth, "Pull all the pins and throw out every grenade you got. We be going out the back."

The brothers snickered and smiled at each other. Then there was a PAFFT noise, followed by another and another. Jake watched Elway suddenly jerk to the side and slump against the chair near him. Blood came out of his mouth and from wounds on both sides. "Jake?" he spat, "Don't tell momma…"

Rage boiled inside Jake and he forgot the grenades, the bank vault and Ethan. He turned his hog-leg directly at the man who shot his brother and made to eliminate his face from the world.

Sam's vision was blurred but he saw the brother collapse and was pretty sure he got him in the side at least once. But he couldn't move himself enough to dodge or get cover. He could only look as death came for him at the end of a shotgun.

Outside, Asher heard the three gun reports and knew that sound anywhere. That was Sam's gun, and he saw one of the two men in the bank drop. The other made a move to shoot, but Asher didn't even stop to think about aiming. The first shot took the shotgun out of his hands before Jake could fire. The next bit deeply into the bandit's right arm and forced him to spin to face his attacker, as if Asher wanted him to see who was gonna kill him. The next three shots all clustered in Jake's chest, and sent him down in a heap next to his brother's body.

Sam stays conscious long enough to see the man go down, then he drifts into unconsciousness with the visions of Willow taking off his clothes after all this is done, and then taking off all of hers…

Ethan turned his head on reflex when he heard the soft shots of the silenced weapon. "Ta Ma Duh" he muttered.

Brigit just needed that moment's distraction. She twists the small hairpin in her hand and thrusts it deep into the inner thigh of Ethan's leg. He screamed and lets go of her in pain. Brigit wasted no time and throws herself down on the ground, trusting to fate that the men in the hover mule would take down her assailant.

Wyatt made his move and fired a single shot, hoping to take this Ludlow the same way he took his brother. Unfortunately, the man moved at the last second and the bullet that would have gone through his skull, only hit the side of his head, taking off a large portion of the left ear. Not waiting for Ethan to recover, Wyatt fired again, this time taking the big man in the belly. The next shot seemed to hit but the man didn't drop.

Ludlow screamed in rage and raised his cannon to fire at Wyatt, as if the last thing he would do with his life is kill this stranger who appeared out of nowhere and ruined his day. Between the pain in his thigh, shoulder, ear and this strange wooziness that was overtaking him, he could barely focus. He forced himself to run towards Wyatt. Firing wildly, a shot managed to come close to Wyatt's head, enough to take off his hat but not change his icy demeanour. Asher was busy killing the other bandit, and Wyatt was amazed this man could still move, let alone fire a weapon.

Brappppppppppt

There was a shot burst of gunfire and Ethan went down in the mud on his back. Wolf stood, Uzi in hand, still pointing at the bank robber's body as if he expected him to get up and attack further.

As the dust settles, a man comes riding at full speed to where you are parked. Wyatt recognizes him as the man who was giving the speech outside the other, whereas Wolf knows JW by sight. Asher has no idea who this old guy is, but he looks like a man in charge and he isn't pointing the shotgun at any of them. He comes to a stop a short distance away and takes in the scene. He looks to Wyatt, with a look that asks if there is any more trouble or is everything clear now. He slides off his horse an heads directly to Brigit.

Behind him, comes a stage hover mule that also stops. A short, pudgy, and balding man gets out and looks around in pure terror. He starts to raise his hands in reflex to the number of weapons out. On the other side of the stage, a tall woman gets out, at least 5' 10" tall; this brown hair beauty is dressed in a deep red silk dress, tailored to fit her hourglass shape and voluptuous body. The old man at the driving seat of the mule stays put and just looks around.

"My bank!" the bald man cries out but makes no move. The woman looks around the scene of death with mild distaste.

Down the road, you can see what looks like the entire town coming your way, some on horses, some on mule, and mostly on foot. Ahead of the pack, an older gentleman comes riding his horse hard, with Willow held tightly, but respectfully in his arms. Willow looks to be carrying her medical kit.

OOC:
Albert Morgan: The bank teller Stun 10 Wounds 9 (10/10) – Electrical burns, heart beat erratic, barely breathing, needs attention now.
Sam: Stun: 14 Wounds: 8 (14/14) (badly bruised, broken ribs, internal injuries, possible internal bleeding, will need medical attention fast. Ballistic vest is toast, many bullets lodged in vest)
Wolf: Stun: 4 Wounds: 7 (18/18 ) (Bad through and through. Bleeding and needs attention but not as bad as Sam)
Wyatt: The hat is badly wounded, needs a tailor STAT!
Asher: Did anyone see me do that? Huh? Huh?
Ethan: Death's Door – you could save him but at the cost of Sam slipping into a coma and the teller dying. You can get a few last words in before he dies.
Jake –So dead
Elway – Dead
Jones – Ground beef dead
Grant – His body got to heaven before his soul
Brigit – A few scrapes and cuts, but not so worse for wear.

Posted on 2008-07-02 at 00:15:23.
Edited on 2008-07-02 at 00:19:06 by Alacrity


Topic: Voyages of the Rocinante - Firefly RPG QnA
Subject: get this wagon train a moving
---
I was hoping to finish off this gunfight today, then have you all arrested for robbing the bank, so Willow can plan the jail break (joking! really! Put down that knife).

If Blammm can not post today, then I will assume he is following Captain's orders and aiming for the brothers.


re uzi - In the game, all submachine gums have a single shot function unless otherwise stated. I don't know about RL, but when I got to shoot an Uzi back when I was a teenager, it was modified to single shot only (canadian gun laws and we are taking more than 20 years ago)

Posted on 2008-07-01 at 12:26:50.
Edited on 2008-07-01 at 12:30:16 by Alacrity





View/Edit Your Profile | Staff List | Contact Us


Use of the RDINN forums or chatrooms constitutes agreement with our

Terms of Service

.

You must enable cookies and javascript to use all features of this site.